Splinterlands Battle Share with Kron the Undying- The Earth Monster
Hello Game Players,
The weekend is about to end and I am sharing by battle share post. The current season is going to end in a couple of days and I have unlocked my diamond 3 league a week back so I am very happy to share this here. MY capture rate was less than 40% so I left it for some time so that it gets recharged and I play more battles however not too much as I think that playing more at the beginning of the season is a good idea.
This season I was able to unlock the diamond league early after a few days of the seasons and this went pretty well. We all enjoy the game and we love to win more battles of course however it's not easy these days.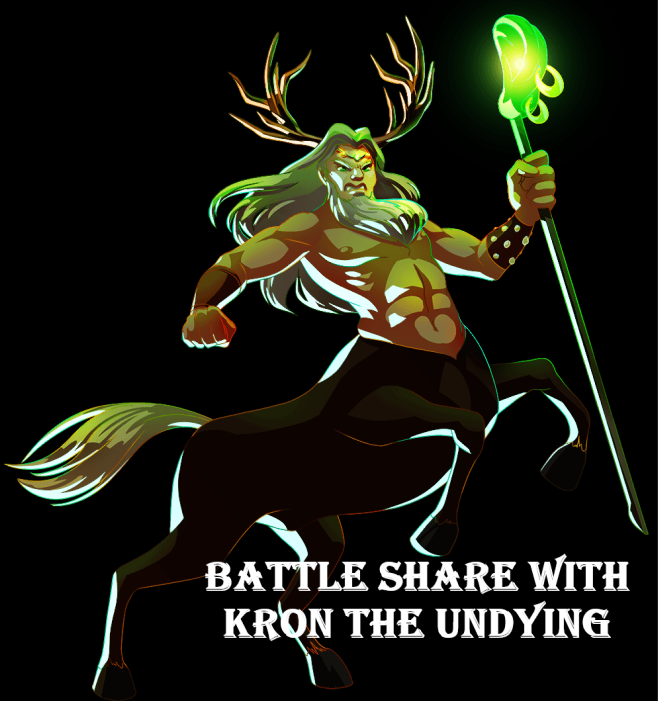 There is a lot of competition in the game since it's approaching the end and if you play regularly then I am sure you are aware of how it has been going since the last few seasons. It's even more difficult these days especially when the season is ending and that's why playing more, in the beginning, is preferred. The battling is even more fun if we can continue to win the battles and this is helping us to earn more DEC tokens. Holding more DEC and earning is something that everyone likes a lot. I am here to share my battle during the weekend and this week I am going to share about the earth monster.
This week the card name is Kron the Undying and it's a LEGENDARY card in earth monster and it's a magic attack card that comes with 10 mana cost having 10 lives. I have got this card in level 1 with 1 ability called Heal. This is a nice ability that health the life of the monster.
Card Information
So before we move more into the battle that I am sharing, and discuss it more, let's try to understand more about this card called Kron the Undying and its abilities. Getting to know more about the card is an important part to plan the battles nicely. I always try to get the stats of the card and memorize them so that next time I can choose the cards during the battle just by its graphic which helps to select the cards faster.
Card Name: Kron the Undying
Mana Cost : Ten
Rarity: LEGENDARY
Splinter: Dragon
Abilities: Heal, Divine shield, and last stand
Level: One
Speed : Ten
Type : Magic
Edition : Untamed
I have this Kron the Undying card in level 1 in the standard version and it's a good one I must say. I like this card very much because of its higher and multiple abilities. This is not just powerful but also an expensive card that costs $136 for even 1 level card. This is a card that costs 10 mana and at this level and good for high mana battles. It's one of the cards that I will prefer to use a lot in the battles whenever I will be using the earth summoner in high mana battles.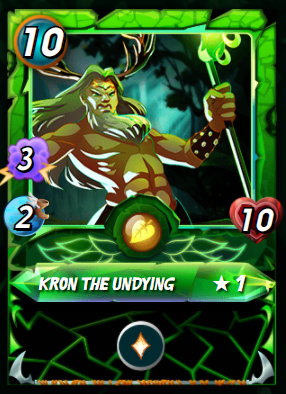 My Battle Strategy and Cards Placement
I got 52 mana for the battle and its just awesome in this much mana we can pick many powerful cards with higher mana and abilities. I have many powerful cards in earth monster so I tried to pick he max cards that are good for the battle. I was able to select nice cards and there are a few ones so good that helped me to win the battle. This battle post is for the card Kron the Undying and I have this card on level 1 only however its good one. This card has got 3 abilities and is certainly a great option and choice to have in the account and helps me to win the battles. I placed the Kron the Undying card in the middle of the team and it worked well to make me win the battle. This card is 10 mana card but it can be used in front as well.
Direct Battle Link-
Here I am sharing the link to my battle so that if video does not work then also you can see the battle. You can use the link to see how I played in the game in case the video does not play well. This battle was so much fun and the opponent player played with life monster however my card selection is much better that is why I won this battle.
https://splinterlands.com?p=battle&id=sl_514933dbbea040bcce832d02de943d82&ref=alokkumar121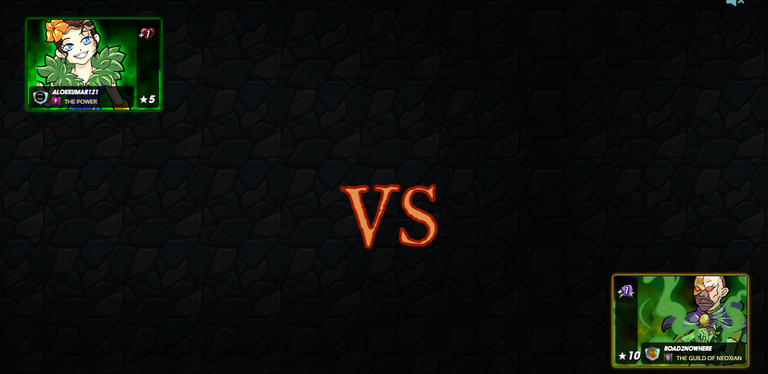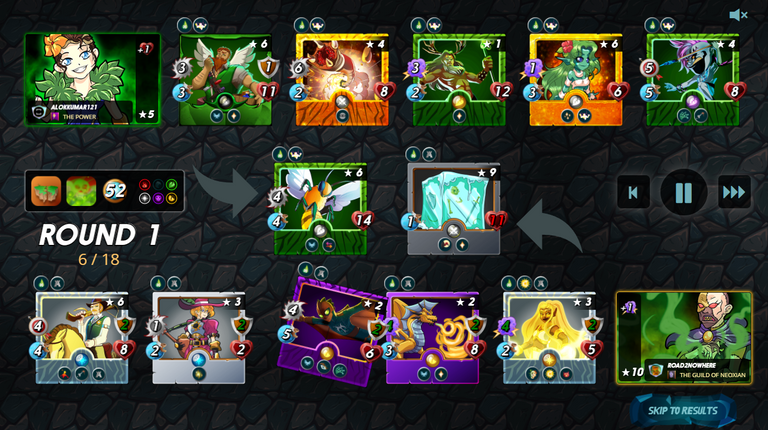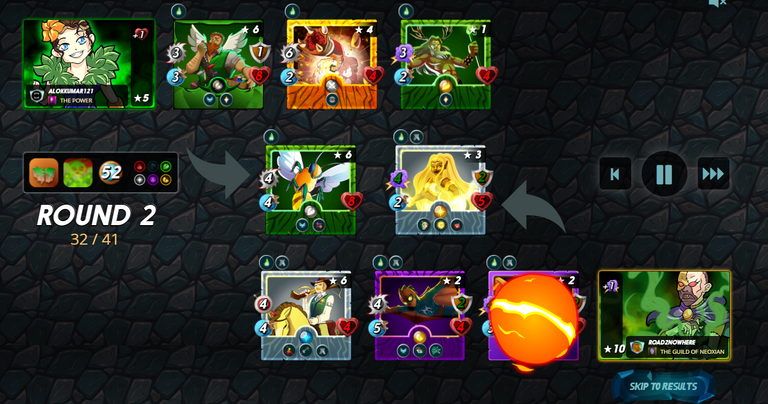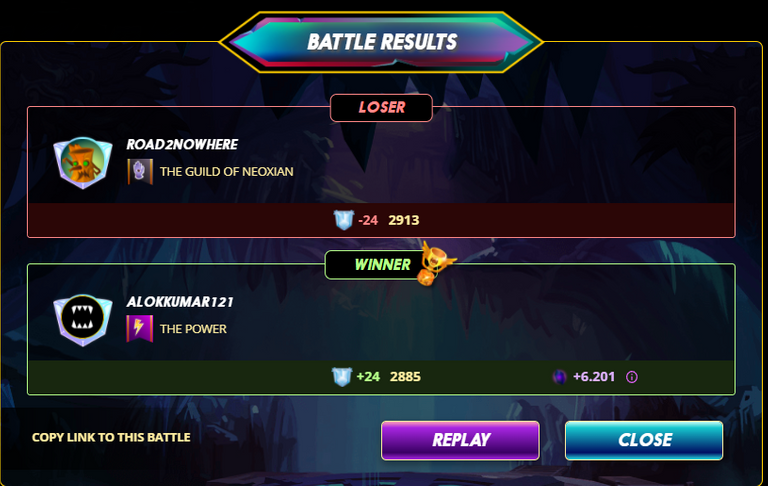 Did your strategy work? What will you try differently next time?
Its important to plan strategy for the battle and selection of right cards. In this battle, whatever strategy I planned in placing and choosing the cards for the battle went well and it was a nice move by me.
Do you like the Kron the Undying? Why or why not?
I will go with this card and for sure, I like this card because this card has many abilities and that is why I like to use this card for battling in earth monster. It's a great monster card I use it a lot when maa is high with water team. It's one of the cards from the earth splinter from the untamed print of editions. This card comes for a 10 mana cost but is good and at this mana range and the one to have in the deck. I like this card because it has the heal and some other abilities and its god for battles with earthquake ability and the mana cost is also low.
@Splinterlands is such a fantastic and awesome game and once you join then you experience the real gaming fun. Join it through my affiliate link, I am sharing it below-
https://splinterlands.com?ref=alokkumar121
Thank you so much
Stay Home and Stay Safe
(Photos and gif I used in this post are taken from splinterlands.com for this post purpose only)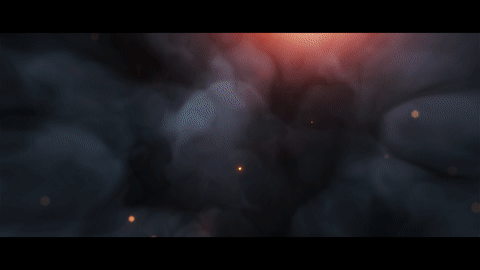 ---
---