Splinterlands Game Tips for Beginners
Splinterlands is my favourite game that I play every day. Its been almost 4 years since I played this game and my experience with this game has been fantastic. I joined this game in late two thousand nineteen and now we are in the last quarter of 2023 which is making my journey four years old. Splinterlands is one of the games that is setting an example for Web 3 gaming and I hope that other gaming projects follow the same. I have seen multiple names in gaming and all those were doing well when the last bull run cycle was going on but after the market cycle was over things started getting worse. Many gambling projects that have got a great hive, in the beginning, could not survive for a long but splinterlands has been doing great and now this game is more than five years old.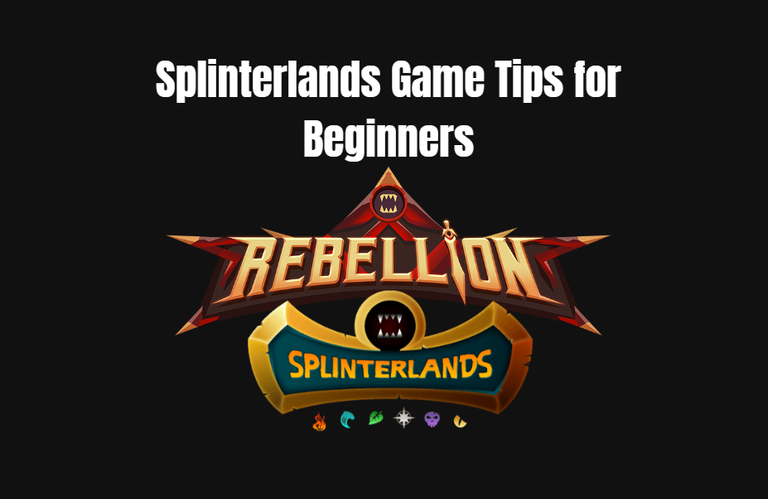 Splinterlands- The Game
In my opinion, one of the important parts of this game is to build a powerful deck of assets. It's a collectible card game and of course, the more cards you have makes your account more powerful that you can use to play battles. With each winning battle you are getting some rewards but altogether every day and after the season also you are getting rewarded as a prior achievement in the league.
The basic fundamental in this game is to grow the account and its not like any traditional game. If you want to play well in the game then you must be familiar with the game economy and they keep on bringing many new stuff. We need to have it and this upgrades the overall experience. I follow this and this is why I keep on upgrading my account by adding more assets whenever there is a promotional sale also I try to buy the asset because this is what keeps me ahead of the curve. The game is quite advanced in terms of technology and it is going to grow a lot in the next few years or you can say the game has a bright future in the long term. This is what I believe and I can say this based on my four years of experience with this game.
Getting Started with Splinterlands
Getting started with this game is very easy and you just need a hive account to do that if in case you don't have an account then you also can create an account which hardly takes a few minutes. You will be able to create an account in a minute by providing the required information however you also have the option to log in using other wallets that are visible on the page.
Use this link to open game website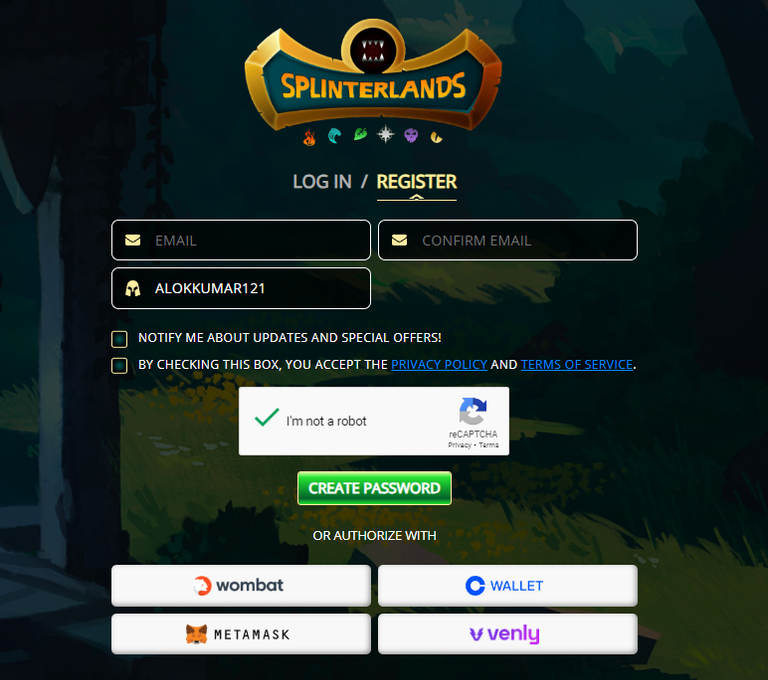 If you have an HIVE account already then you just need to log in. You can choose to log in with your ID and password or you can also choose to log in with a keychain which I think is the best way because I prefer using it. Now it's up to you which method you like to use and comfortable with but with keychain, it's quite easy and simple. Once you are logged in you have the option to play the battle which can be the practice or ranked.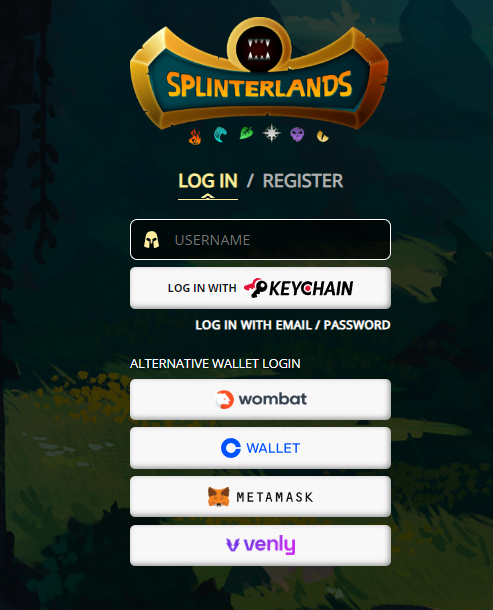 You can't play any number of practice battles which is also fun but to be part of the reward system you need to have the spell book which will cost ten dollars. You will have a bunch of options to choose from for making this payment which also includes HBD and hive. Now it's up to you what currency you like to use for the payment and once the payment is done you are ready to experience the next level of gaming with the splinter lands and you will be eligible for the reward through ranked battles.
Tips for Beginners
There are multiple strategies that you can build on the game but I follow the long-term strategy with the game when I am trying to accumulate different assets including tokens. This is a game that is not for one day or one month and I highly recommend you have a proper strategy with this game where you need to build a holding of assets. One of the important strategies should be to build an account with different assets and play battles every day. The more cards you have in your account that are good and on a higher level will help you play better in the game.

Join Guild- Joining Guild can be another part that will help you to earn some additional reward because it will pay you some SPS along with merits that can be used by Gladius packs. This is not just fun but rewarding too and sometimes the reward can be really good also if you buy Gladius packs then you can get some powerful cards that can add more value to the game account.
Upgrade Cards- Try upgrading the level of your cards and avoid playing with level one cards because it will not give you a good reward but with a higher level, your rewards are going to be good. This will enable you to be part of better rewards and also experience better gaming.
SPS Accumulation-- Now because the reward multiplier has been implemented in the game. It is also important to have a good holding of SPS but if in case you don't have then you can take the SPS tokens on these. You always have the option to get the SPS on rent but I believe building your own SPS holding is the better idea this time when the price is low and later it can be a great investment. I do the same and this is why I suggest you follow this and it will help you in your gaming journey.
Learn about Rule Set and Abilities This is another important part that you need to understand because the more you learn about the rule set and different abilities of the card will help you play well on the battleground. The team keeps on introducing new abilities from time to time especially when they launch the new version of the booster pack. It's important to know what ability is used when and how it works. If you are familiar with this then I am sure you are going to play well on the battleground which will make your gaming experience great as well as make it more rewarding since your winning ratio will be good.
Community
With this game, community is one of the integral parts and if you spend some time on the game then I'm sure you will realise how supportive the community is. You should be part of the community by joining the Discord server and also joining the hive community. If in case you have any doubt or question you can ask and people are there who will answer as soon as possible which is very helpful. I used to ask a lot of questions in the beginning and it helped me a lot to enhance my understanding of the game. You will get to see a lot of initiatives ongoing by the community and even the splinter lands theme organise weekly challenge where your participation can get you some reward in the form of upvote.
My Experience
Initially, I struggled a lot and it was about a couple of months that I spent more on the game. I don't know whether you will believe it or not but the truth is that I started this game for the first time in March 2019. I remember that I saw some posts about the game and there was a link to log in to the game. I used the same and did log in but I did not know how to play this game. There was no one to guide me at that time and I was also quite new to this platform at that time. I tried a lot but could not understand much so I stopped in my first attempt.
Later I joined it back in December 2019 and this was the time when I did not give up. I spent a few months to understand the game and how I could play the battle on this game using the cards. That time untamed was the addition which was part of the game and I was able to buy many cards in the beginning because the price was low. My first three months were full of learning and I was trying to dig down as much as I could in the short period. Within three months I started sharing my gaming experience and tips through different posts on Hive. I even started sharing the battle share post and now you can understand how my journey has evolved in a few months at the beginning of my gaming journey. Even after four years with this game, my experience is great and I have the same thought that I am going to be part of the game for a long time and you can see me here.

I think every game looks a bit complicated in the beginning but once you spend some time on it to go through the tips and tricks then it looks easy and that's what happens with splinterlands. Don't worry in the beginning if it looks a bit complicated because let me tell you that it is going to be an easy game provided you spend some time and get yourself familiarised. If you still have any doubts then you can ask me through the comment and I will answer as soon as possible even you have the option to connect with the wonderful community through their post or even on the discord server.
Images taken from Splinterlands Game portal
Thank you
Posted Using InLeo Alpha
---
---