SPS 100K Goal achieved by 85% and Counting..
SPS (splintershards) is one of the coins that bullish on and this is why I keep on accumulating as much as possible. I know that the market these days is not doing well and because of this, the SPS price is also low. I am not at all worried about the current price for SPS coins because I know that there is huge potential for these because the project is doing pretty well. I know that sometimes when the price keeps on falling then some people think that the coin has lost its value but actually, that's not truly provided we have chosen a valuable project.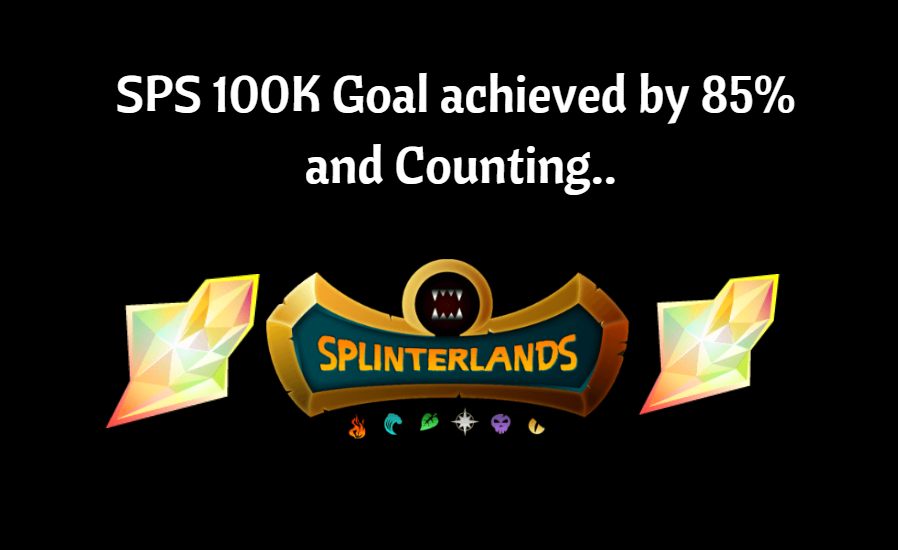 With the splinterlands game, we need not worry about it because the project is doing great and it has proven in the past. We have seen the all-time high price for SPS which was almost $1 and now it is available at a very high discounted price so we should not be missing the opportunity to buy as much as possible. My belief in still the same in the project and this is the reason why I keep on accumulating whenever I manage some funds. I expect that once the market recovers then SPS will moon and it will not be a surprise if we see it in the range of half a dollar. This may take some time which I do understand but is still there is nothing to worry about because, in the meantime, we can earn a decent return on the holding.
100K SPS Goal
I am happy to share that I have achieved my SPS goal by 85%. I would like to mention here that my earlier goal was to make 50k tokens in total but later on I increase it to 75k and then again to 200k so now I am holding 85k tokens in total. Now I am trying to reach this milestone as soon as possible and once I make it then I will increase it further. I am not sure how much I will increase later but this is going to increase for sure because the plan is for the long term and I will continue to increase from time to time.
There are so many tokens and coins that we can try to accumulate but I believe there are some gems that we should not be missing out. SPS is that one gem which is like a sleeping giant and you never know when things will start kicking out and we can see the price going up all of a sudden. As I already mention that I am not worried about its price but I am very happy with the current APR which is almost 24% and whatever token I earn is making me feel great about my decision of holding.
I believe that later on, SPS holders are going to be very happy because things will grow and improve for a period of time so more power will be provided to them in terms of governance token holders. You will now have the power to support or reject any proposal submitted by the team or even community members. This is an important part that drives decentralization in the project and is good for the game in long run.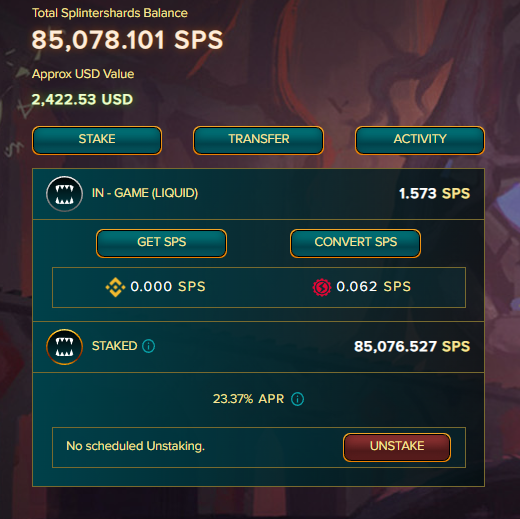 My SPS Holding
My current SPS holding is approximately 2.5k USD this value is not important because the potential is high. I aim to grow my holding to 100k in the next 2-3 months and then as per 23% APR, I should be able to generate about 2000 SPS in a month which I think is a big amount. Just imagine if it will reach even half dollar then also its value will be 1k and this amount matters.
There are multiple assets in the game that I hold and even I want to grow my card collection but because of the low SPS price, I am more focused on SPS accumulation. Let's see how things move forward and when I can make it 100k. I am planning to buy some this week before the weekend. As usual, that will also be added to my stake and become part to earn 23% of APR which is just great.
Thank you
Posted Using LeoFinance Beta
---
---