Zealy Campaign by LeoFinance is Live. Have You Joined ?
There is another campaign by Leofinance, and it is an excellent opportunity for us to be part of it because this way, we can earn some rewards while adding some value to the hive ecosystem. This campaign is initiated through zealy and I can see that Participants are being great which is a good example and I will be trying to put my best foot forward. I joined the campaign last week but this weekend I was busy since I was travelling so could not get much time to get active. Even my Friday was busy so I was not able to spend much time on this and this is the reason why my experience points balance is not that high.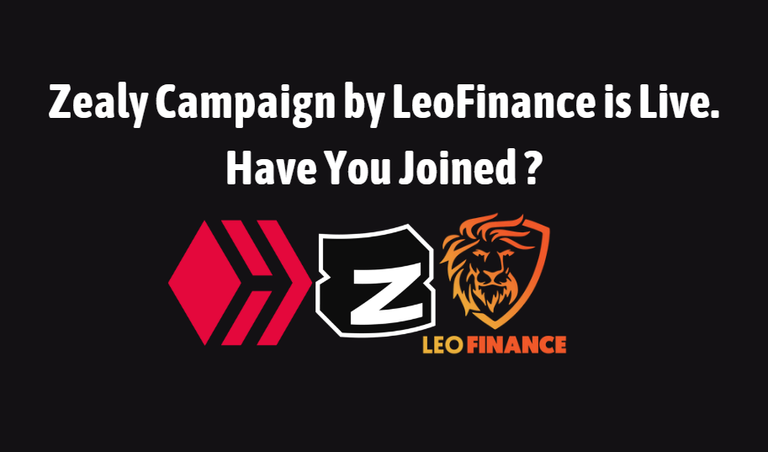 The experience of joining this campaign has been pretty good so far and I believe that the way participants are trying to add value and do whatever tasks are assigned is commendable. LeoFinance has been trying to grow the high ecosystem as a whole which I think is a great initiative because we are one of the platforms where we need more users and this can help us get more attention from the outside. we are the leading platform in web 3.0 so this is the time when we can promote ourselves as one of the best platforms and this can help us get more users.
Joining Zeally Campaign
In my opinion, everyone should join this campaign because the reward pool is bigger and I'm sure that if you do well then you will be able to get a decent amount as part of the reward. apart from the reward we are also going to help the platform grow because you will be doing some tasks that will bring more attention to the hive and probably more users will be getting onboarded. Below I am also sharing my referral link and You can log in using Discord.
https://zealy.io/c/hive/invite/dmU6Mf5rQoA2I4A_vl70F
The process is super easy and login can be done in less than one minute because you just need to enter your discord credential and that's all you need to do since it will be enough to get you logged in. Once you are logged in you will be able to see some tasks and there are two types of tasks. you get daily tasks along with some tasks that will be available for some time but it is recommended to complete all tasks as soon as possible because they keep on expiring so if you do not action then you lose the opportunity to earn some experience points.
Experience points are called XP and the more points you have means you are much closer to winning and you will be on top of the leaderboard. Every task submission is reviewed by the team and usually, it is reviewed within a day or two in most of the cases so that is something you should not be worried about because it will be taken care of.
This does not take much time to get these tasks completed and I appreciate the fact that the team keep on adding a different type of task but they also try to keep it simple so that everyone can participate. I haven't tried it on my phone so not sure if it works on my mobile but I use it on my PC and this is the reason why I was not able to do it during the weekend. maybe you can try it on the phone if it works but overall I enjoy completing these tasks.
Now since I am back, I will be trying my best to complete all the tasks added by the team and you can also get the notification in the discord channel that is created for the campaign this way you will not be missing any task that is added. sometimes few tasks are submitted for a few hours only so we need to act on time and this will help you earn some points that can take you towards the top of the leaderboard.
Thank you
Posted Using LeoFinance Alpha
---
---