A Good 1-1 Draw
Indonesia has played the first leg of the 2020 AFF cup against the host Singapore. It ended in a 1-1 draw. It is not a bad result as we have the away goal advantage for the second leg.
If Indonesia can win, or keep it a goalless draw, that means we are again heading into the finals. And hopefully, we can bring home the Cup with some outstanding young squad.
Indonesia leads first 1-0 with a goal from Asnawi. The goal came with good teamwork and a short passing between the players. Something that is not usual in the Indonesian playing style.
Indonesia might lead more if they can capitalize on the chance, but the strong defensive from the Singaporean team denies those chances.
On the other hand, Singapore manages to take advantage of high pressing Indonesian strategy.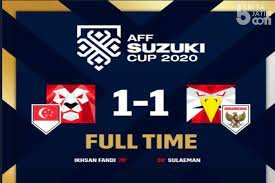 When the Indonesian team was exhausted, they managed to snatch an equalizer. They can almost lead if not because of the good performance from the Indonesian goalkeeper.
Can't wait to see how they respond in the second leg, also they will get another boost from Egy Maulana Fikri who will join today after being approved to play in AFF Cup by his European Club.
---
---