A new favorite word: Sphygmomanometer!

TL'DR: Absurdist blogpost about Sphygmomanometer. Basically all there is to it.

Sphygmomanometer
Holy crap. Just look at that word. Man, I love this monster of a word. I've written about my love for words, letters and their aesthetics in the past so it is no surprise such an awesome looking word like sphygmomanometer would just tickle my fancy. It has like a 'sph' at the beginning followed by a 'ygmo', like what word even tries to get away with that kind of craziness? Well, frankly only this and a few others as 'sphygmo' is a prefix.
It's super fun to say or try to pronounce if you don't know how, go ahead and give it a try before listening and sound it out. My brain twists this word around in my head any time I try to sound it out, but I do have a pinch of dyslexia bouncing around up there so it isn't uncommon. Give it a shot before verifying, it's pretty difficult.
---
---
╭━╮╱╭╮╱╱╱╱╱╱╱╱╱╱╱╱╱╱╱╱╱╱╱╱╱╱╱╱╱╭╮...................
┃━╋━┫╰┳┳┳━┳━━┳━┳━━┳━╮╭━┳┳━┳━━┳━┫╰┳━┳┳╮
┣━┃╋┃┃┃┃┃╋┃┃┃┃╋┃┃┃┃╋╰┫┃┃┃╋┃┃┃┃┻┫╭┫┻┫╭╯
╰━┫╭┻┻╋╮┣╮┣┻┻┻━┻┻┻┻━━┻┻━┻━┻┻┻┻━┻━┻━┻╯....
╱╱╰╯╱╱╰━┻━╯.......................................................................................................
text to ascii source
If you know how to say it already, you probably know what it actually is, which is pretty cool. If not, well, I might get back to that, maybe. This blog is more about how cool the word looks and sounds. I get all sorts of weird ideas that just pop into my head, and it can be fun to just play with them.
Like what if there was a death metal band named SPHYGMOMANOMETER. That could be pretty brutal. I thought it would be fun to do a some mockup album art for them. Their debut album would be titled something like CRUSHED VEINS and be all brutalistic looking. Something with reds and blacks that reminds you of a damned Hellscape.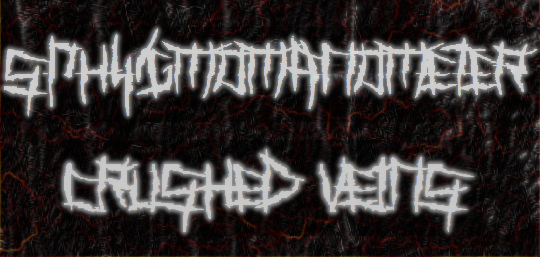 Or what if the band was more of a neo-retro-synthwave? I could see it. The album title would be something like Pulse for reasons. I could see the name really fitting that vibe, it has a certain rhythm to it. Massive audiences inside of arenas attempting to chant the band name, with thunderous echos of confusion as the sea of syllables stack up on top of eachother.
Sphyg! - mo! - ma! - no! - meter! - (after about the 4th chant through the audience is a cacophony of verbiage) But never fear. The lights go out, the laser show kicks on, some guy with cool cyber glasses steps on stage, fog machines roar and the subs KICK boy.
This took entirely too long to make and upload. Graphics and music by me, w/ help from panzoid.
What a word.
If you got to this point and you are wondering what is the entire point of this blog, fear not, as we are both in the same boat. Started writing about a hilarious looking and sounding word and I fear that I took it way, way too far. I learned a bit about graphic design by doing this, and I do believe I'm the first person to talk about Sphygmomanometers on HIVE.
IF you got all the way down to here, you don't know what a sphygmomanometer is, and you haven't tabbed away from here yet to figure it out...go ahead and do so now. What, were you expecting a hyperlink to a wiki about what it is or something? This is an absurdist blogpost, the very last thing I want to do is ground it in reality with some "official definition". If you choose not to look it up, even better. Believe it to be something magical, or your new favorite band and tell people to google Sphygmomanometer's latest hits. Convincingly tell someone you took a trip last year and climbed Mt. Sphygmomanometer. Pop open someone's hood on their vehicle, sigh shake your head and say their Sphygmomanometer is blown. Go hog wild.
---
---