It's lasagna day "
"Typing at the speed of light. Good text is that one that thoughts flow like water"
When it comes to lunch there is no specific day for me, I can't deny that lasagna is one of the most remembered dishes and that I love to eat. In addition to being delicious, it also comes with that very special taste.
When I'm inspired everything goes well... even cooking everything is wonderful and tasty. Look at this lasagna I made, it was delicious.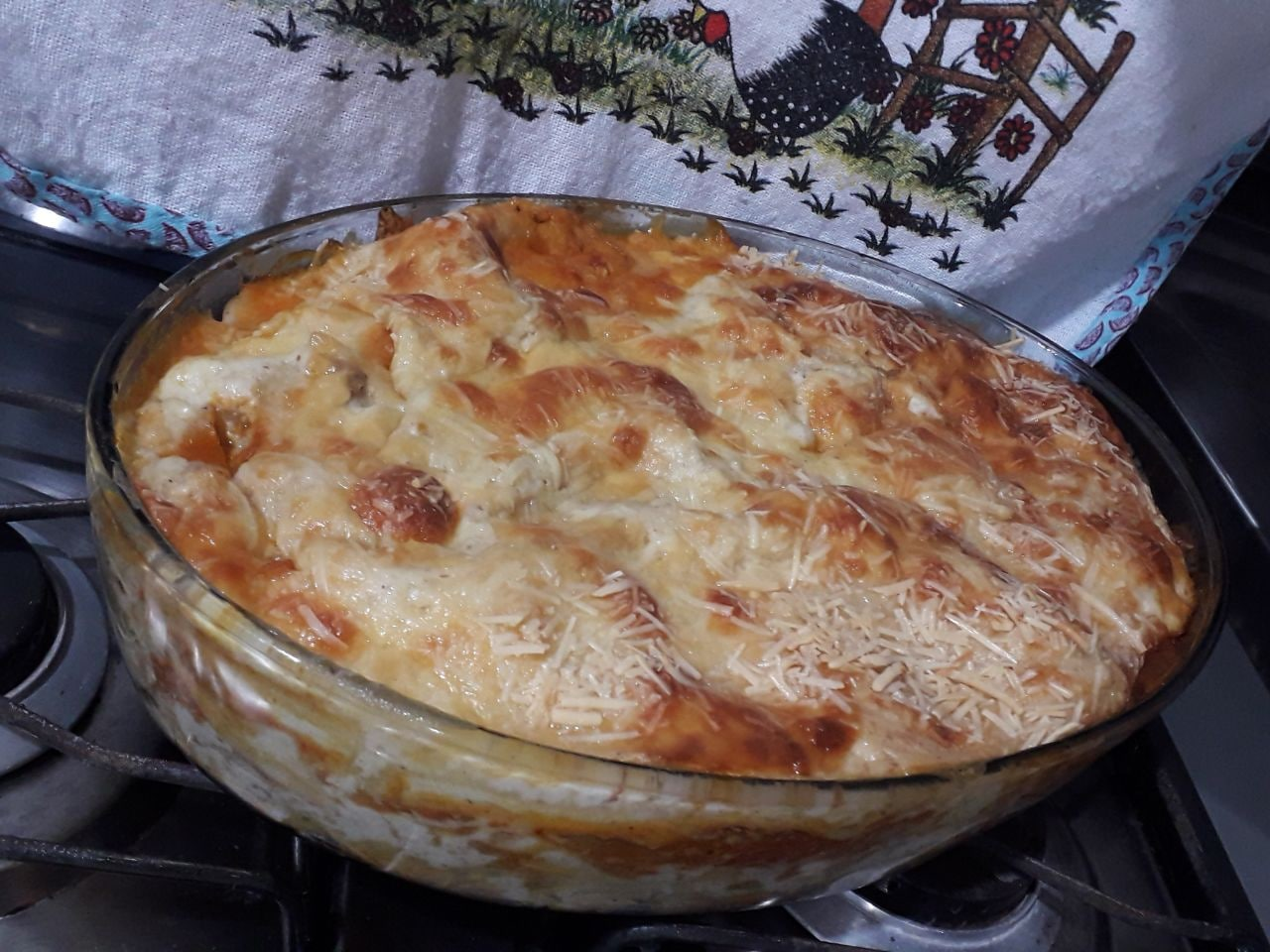 "Mouth watering right? That's why I give you the recipe... Just kidding, the recipe is my treasure and I won't share it"
I know what you're thinking: "I can find the recipe on the internet", but I can tell you this one isn't. This recipe was passed on by her great-grandmother and her taste is unique.
Nothing better than homemade food, no buying frozen lasagna full of preservatives. The more the ingredients are fresh, the better.
Of course, everything is a joke, except for the recipe part, you can find it on the internet. Here are some tips so you don't go wrong when making this perfect and delicious lasagna:
Use a mold that has enough space so that the lasagna does not overflow, leave about 1cm on top free and do not place too close on the sides, as the lasagna grows in the oven when baking, if it is too straight in the container, it may overflow or lose its shape.

To make your life easier, use the ready-made dough but bet on the pre-cooked dough, as it is much more practical than the others and can now be taken directly to the oven.

Add a lot of grated cheese or mozzarella on the top layer and between the layers you're making, it's delicious, you can't go wrong.

Take care of the sauce, if you make the bolognese add a lot of spices, as I love a spicier touch, I really like using pepper, olives; Go for the white sauce, add cheese to the sauce!

Leave the lasagna in the oven for about 40 minutes in an oven between 180° and 210°, and in order not to dry out on top, there's a very valid trick... place aluminum foil on top but be careful not to stick to the cheese you placed on top, and when it's almost finished, remove the foil and let it give a light gratiada on top.
Let me know what your favorite dish is ?
And good luck,
If you make it with a lot of love and affection, your recipe will be perfect and delicious!
---
Posted via proofofbrain.io
---
---