My #MusicForLife Song Playlist For Today's Event "National Hamburger Day" 🍔
Today is amusingly "National Hamburger Day" 🍔 which could now easily be one of my favorite days of the year. Especially after watching so many tasty Hamburger related TV adverts recently. This enjoyable Topical event is also listed on the "National Holiday" Calendar for Friday 28th May 2021. So I thought it would be interesting to gain some more knowledge about this indulging Foodie event.
Below are some very interesting facts for Today's event...
Behold the Hamburger! A baked bun, beef patty, mustard, ketchup, onion, pickles, with optional cheese. Convenient, cheap, and delicious, the world-famous burger has a storied and uncertain history. No one is quite sure about the origins of the hamburger, other than it is the named town of Hamburg in Germany.
People have been eating cooked meat on bread for centuries, but the association with Hamburg seems to stem from a 1758 recipe for a dish called the "Hamburg Sausage." Others think the name originates from a cruise company known as the Hamburg America Line, which served its passengers similar sandwiches in the Mid-1800s. To this day, there is little agreement over who actually created the iconic food.
Numerous deli and diner owners across the United States claim that their joint is responsible for inventing the burger. However, there seems to be some consensus amongst historians that the food as we know it today truly gained popularity at the 1904 World's Fair in St. Louis, an event that also gave us the ice-cream cone.
However it happened, the hamburger has grown to be one of the world's most widely consumed food items, found on menus from Texas to Thailand. They can be had for a dollar apiece or made from gourmet ingredients that cost hundreds. However you decide to chow down, this day is for you. Fire up the grill, gather round your friends, and cook up some delicious burgers.
Above "Text Source" Info from [here]
The National Calendar Website Link [here] (for even more INFO).
Now for some appropriate Music...
I'm not sure if my Song choice Today is very tactful to those who may be a little over-weight, but I could not resist picking this track by the original Reggae Music Artist "Carl Malcolm". I also think that the song is quite affectionate in a way. See what you think, please have a listen... I think it will make you SMILE 😀
My Song Selection For Today is: "Hey fatty bum bum" by ©Carl Malcolm 🎙
Above Music Video Source: ©YouTube [Here]
Below "Screen Shot" Image from [here]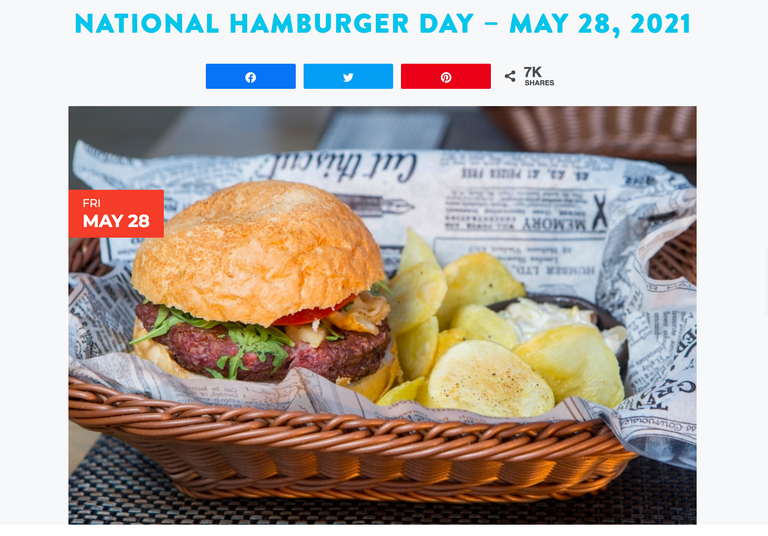 Also notice that the special Twitter "hash tag" #NationalHamburgerDay is currently trending!
So you can start interacting with many others on Today's topical event, by Tweeting there NOW!...
Many Thanks for reading and listening, I hope you learned something new and entertaining. We all need to keep our brains active!
see you all again very soon... 👋
I messed up a bit today, as I would normally post this article from my main account @andy4475 √
As I use this account ( @andy-vibes ) , mostly for curation only. 😎
---
Posted via MusicForLife.io
---
---