Soft skills: an interesting topic within organizations.
Soft skills: a topic to learn.
I Part.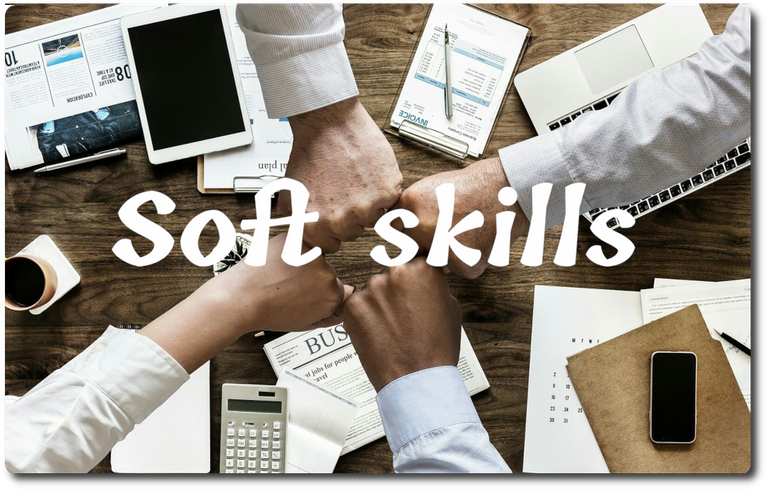 ---
I was recently at a virtual conference where the topic was on "soft skills." In particular, I have been researching for a while on how to let the talent of a person flow inside or outside an organization and I have found many surprises.
Currently in organizations, more value has been given to the management of soft skills as a way to achieve planned objectives in teams, I do not mean to say that the technical aspect is downplayed, only that organizations are opening up their spaces to consider other aspects related to the human being and their contribution by highlighting them in activities within their daily functions.
But what are soft skills?
From my point of view and based on the opinion of other speakers with whom I had the opportunity to share opinions, I can indicate that:
Soft Skills: Involves the traits, characteristics and personal competencies that describe how an individual relates to others in their work environment, they are personal qualities that are related to the emotional and social perspective of the individual that are also fundamental in life and are acquired through the experience of everyday life and its development in society.
Among the points that were expressed in the conference, it was highlighted that the technical part of knowledge in a worker and his mastery of what he does is important, but it requires another series of characteristics and attitudes that allow the proper development of work in team to achieve the proposed objectives within an organization.
The way a team develops, communicates and relates is very valuable because if they cannot relate empathically and assertively then the work may be delayed, due to the increased time to achieve one or more goals, due to that the communication factor that should prevail in work teams is not present.
Another important aspect that was considered was that the effect of the pandemic has led us to work from our homes and how soft skills must be strengthened much more, in order to establish effective relationships through virtual media.
Now, the members of the organizations that are part of work teams need to assume new ways to meet their planned goals, they should consider opening up to cultivate other skills that allow them to strengthen communication ties with other members of the organization, taking his emotional intelligence to another level, which allows him to acquire other skills oriented towards leadership, positive thoughts, self-confidence, empathy, among others.
For another publication I will be sharing a little more about this topic and its relationship with other intelligences.
With all my affection
Angelica7
Translated with www.DeepL.com/Translator (free version)
---
References:
If you want to read a little more you can read the following link: [soft-skills](
https://www.modelocurriculum.net/que-son-las-soft-skills-o-habilidades-blandas.html
)
---
---
La vida es tan hermosa, que todos podemos hacer la diferencia.

---

---

Minnow Support Project: Si todavía no estás en la comunidad ¿Qué estás esperando?

Minnow Support Project: If you are not yet in the community, what are you waiting for?

---

Imágenes tomadas de Pixabay: Portada1 CC0 Creative Commons Logotipo: Tomado de la página @MinnowSupport Diseño de collage de imágenes: @angelica7 Gracias @aggroed por compartir las imágenes palnet.io/palnet/@minnowsupport/100-posts

---

Que nadie apague tu luz interior

---

---

Te invito a conocer a:

Canales del Discord: @votovzla PAL-net @rutablochain @Cervantes
---
---