Exploring A Coffee Shop With Rustic Design
Visiting a coffee shop is not only about the taste of the coffee, but also about how the design of the coffee shop adds to the impression and enhances the overall impression of the visitors.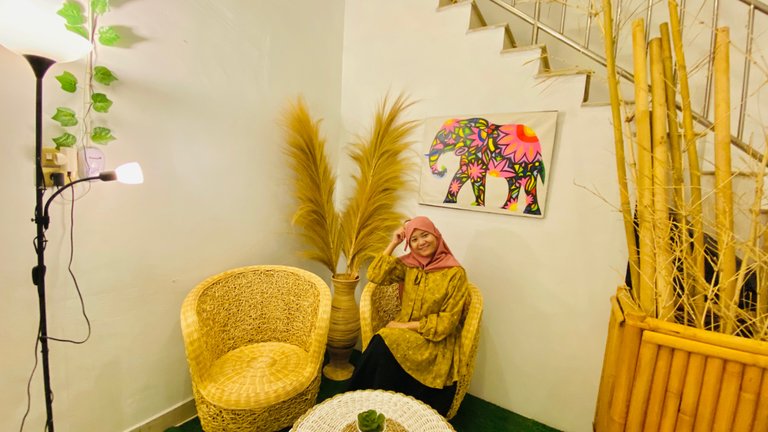 ---
---
---
Exploring new places that look interesting is interesting and can give us new energy. I love exploring new places, enjoying how those places represent themselves, and also how the people around me blend into the place with certain vibes.
The coffee shop is one of many places that has a special list for me. Since the beginning, since I have been more involved in the creative world, especially literacy, since then I have become closer to the coffee world. I'm not really a coffee expert, I'm just a coffee connoisseur who likes to find new flavors, and also to find new inspirations for my writing.
So a coffee shop is like a place that gives me a new space to think about new things too. That's why I love going to coffee shops in particular to explore new coffee shops that I've never been to before.
---
---
---
This time I will invite you to visit a coffee shop in my city, Binjai City. This coffee shop caught my attention with its rustic design that I have never seen in any other coffee shop in my city. Let's welcome Clouds Coffee. Stay tuned!
---
---
---
CLOUDS COFFEE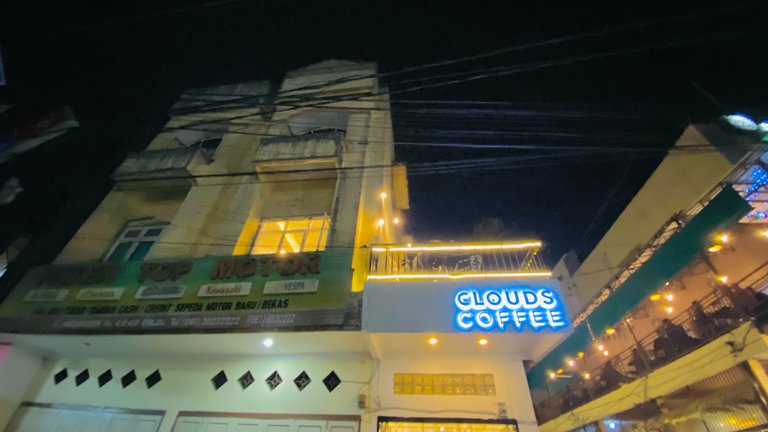 ---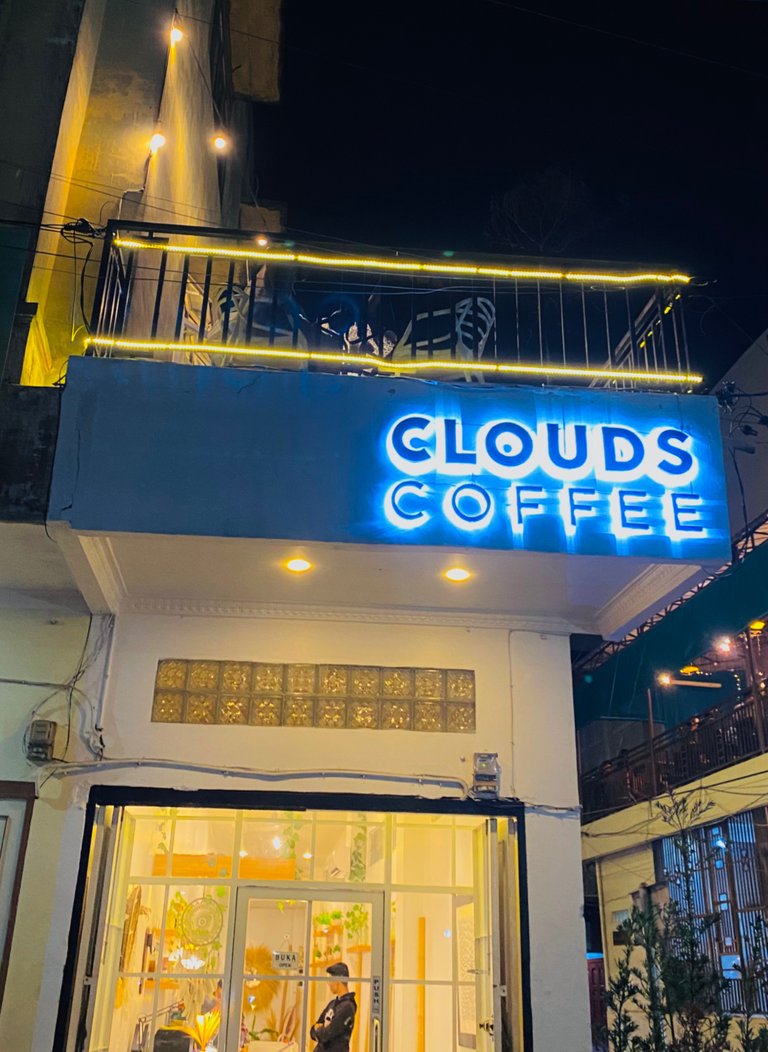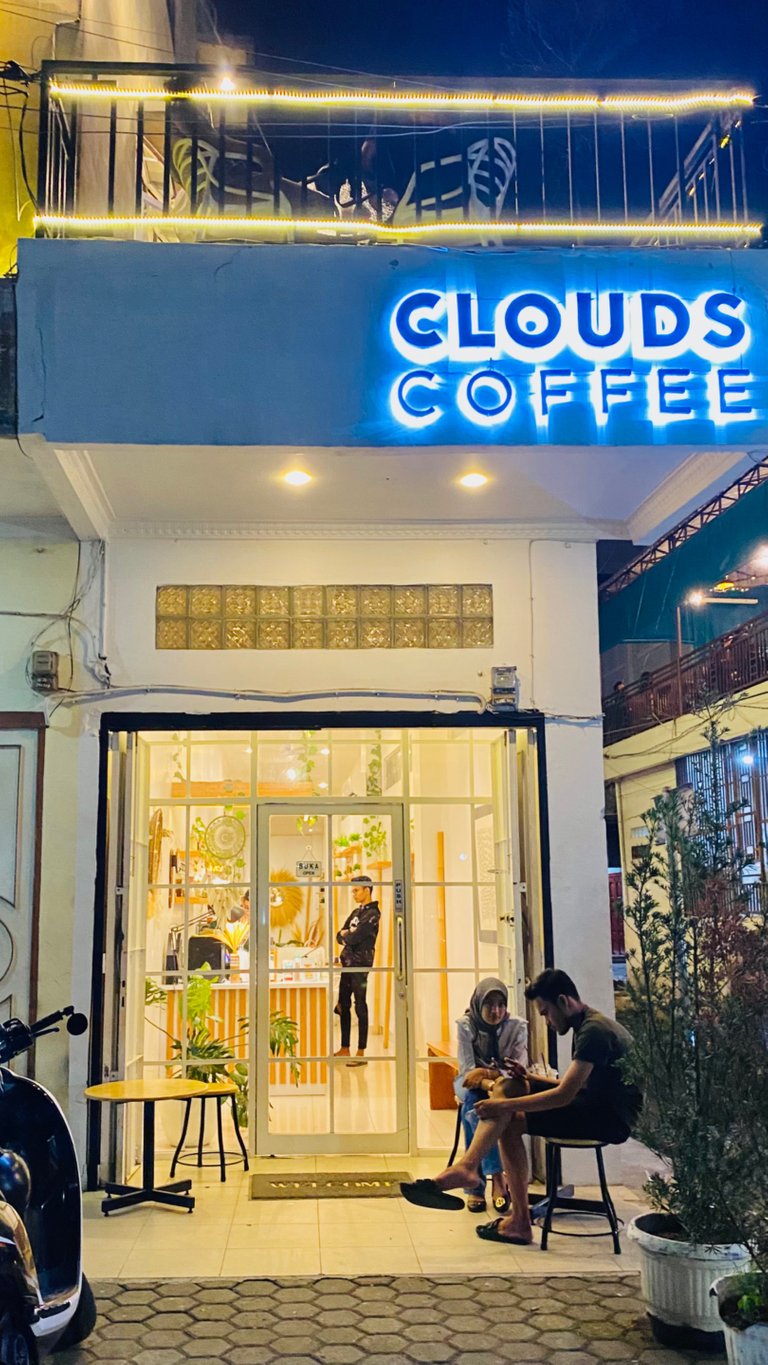 ---
Initially, I didn't think that this place would have such a special side to being a place that would be remembered by me. From the outside, Clouds Coffee is just like a small place. Indeed, we will always be the losers if we only judge something from the outside, without us getting acquainted and going deeper into it.
From the outside, Clouds Coffee looks ordinary. However, there have been seen many visitors sitting on the 2nd-floor area. So at least it made me curious to explore what makes Clouds Coffee visited by many young people.
---
FRONT AREA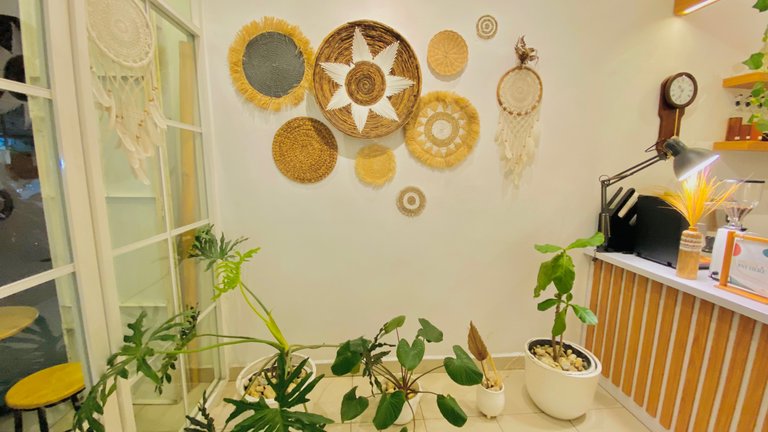 ---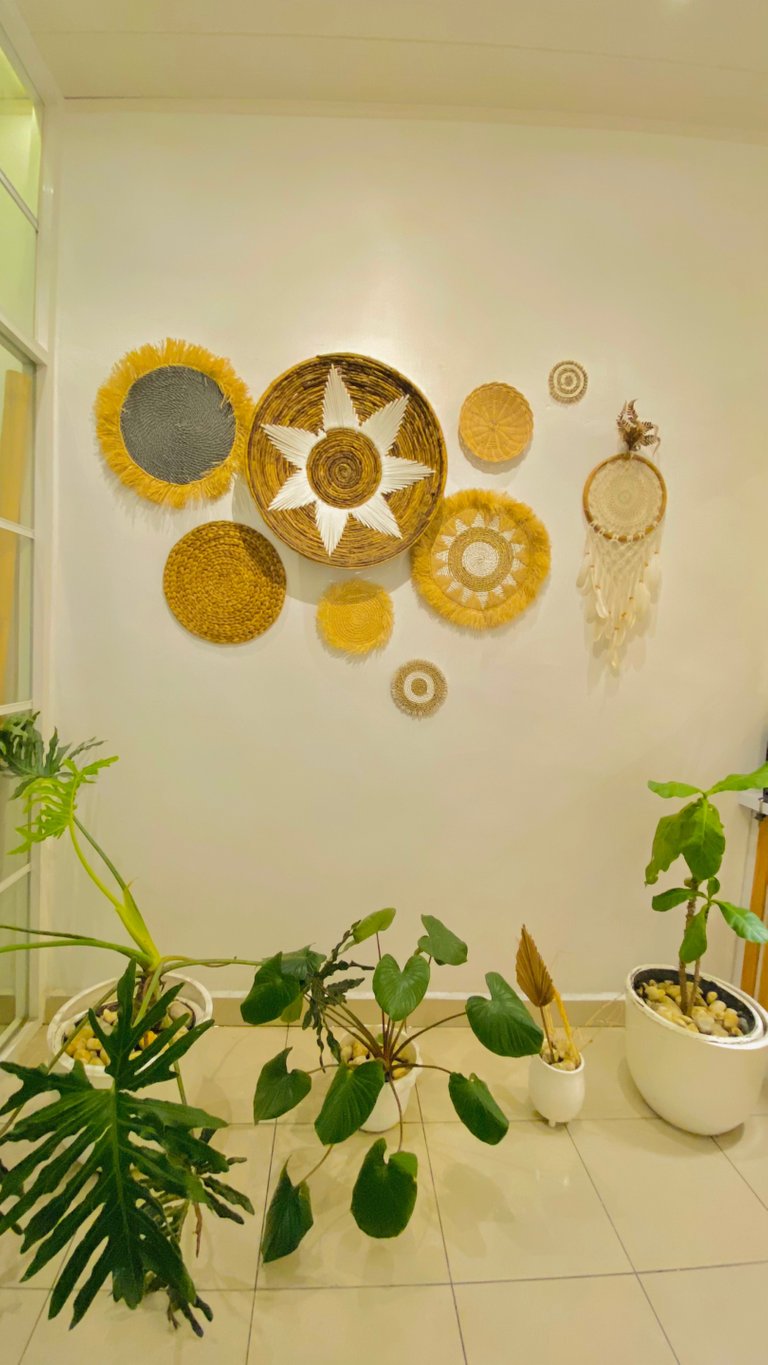 Shortly after opening the door, there is a bar area where orders are placed. Before actually arriving at the bar area where we ordered menus, we will be greeted with a small area such as a waiting area which is dominated by green plants and accessories made of wood and made of wicker.
---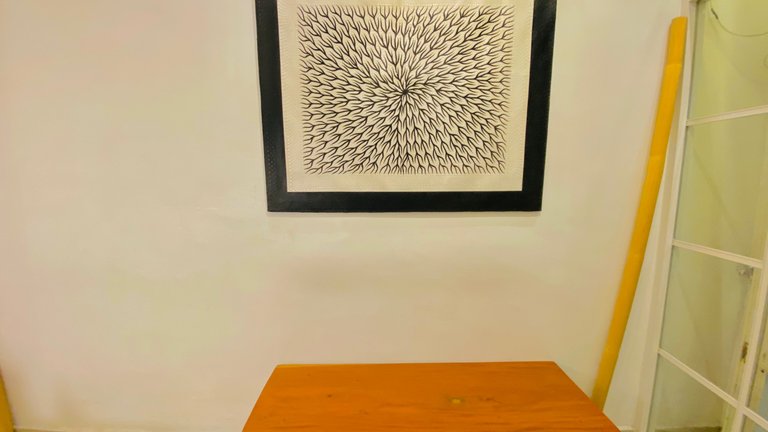 ---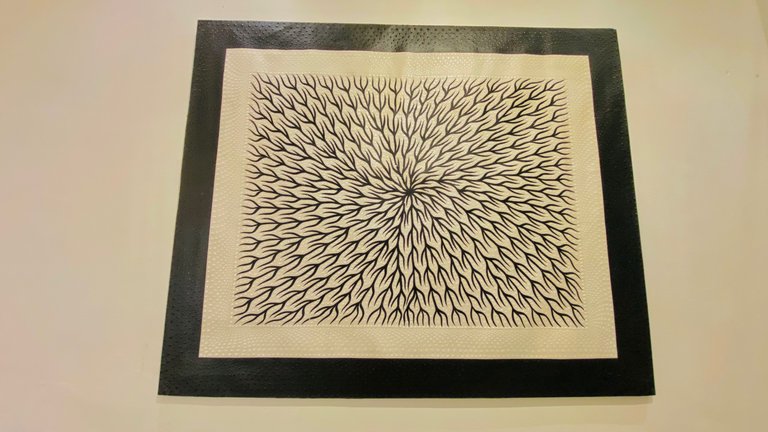 There is also a monochrome painting on one side of the small room. We can use this small area as a photo area, especially when we are waiting in line to order menus in the bar area.
For the bar area, we can see accents of vines also equipped with wooden materials. I'm happy to see how they can combine minimal things with rustic which has its own unique value and also brings a calm side.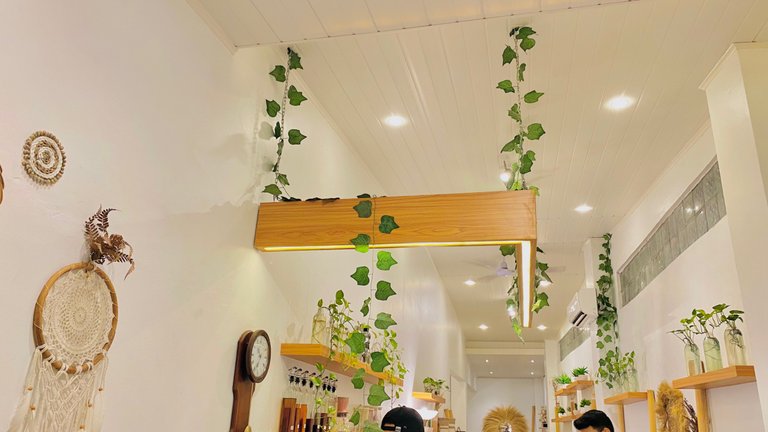 ---
---
---
MAIN AREA
After passing through the bar area at the front, we enter the main area on the first floor. All sides consistently feature white, brown, and green. Likewise with the consistency of the use of material elements in it.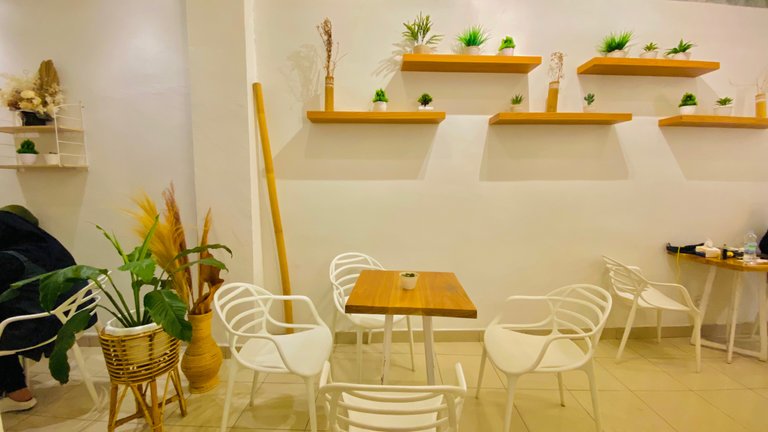 ---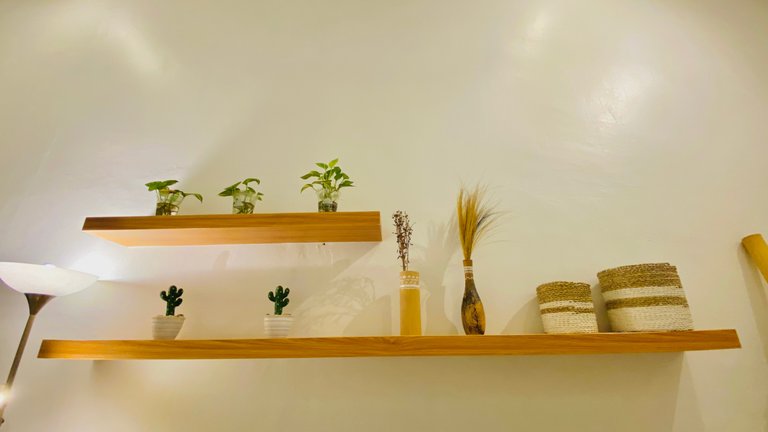 ---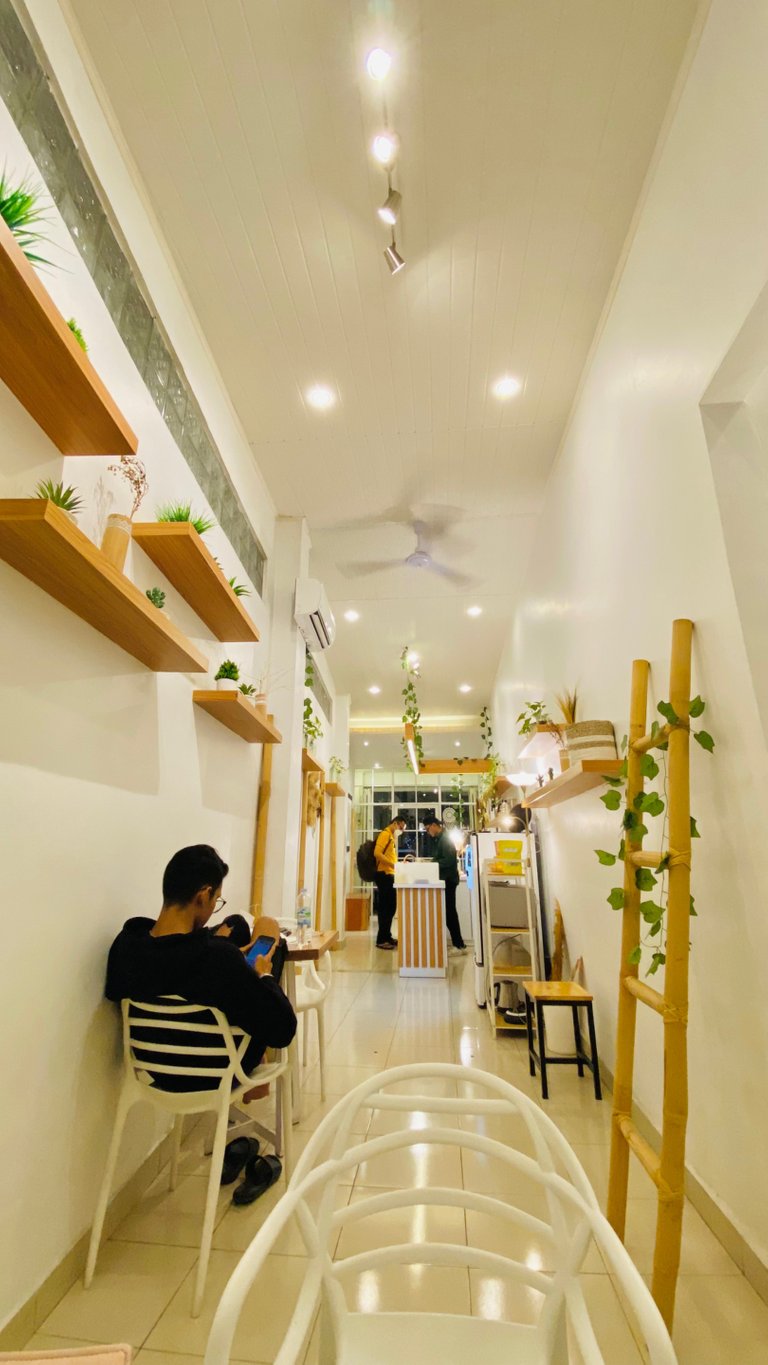 Wood, greenery, and white chairs. Everything blends in a seemingly peaceful harmony that carries cleanliness, as well as some classic and traditional aspects. The more we explore the area in Clouds Coffee, the more rustic vibes will be felt.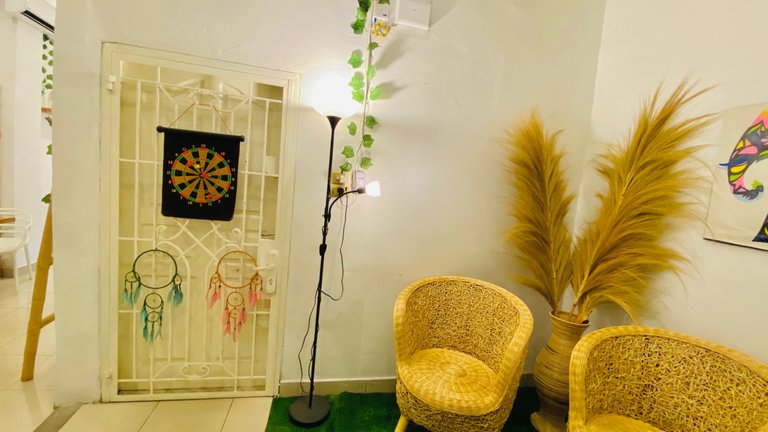 The use of chairs made of rattan, as well as some accessories from bamboo, and dry plant leaves with a feather-like concept.
---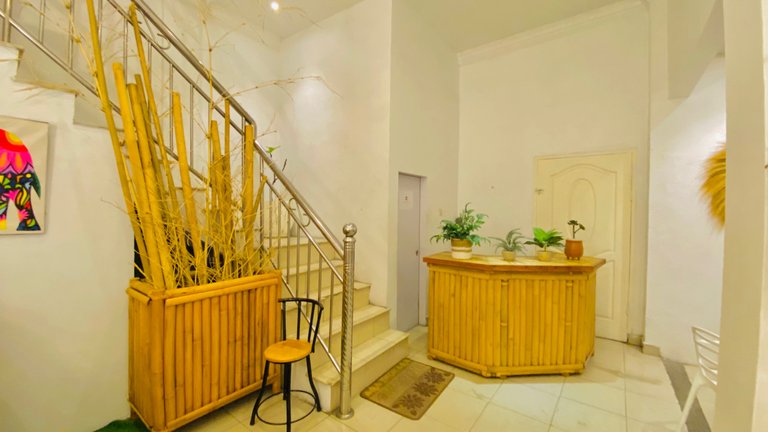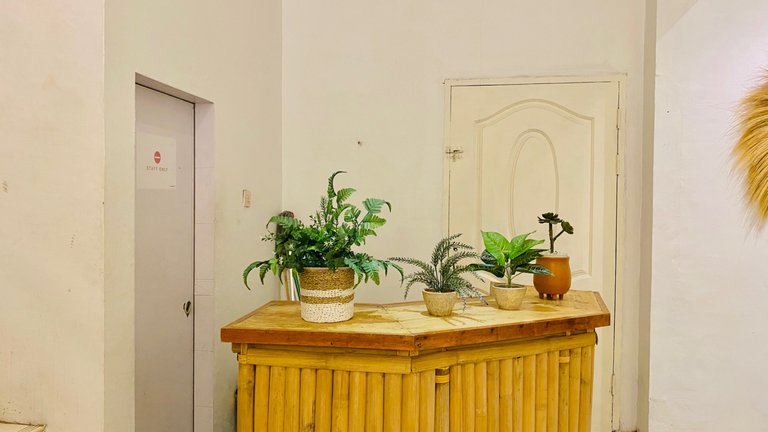 ---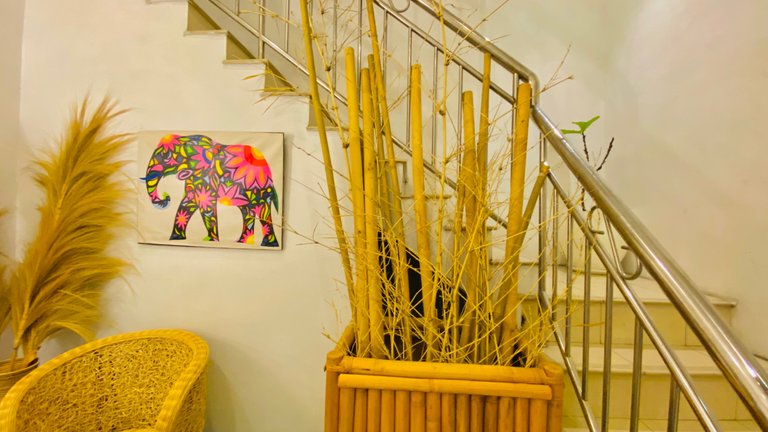 On one side of the main area which is near the stairs leading to the second floor, we can see the addition of accessories that thicken the area. There is a colorful painting to get out of the line of consistency of the previous white, brown, and green colors.
---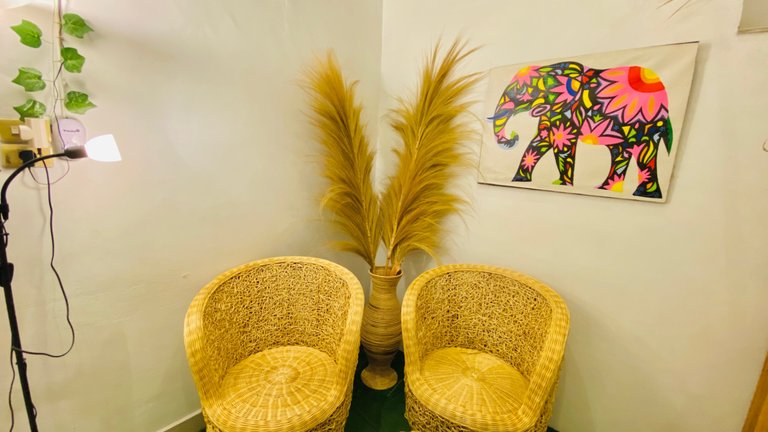 This brightly colored painting is quite successful in bringing out a boring vibe when the visitor's eyes are too fixated on white, brown, and green colors.
---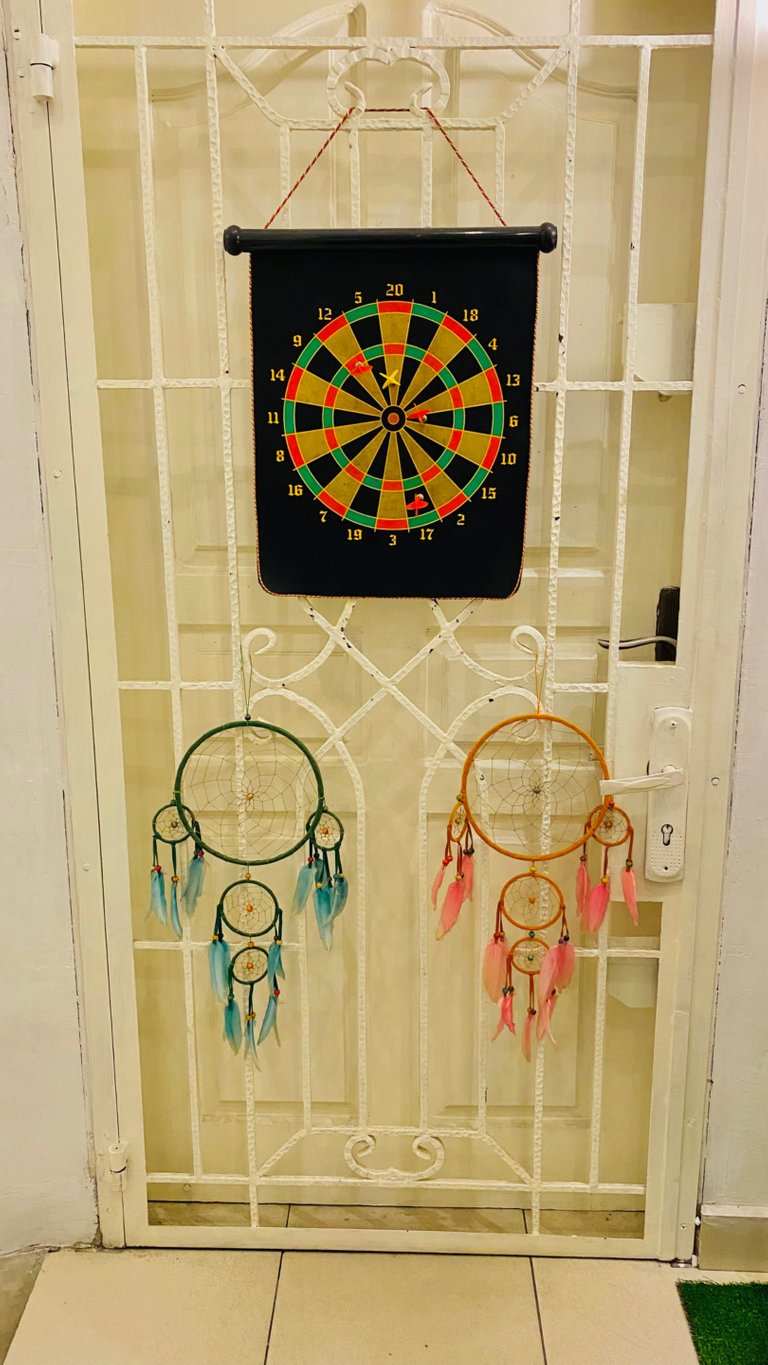 There is also a dream catcher placed near the corner of the rattan chair. The dream catcher also gives a slightly striking impression as a resting area for our eyes from the impression of white.
---
---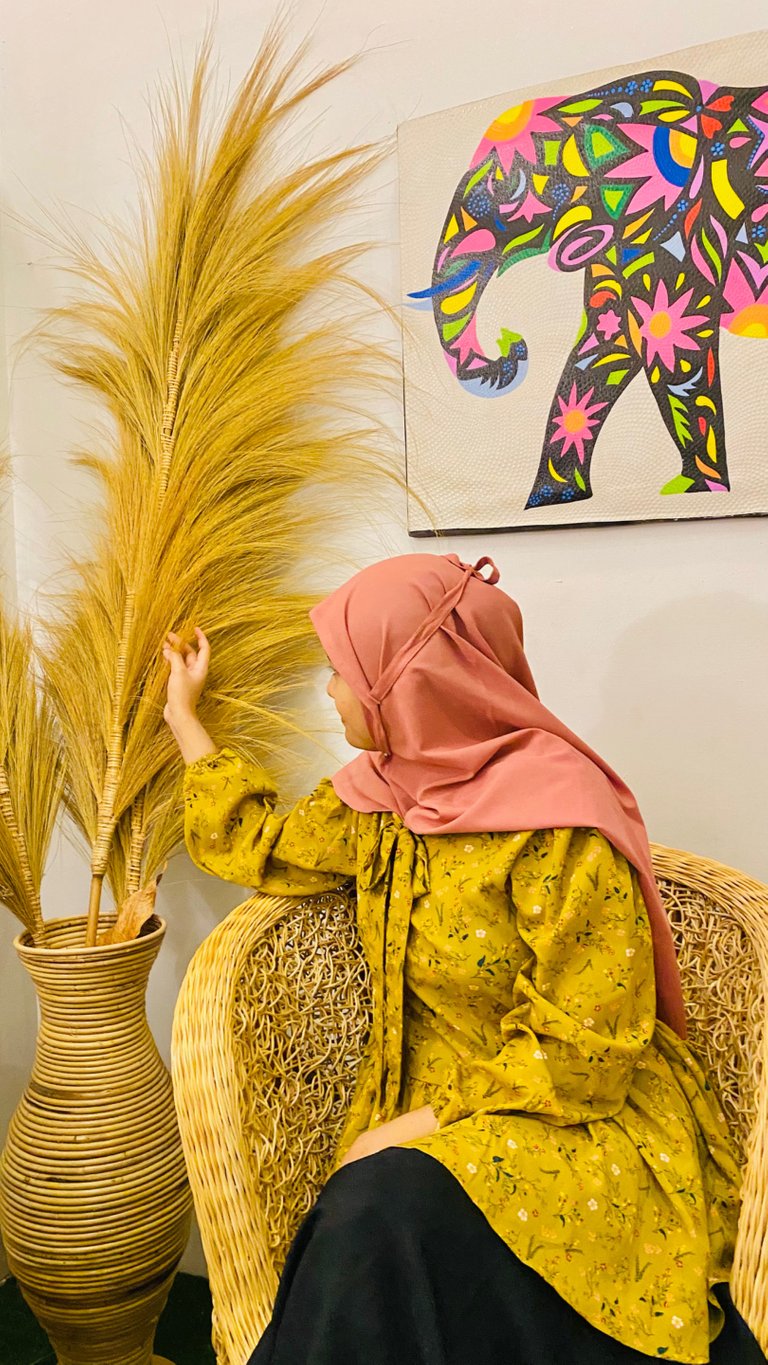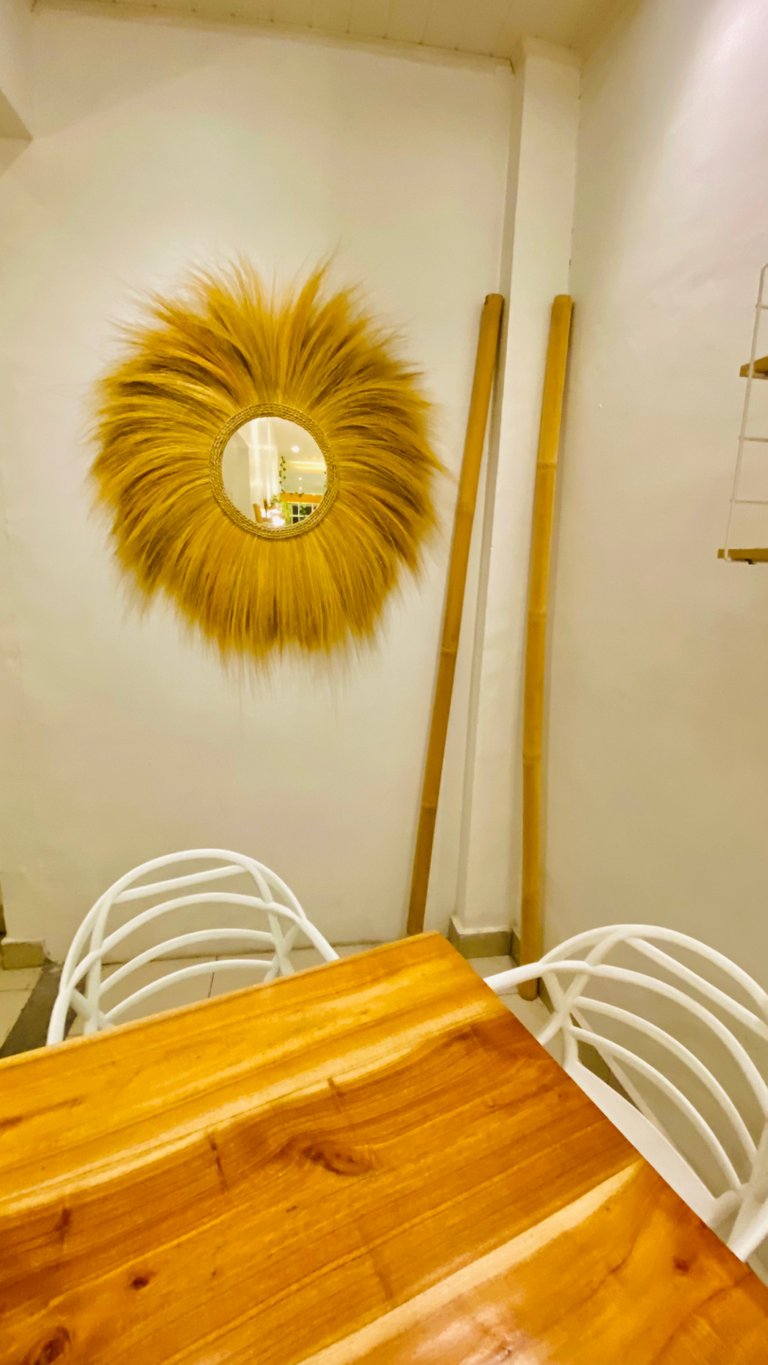 ---
---
For the corners in the main area, applied the addition of plants placed on a hanging wall shelf. There is also a rustic framed glass similar to the plant leaf accessories in the other corner that I mentioned earlier.
---
---
---
Second Floor Area
Continuing to the second floor, the rustic vibes are getting more and more pronounced. In the corners of the room on the second-floor area, many baskets made of woven bamboo are placed. Not to be missed, followed by the application of dry twigs.
---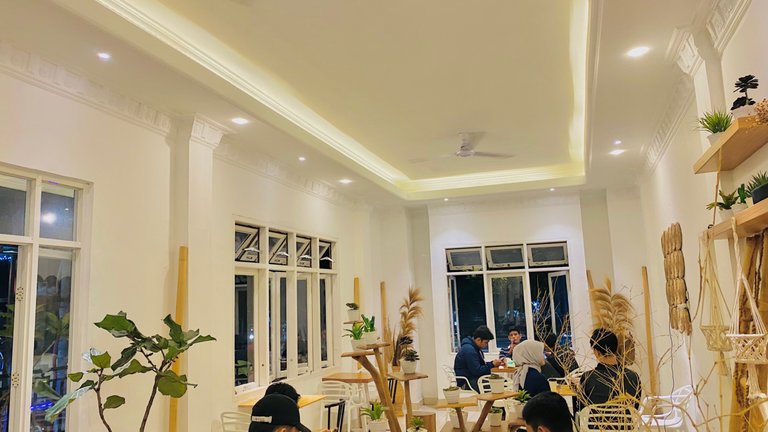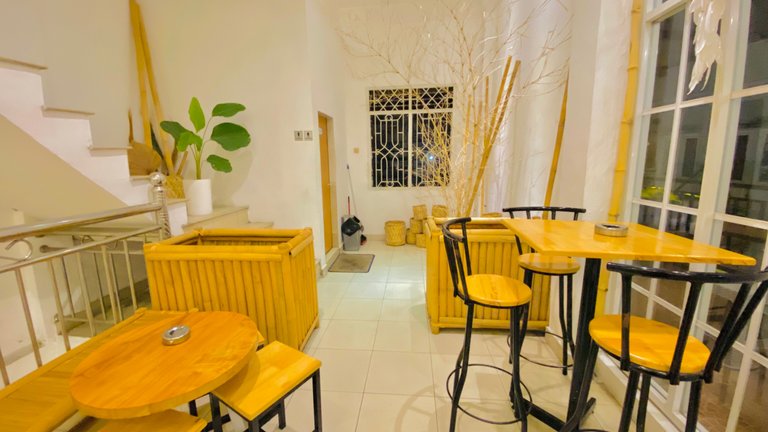 ---
---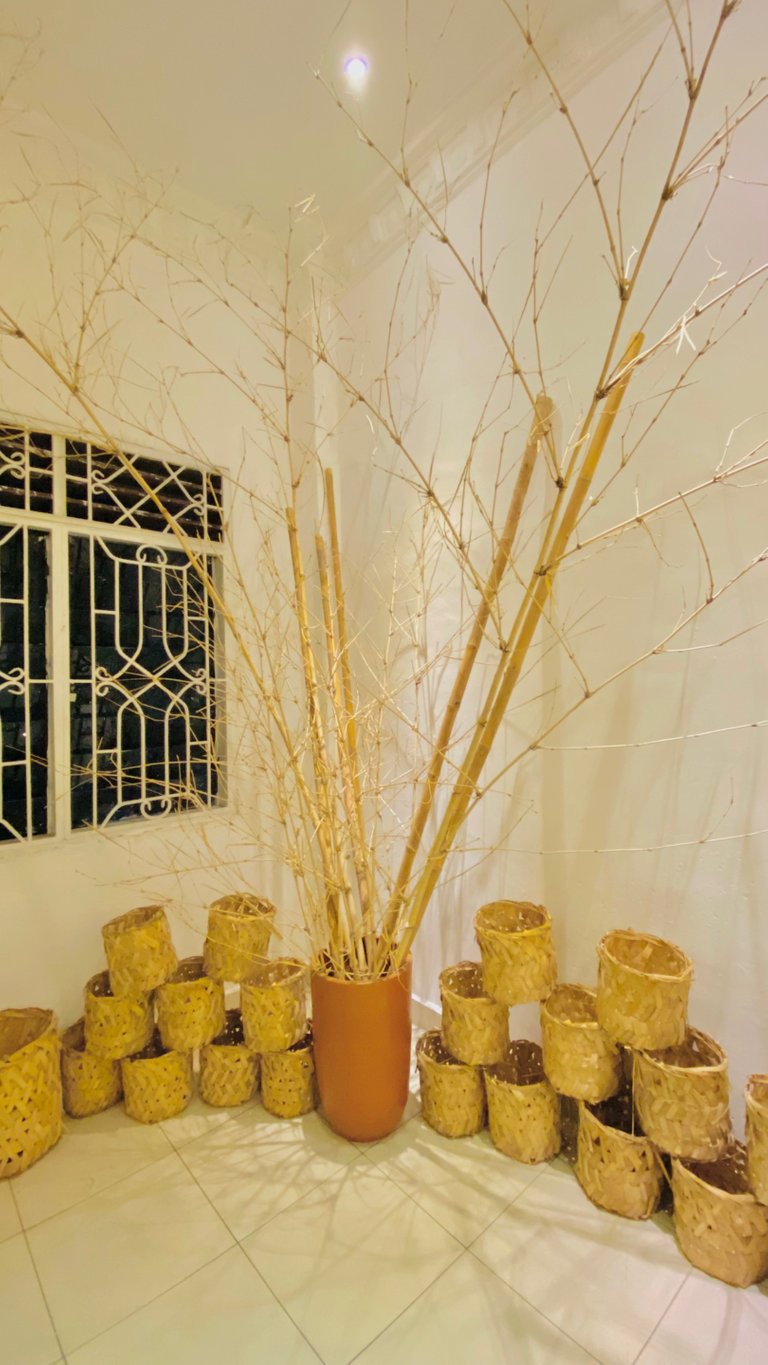 ---
---
In the area on the second floor, there are indoor and outdoor areas. In the outdoor area, we can see the application of rustic designs on unfinished walls.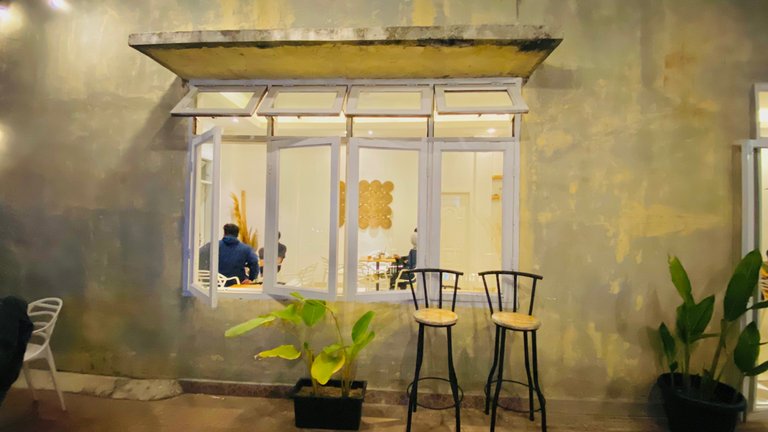 To add a calm impression to the outdoor area and more fun, then added chandeliers as is generally done in many public areas.
The outdoor area on the second floor is the most popular with visitors and when I arrived, it was already filled with visitors.
---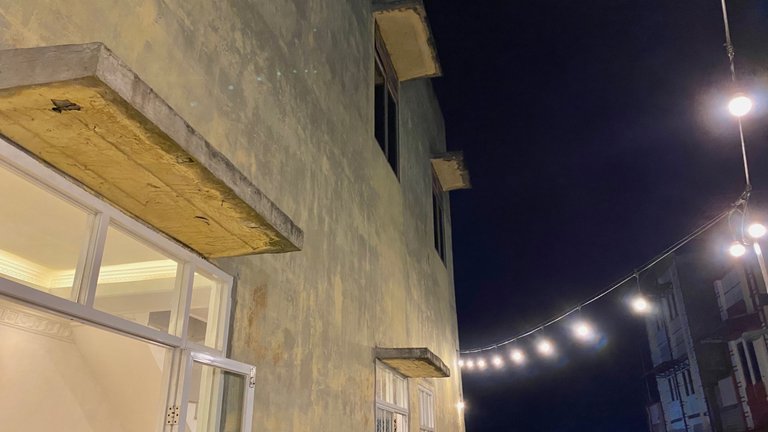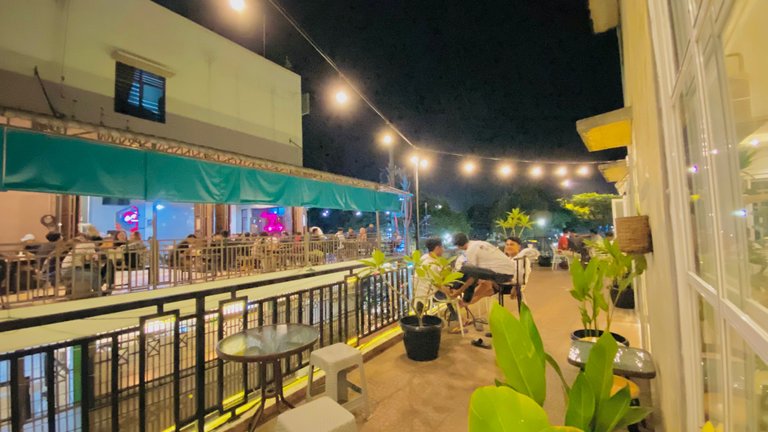 ---
---
---
---
Overall, I like the vibes in Clouds Coffee with its rustic design and consistent use of white.
Then, how about the taste of coffee at Clouds Coffee? At first glance, I can say the taste of the coffee in this place does not disappoint. I will review more in the next blog, about coffee and food served by Clouds Coffee.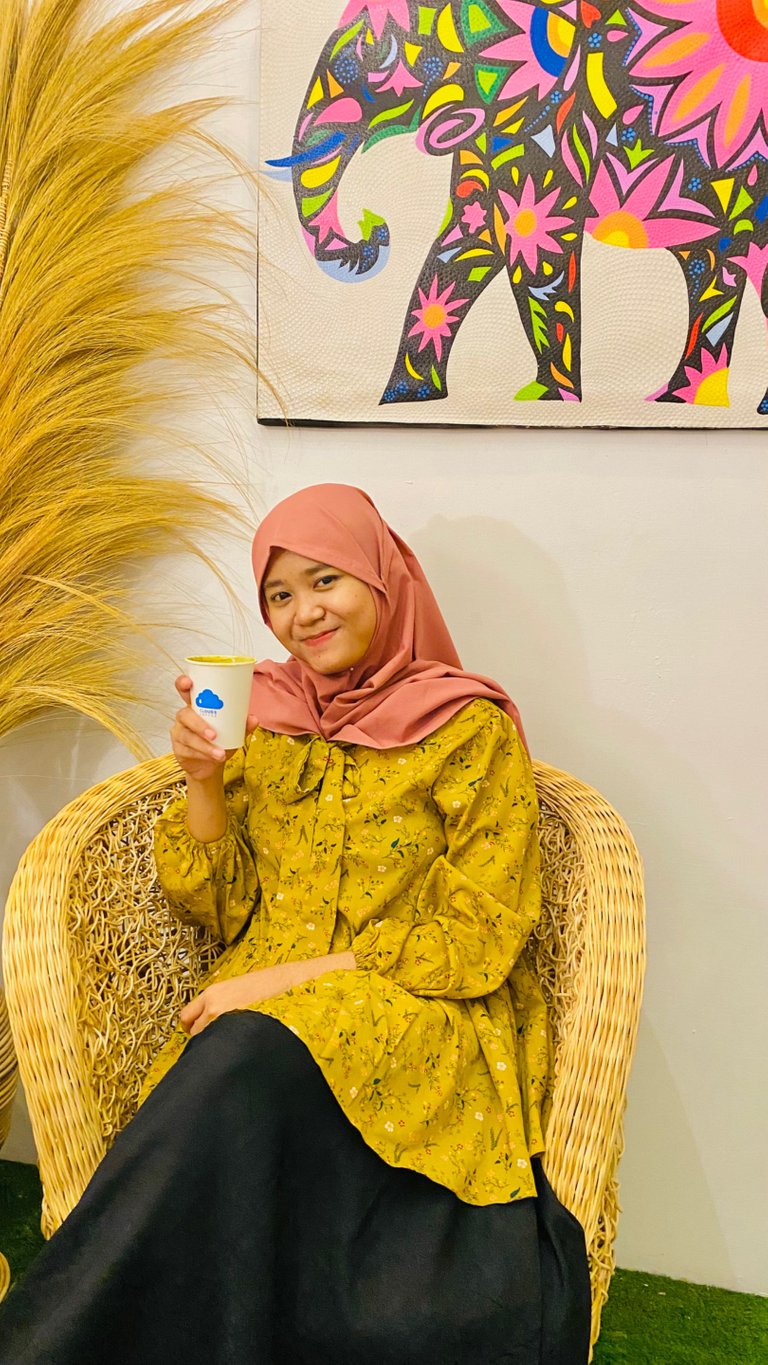 This time, it is enough to discuss the design of the place. I hope you guys enjoy this coffee shop tour. It's really nice, right, to be able to explore new places that give us decoration and design inspiration. Maybe we can apply the design to our workspace or home.
---
How about you guys? Do you like rustic designs that highlight a warm traditional impression? Have a great day, HIVE Lovers!
---
---
---
Finding the things that you deserve to find today. Have a great day, good people, HIVE Lovers!
---
---
---
Thank you for reading my blog and reblog if you want my blog this time worthy of reading by others.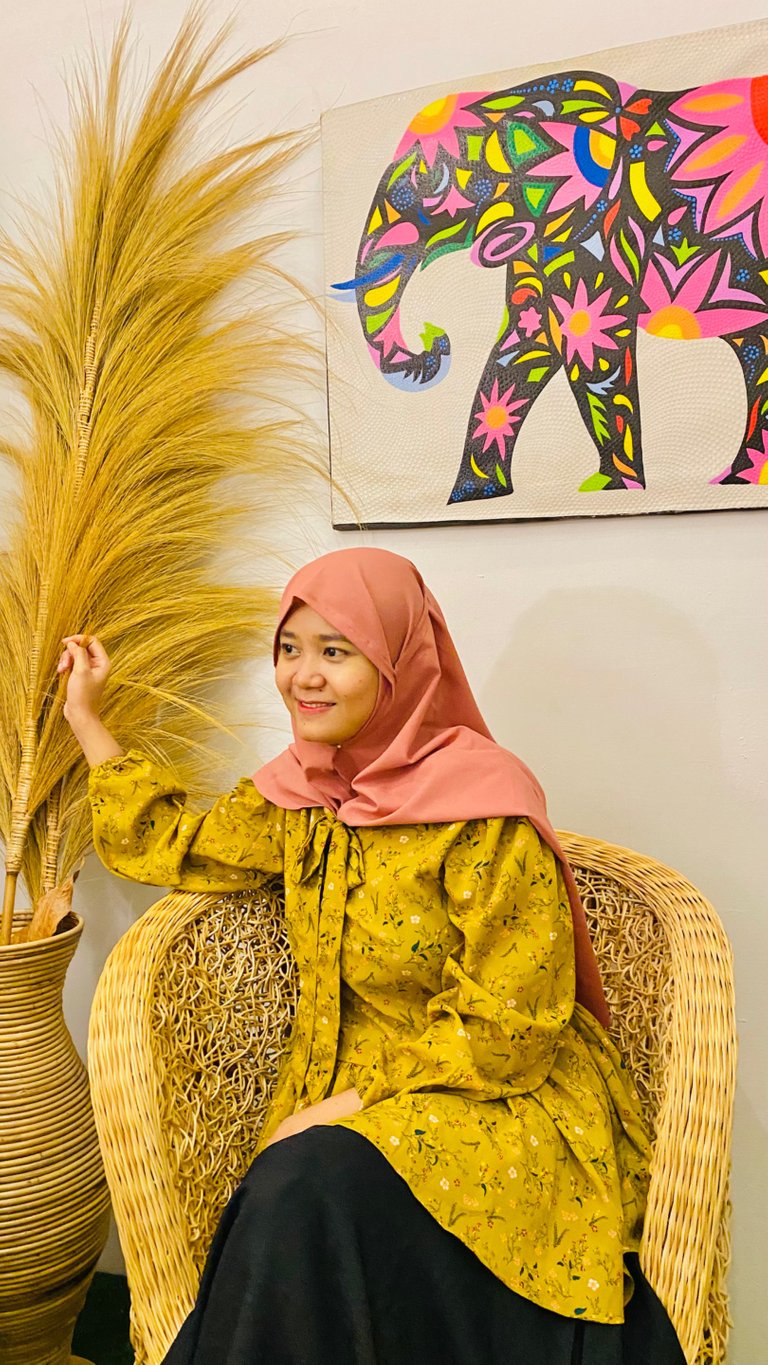 ---
---
---
Best Regards,
Anggrek Lestari
---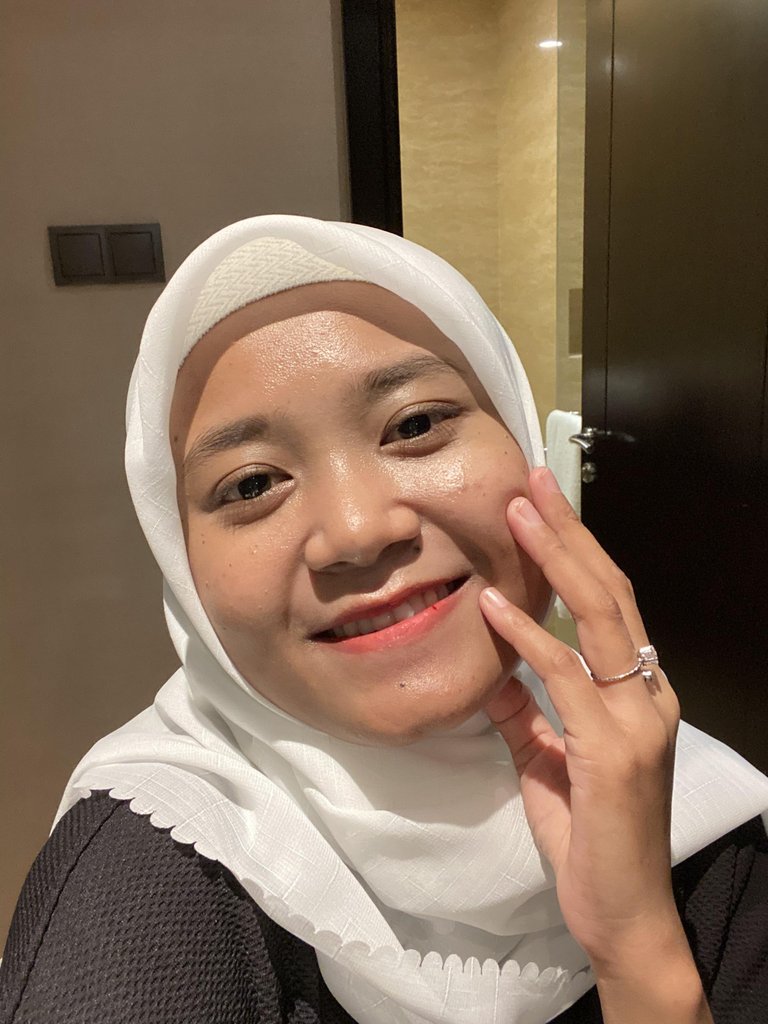 Who is Anggrek Lestari?
Anggrek Lestari is an Indonesian fiction writer who has published two major books. Now She is a full-time content creator. She has a goal to share life, poem, and food content that makes others happy and can get inspiration.
Make sure you follow her blog as well for some interesting discussions about life other than food.
If you need a copywriter for your projects, Anggrek Lestari will be ready to help you.
Contact Person: authoranggreklestari@gmail.com
Discord: anggreklestari#3009
---
---
---