The Hotel Features that Don't Want Me To Go Back Home

I like to choose something that provides a lot of new experiences. When it comes to lodging or hotels, I usually never stay at the same hotel. I want to have a different experience at each hotel.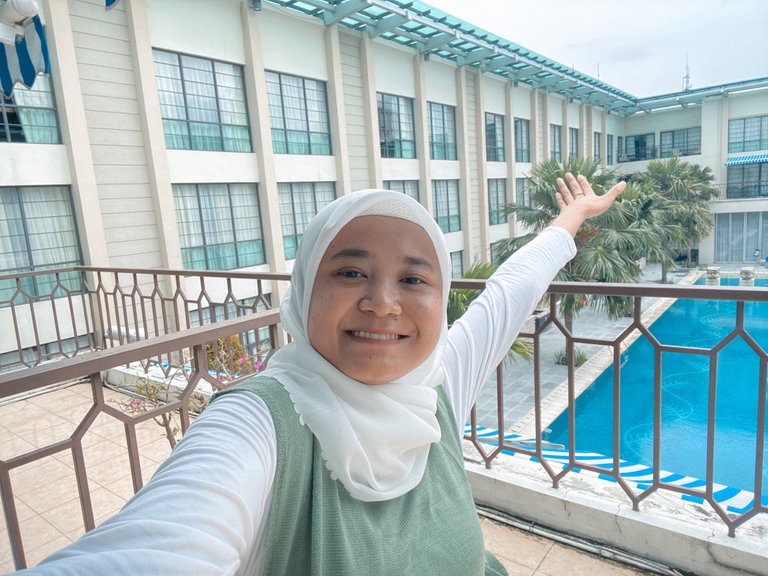 Exceptions occur if I have business matters that require me to stay in a certain city. For this case, usually, I will stay at a hotel that has previously been included in the recommended hotel list from my previous trip.
---
A Hotel that Doesn't Want Me To Go Back Home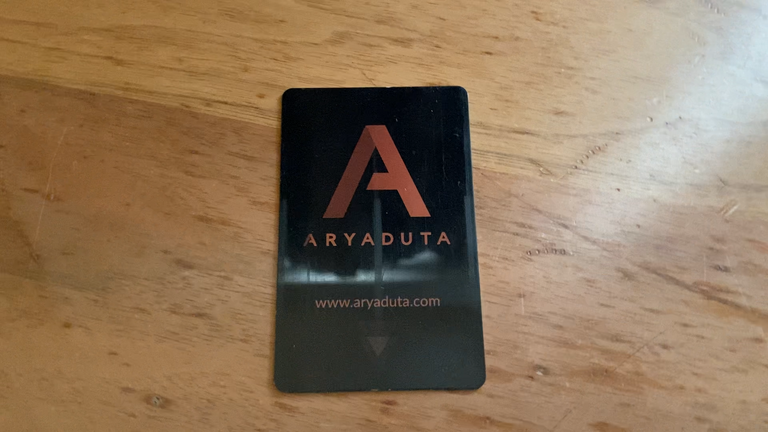 A hotel that makes an exception to my rule is "ARYADUTA HOTEL" in Medan City. Actually, I had postponed several times to stay at the hotel.
Initially, I thought, this hotel is not worth it for a staycation place compared to others. I saw that there was no bathtub facility, nor was their jazucci facility. So I often miss the "ARYADUTA HOTEL" hotel in the list of recommended hotels.
Indeed, we should not judge and conclude something too quickly. When I finally stayed at this hotel, I just realized that this "ARYADUTA HOTEL" deserves the logo of a recommended hotel to stay.
I will share with you guys about this hotel room tour as well as some of my favorite features at the hotel.
---
---
---
GRAND DELUXE ROOM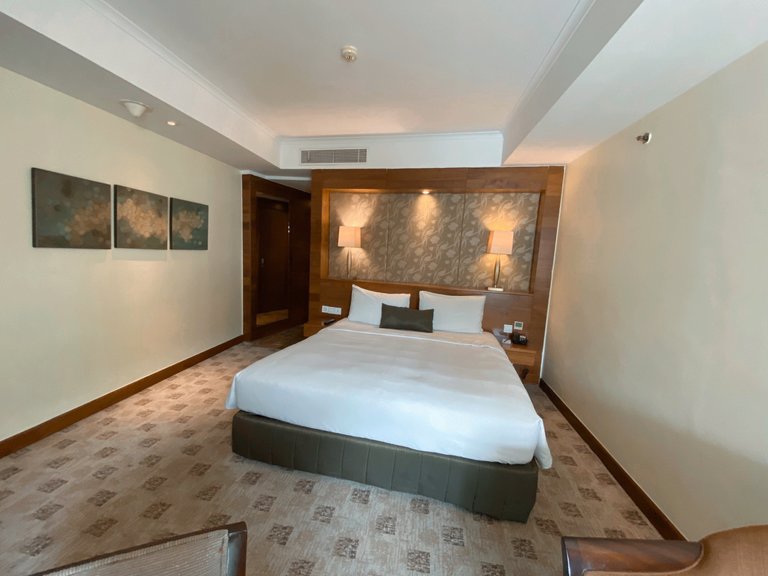 ---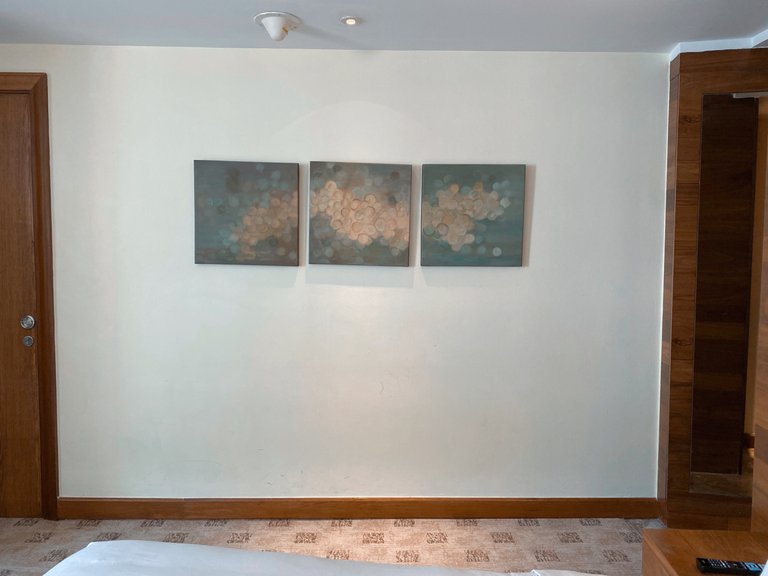 ---
I chose to check-in at "ARYADUTA HOTEL" with "Grand Deluxe Room" type. My room is on the 10th floor.
The room design carries a contemporary feel with a bit of a minimalist approach. We can see the room space is not too spacious but also not small.
I feel comfortable in a room that focuses more on optimizing function. Although not spacious, I feel relieved and comfortable in this place.
---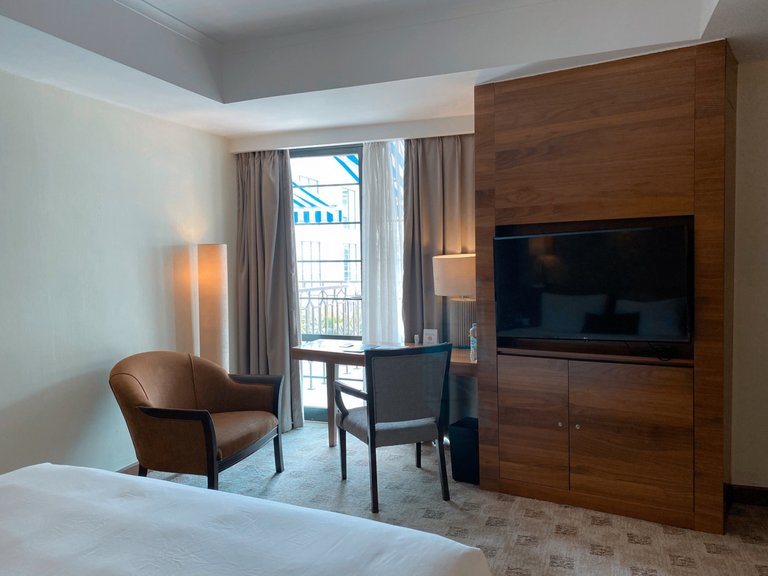 The television area is attached to the coffee/tea pantry cabinet, as well as the work desk area.
---
There is a corner seat and a work desk area by the door that looks like a window. I'll tell you guys later, that it's not a window, but a door that connects to the most favorite area of ​​the hotel!
---
---
---
BATHROOM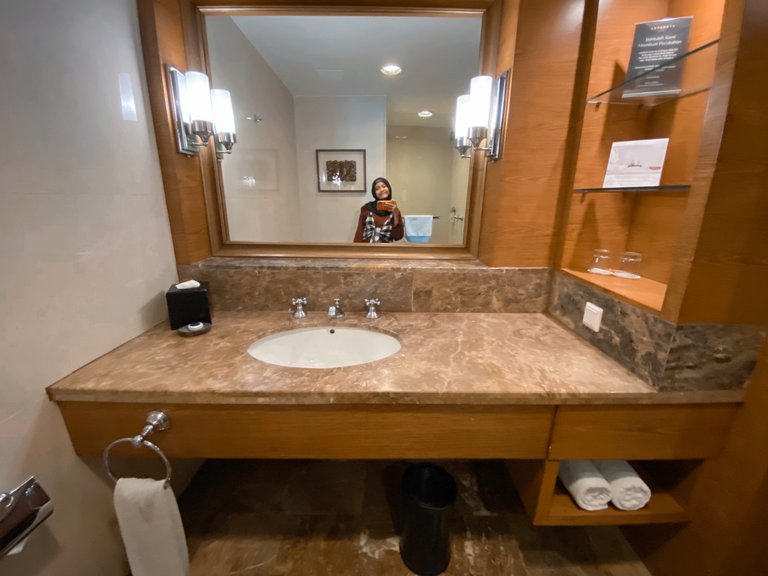 The bathroom is the type of room I live in looks like a standard bathroom. The design looks classic.
Additional amenities, such as soap, towels, and others, are neatly arranged in the bathroom cabinet of the room.
---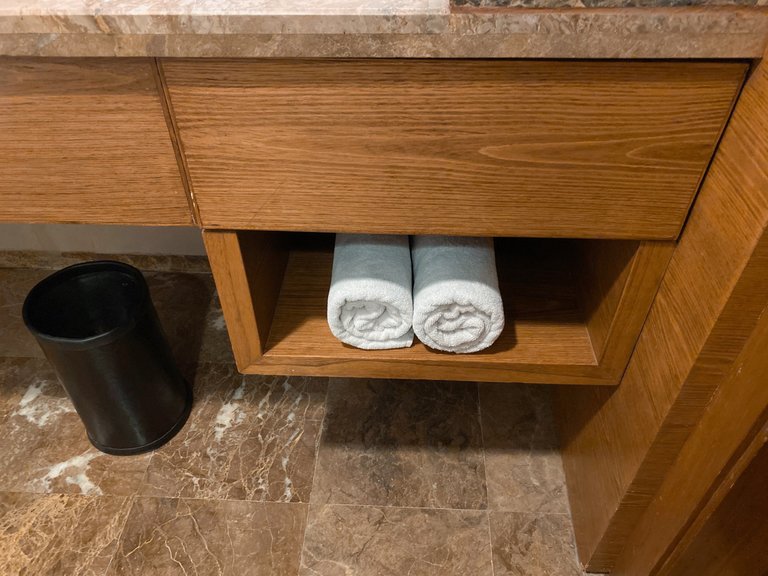 ---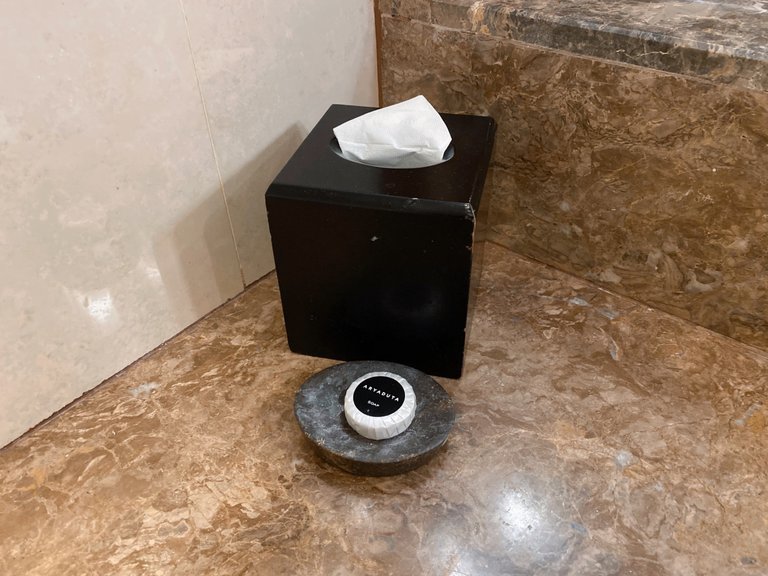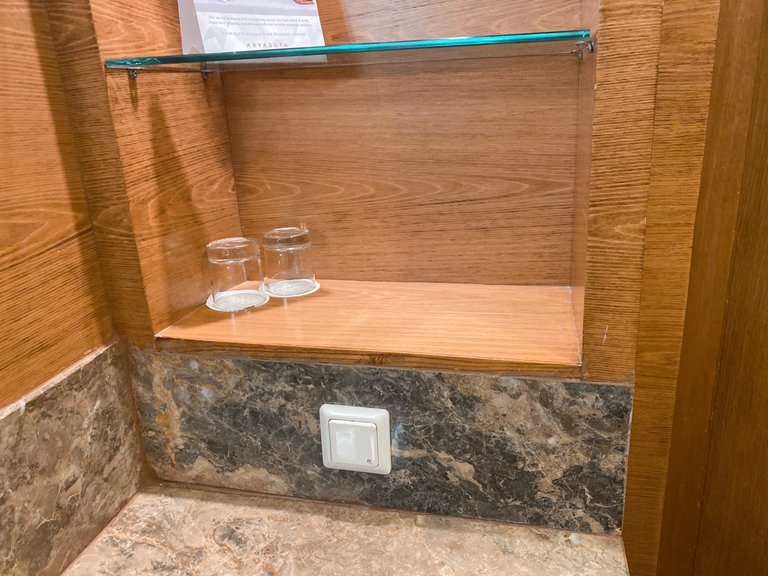 ---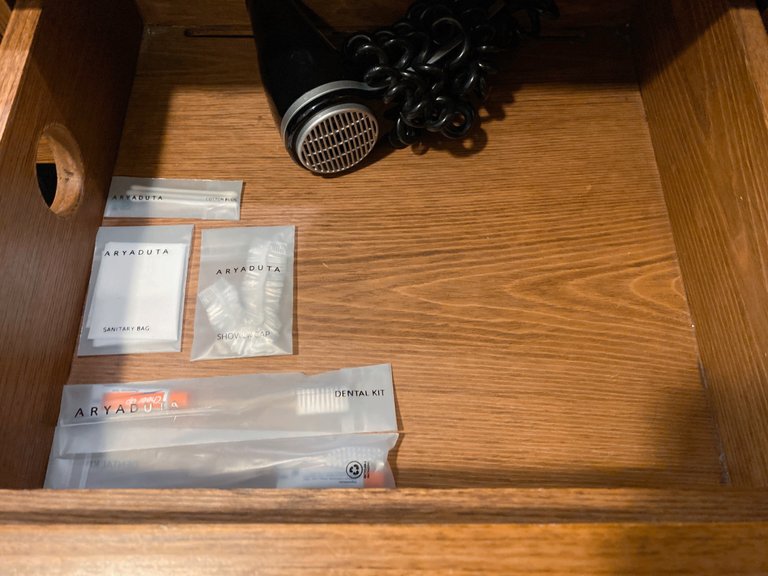 ---
---
---
There is something unique in this bathroom. Although there is only a shower, with hot and cold water, without a bath, there is one feature that caught my attention.
At the edge of the shower room, there is a seating area. In my opinion, that feature is a small detail that deserves appreciation. It is very useful for older users. And, oh wait, it can also be used for the romantic side. With that space, users can serve their partner (cheek blush mode on).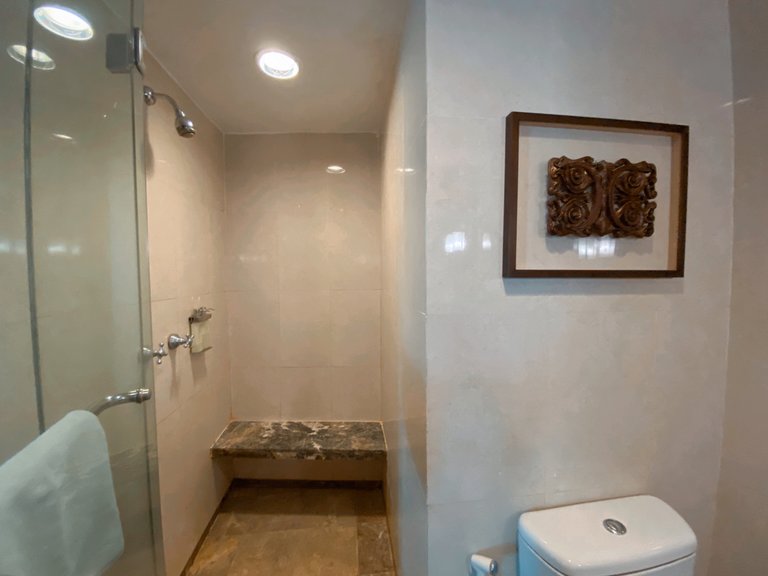 ---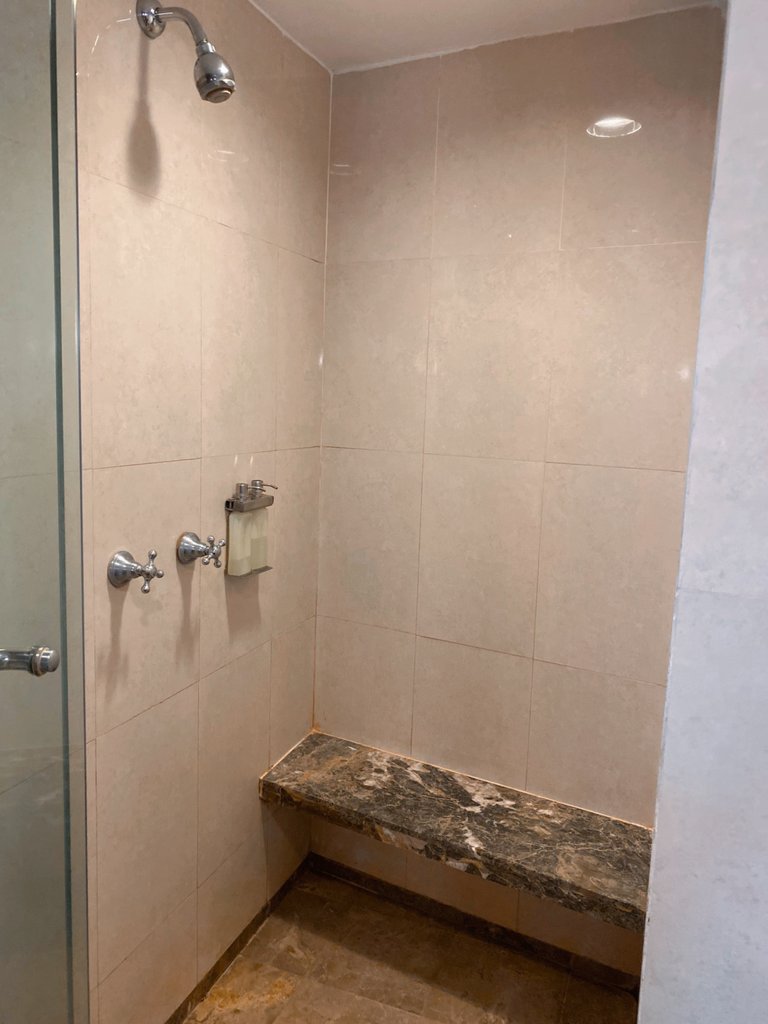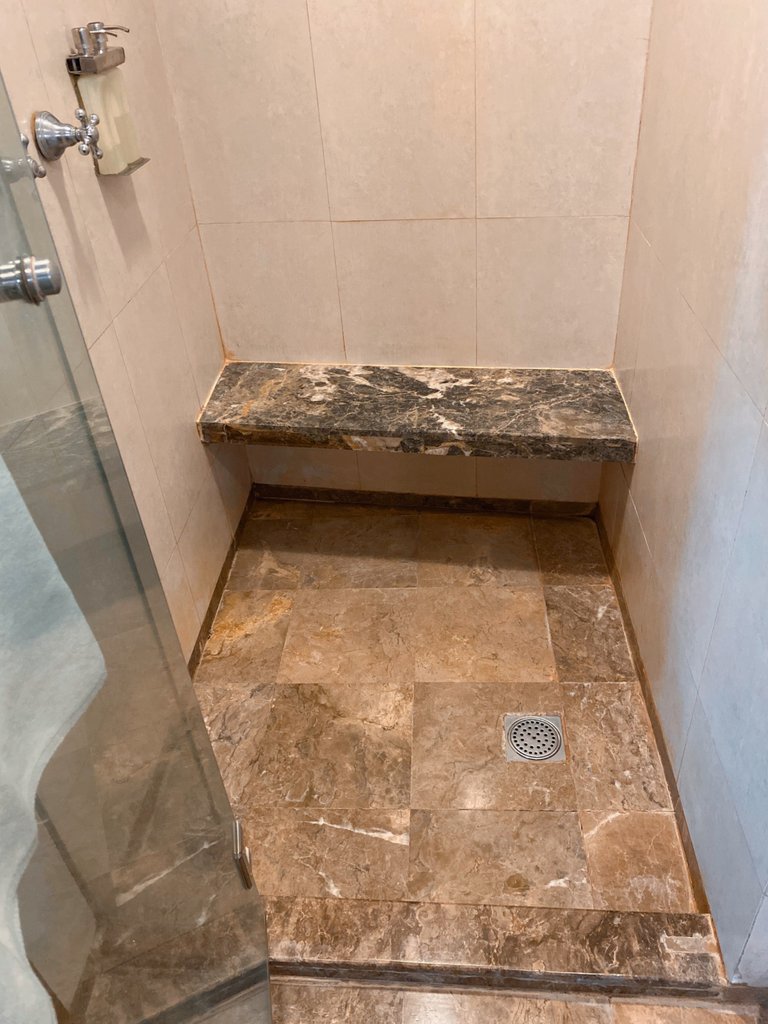 ---
---
---
Let's leave the bathroom. Moving on to another space that is interesting and a favorite feature for me.
---
Balcony Facing the Pool View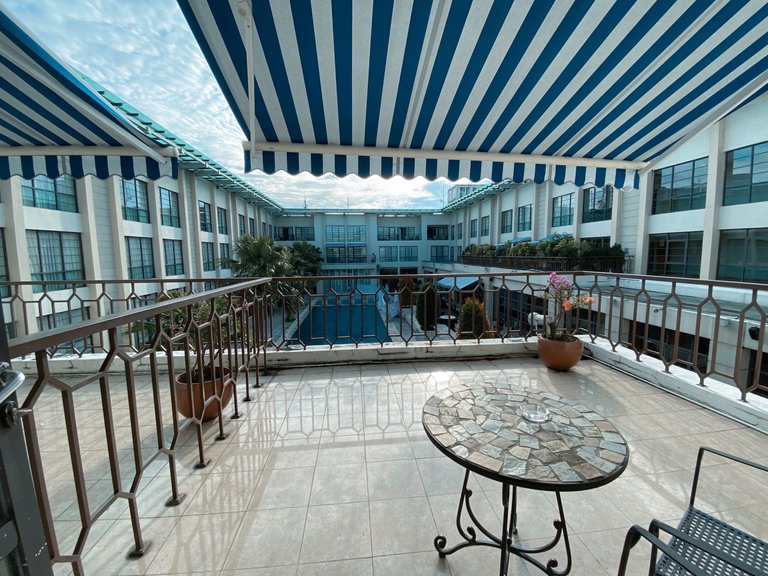 ---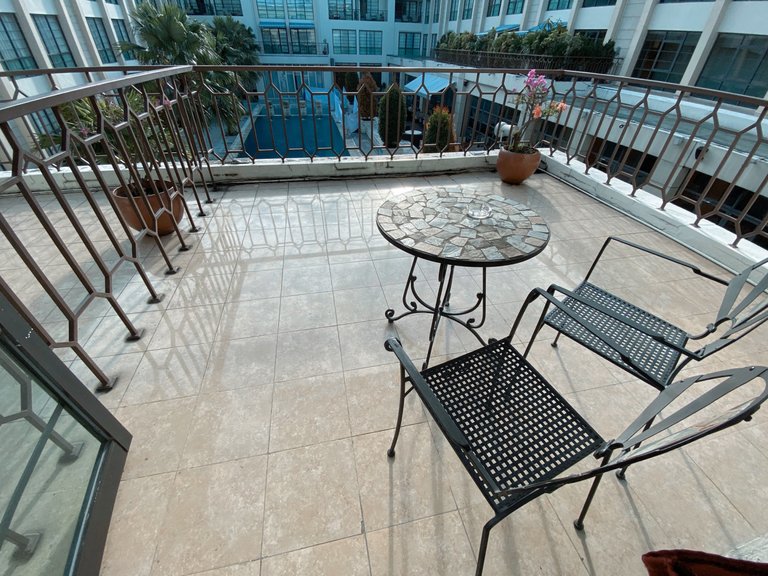 ---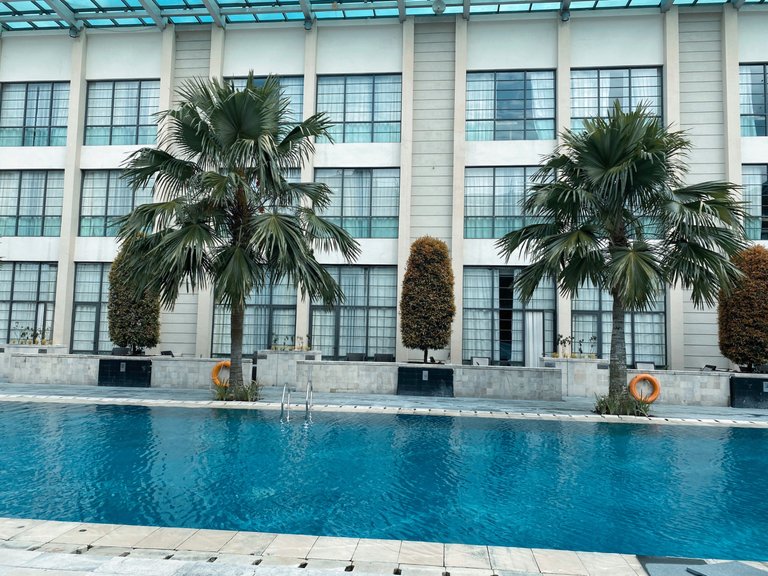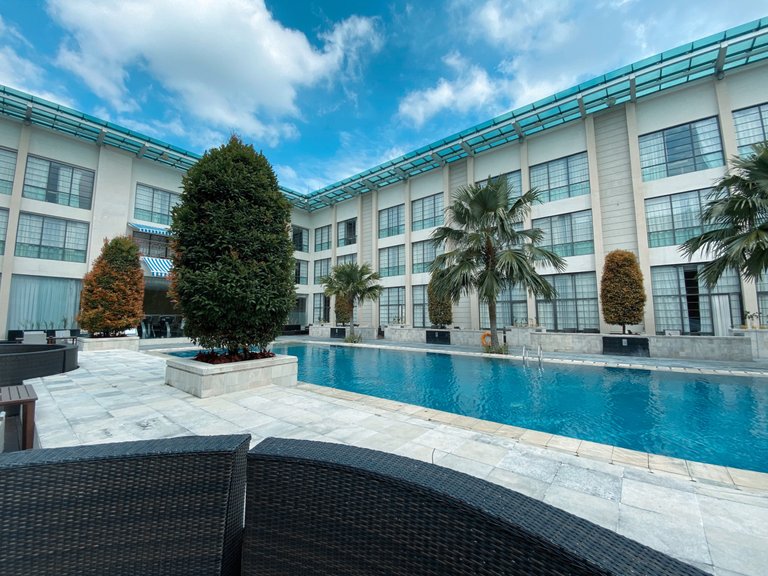 ---
I booked a Grand Deluxe room with a balcony overlooking the pool. That's awesome! The balcony alone makes me happy, especially a balcony with a pool view!
---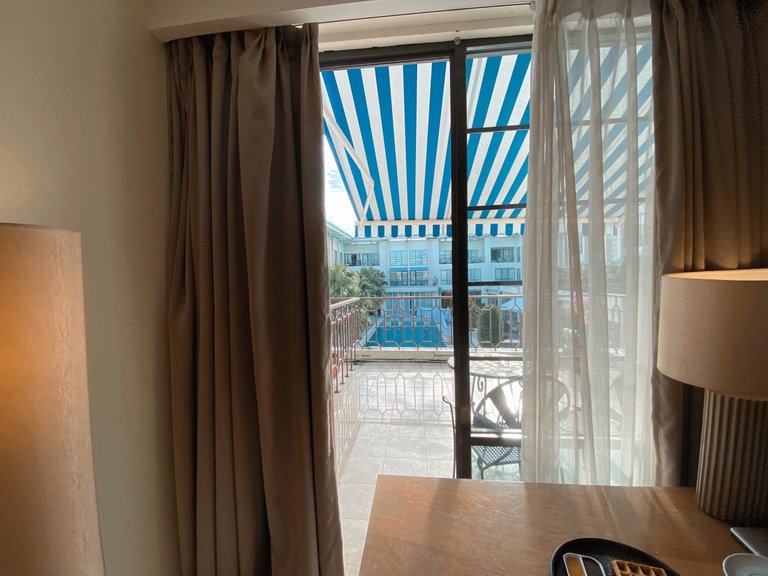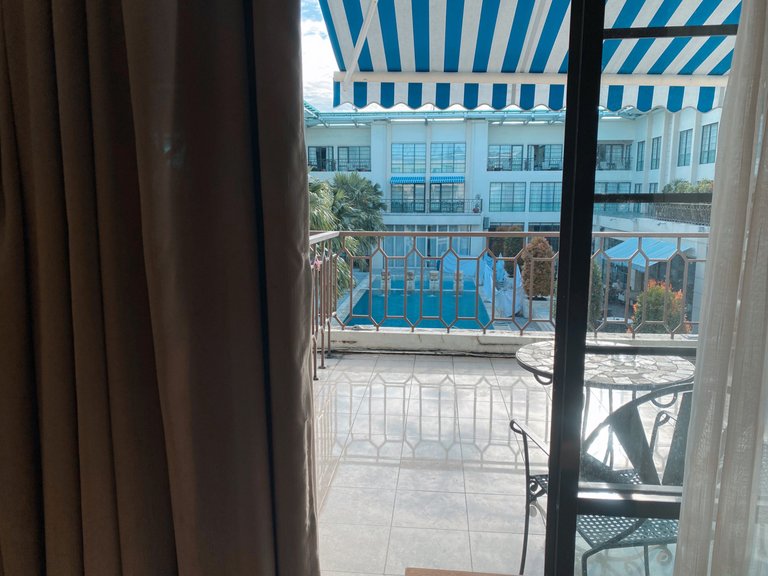 ---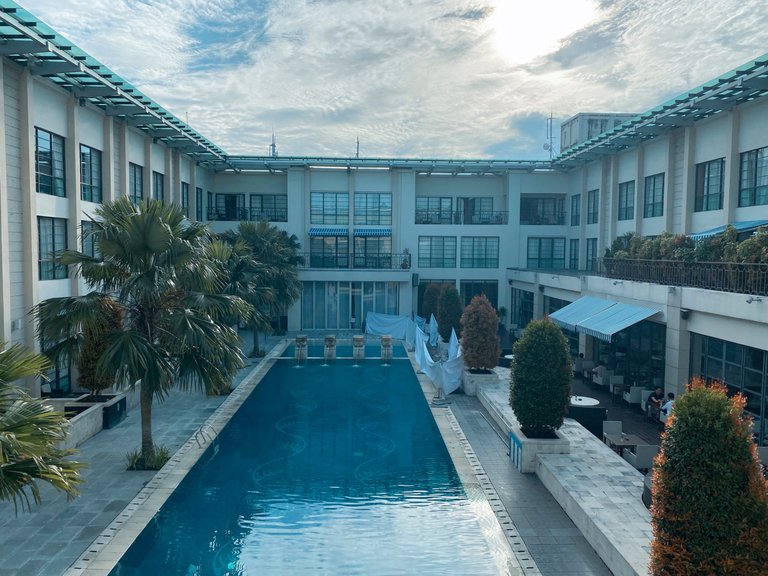 ---
There is a door near the work desk area that connects the bedroom and balcony. I am very happy to be in this balcony space. It's perfect for me just looking at the swimming pool, the wide sky while drinking coffee/tea.
A balcony that means a lot to me. It can lead me to many moments to get creative ideas or my emotional healing.
---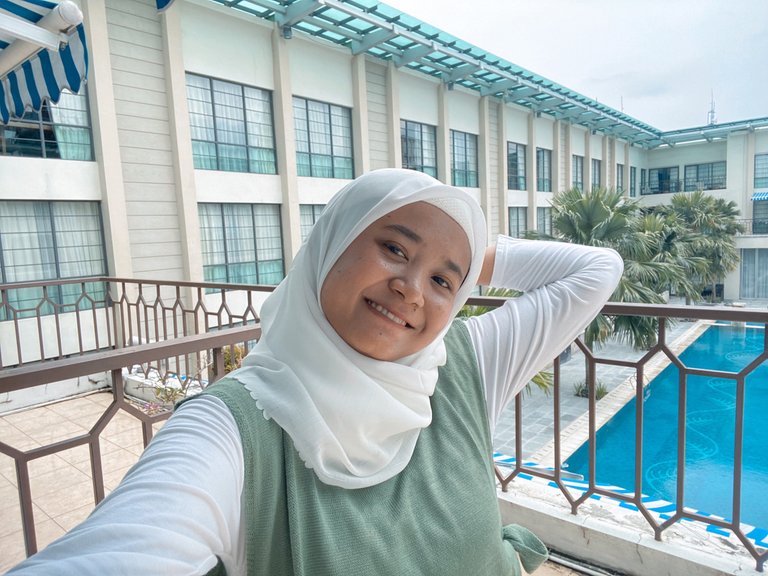 ---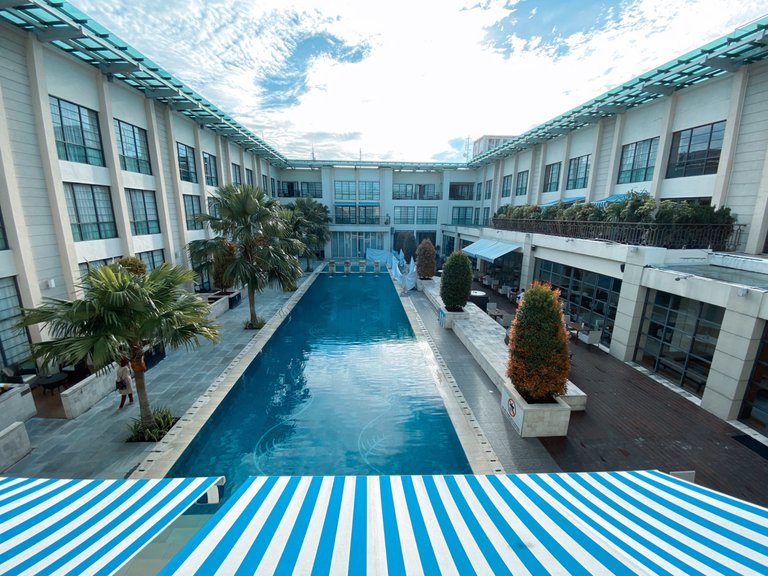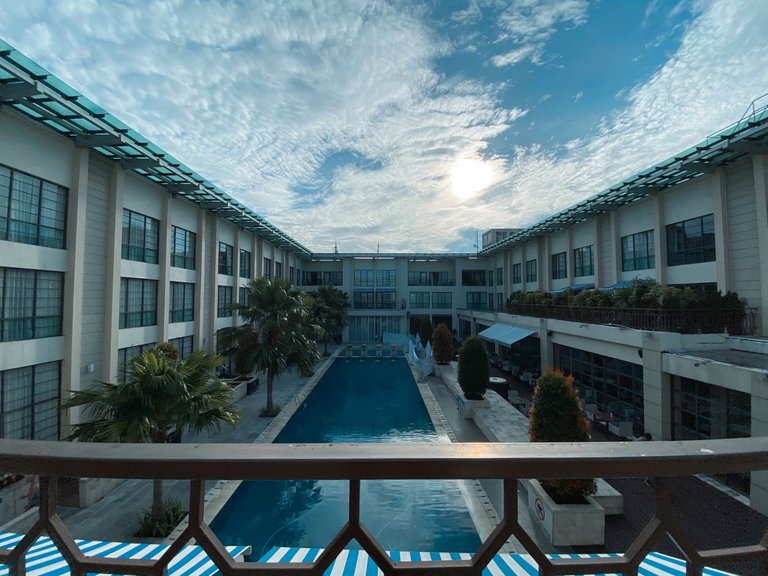 ---
There's a feeling that I can't describe in words when I'm on this balcony. The wind that greeted me, as well as the clear sky, seemed to improve my mood.
So, it's this balcony that makes me not want to go home! Honestly, at that time I wanted to extend it for one more day. But unfortunately, there is no longer the same type of room with a balcony available.
---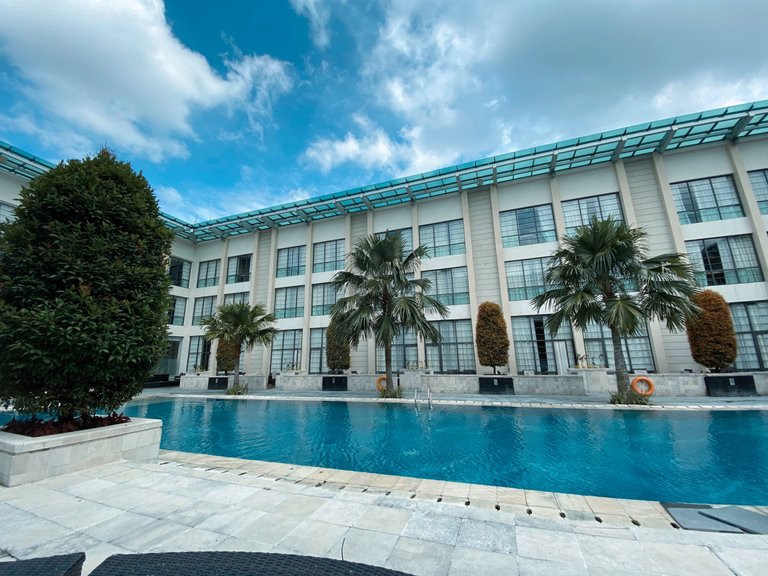 I didn't think I would feel comfortable in a hotel that I didn't recommend at first. Now I am looking for another schedule to stay at this hotel again. It's so worth it!
---
---
---
Nice Breakfast, Nice View From The Restaurant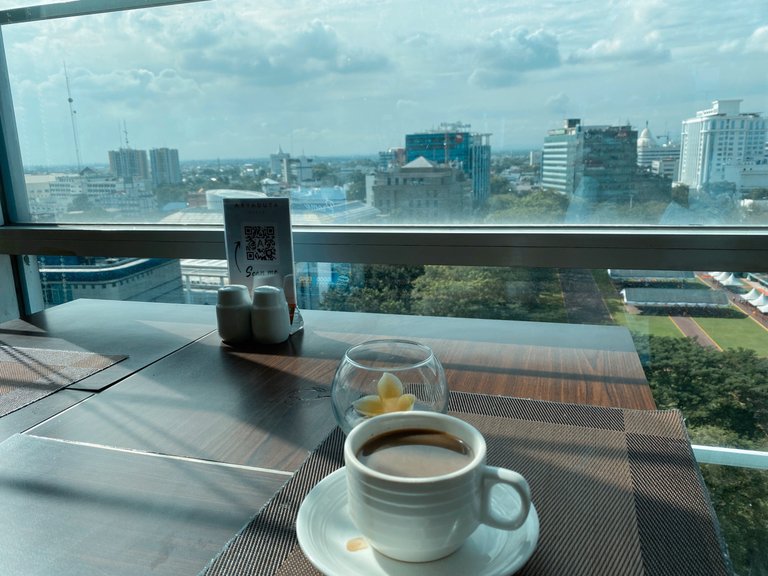 I also took the room package for free breakfast. The breakfast location is in the hotel restaurant on the 9th floor.
I didn't take pictures of the food at breakfast because I just wanted an uninterrupted breakfast at that time. LOL.
I make sure the food at "ARYADUTA HOTEL" is delicious! I have no regrets. I remember the words of @aswita who once said that this restaurant has good food. <3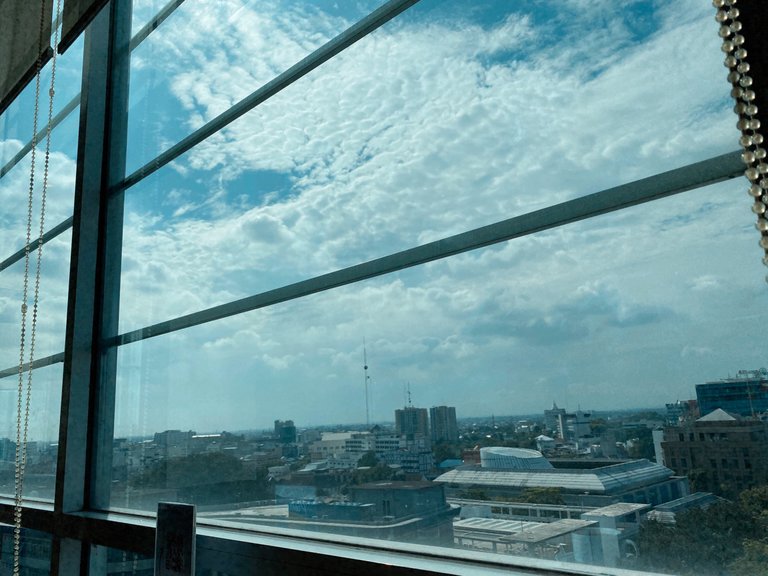 The view from the hotel restaurant is good, for a restaurant that is only on the 9th floor in Medan city, not on the 20th floor. So, not yet fully full city view.
But other than that, I love the part of the sunlight hitting my skin! Especially at that time, I really needed the sunlight after I felt a bit feverish, after getting my second dose of vaccine.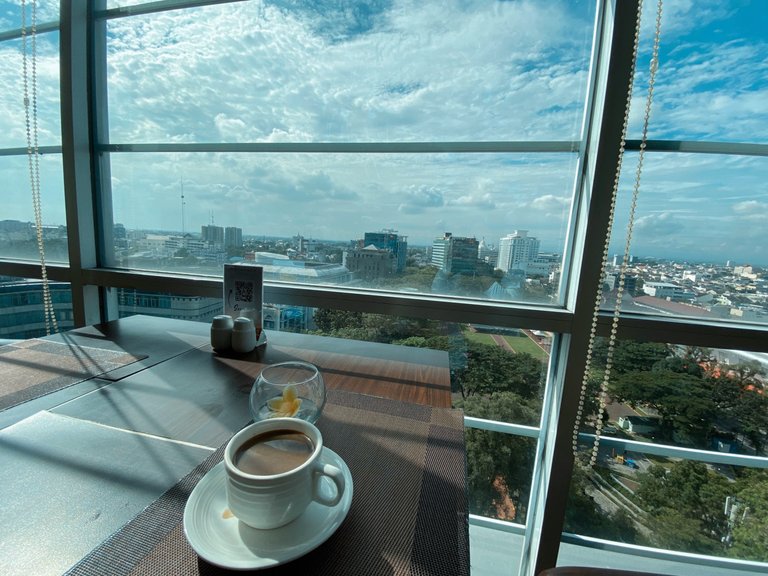 I enjoy my coffee after breakfast while checking some email and some work. A few hours before check out. The atmosphere I like in "ARYADUTA HOTEL" other than being on the balcony <3.
---
---
---
The Price For Grand Deluxe Room With a Balcony: IDR 730.000 / USD52 per night.
---
---
---
Those were some of the features in "ARYADUTA HOTEL" that made me not want to go home. What do you think about the features of the hotel? Do you like the feature of a room with a balcony?
---
---
---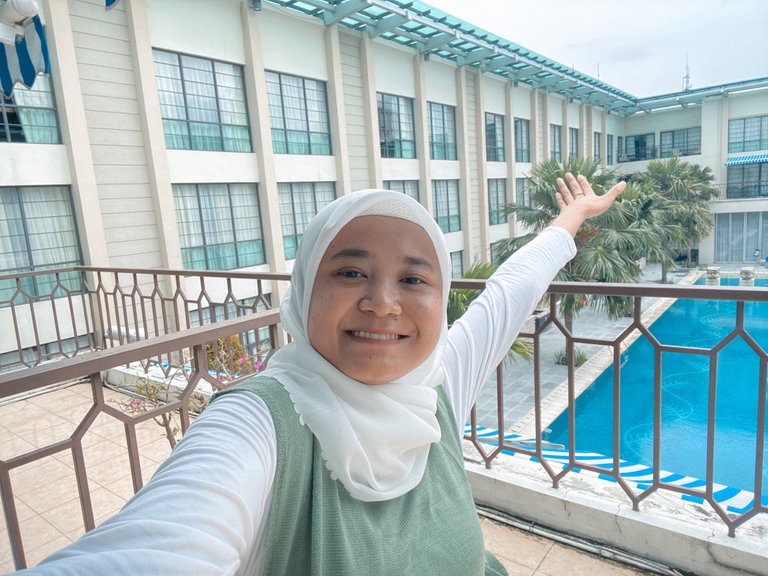 Thank you for reading my blog and reblog if you want my blog this time worthy of reading by others.
---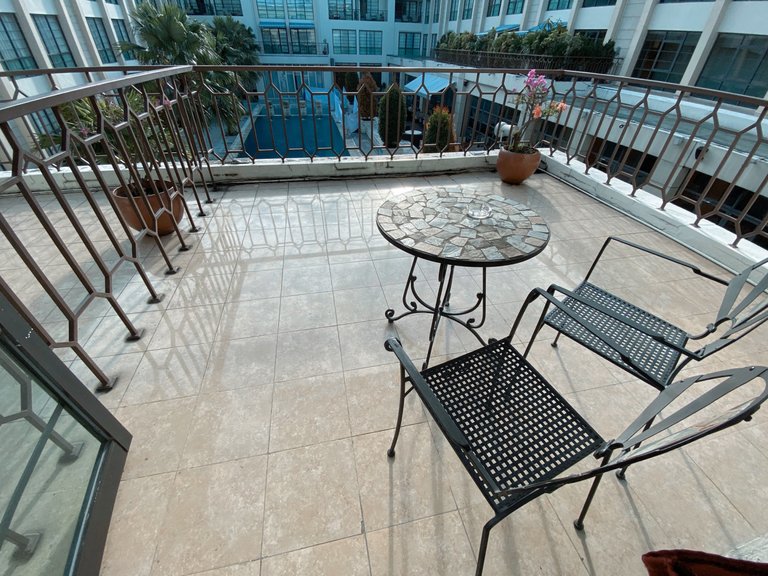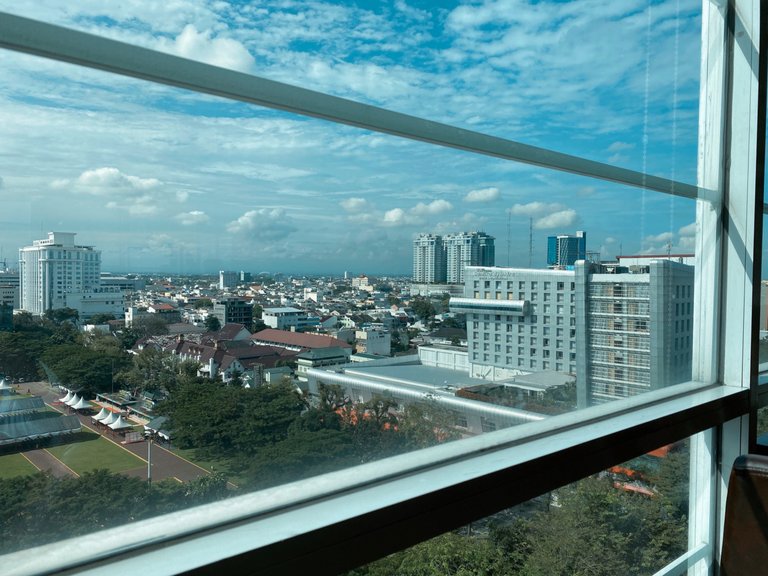 ---
---
---
---
Best Regards,
Anggrek Lestari
---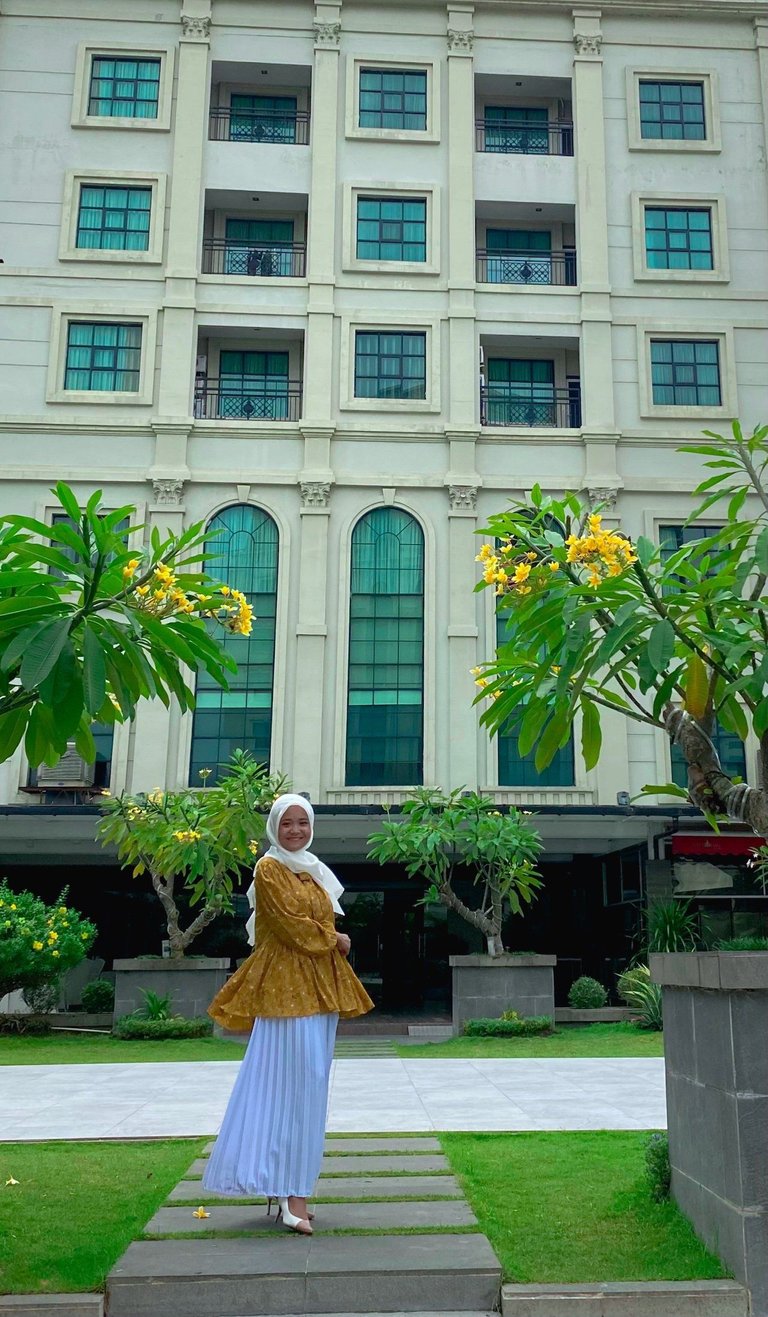 Who is Anggrek Lestari?
Anggrek Lestari is an Indonesian fiction writer who has published two major books. Now She is a full-time content creator. She has a goal to share life, poem, food content that makes others happy and can get inspiration.
Make sure you follow her blog as well for some interesting discussions about life other than food.
If you need a copywriter for your projects, Anggrek Lestari will be ready to help you.
Contact Person: authoranggreklestari@gmail.com
Discord: anggreklestari#3009
---
---