[ESP-ENG] El fútbol italiano esta cada vez más emocionante // Italian soccer is getting more and more exciting
¡Hola a todos los amantes del deporte!
Siguiendo con materia deportiva, el día de hoy, les traigo un artículo referente al fútbol italiano, en donde varios equipos pelean el primer lugar, que actualmente lo ocupa el AC Milan.
Hello to all sports lovers!
Continuing with sports matters, today, I bring you an article concerning Italian soccer, where several teams are fighting for the first place, which is currently occupied by AC Milan.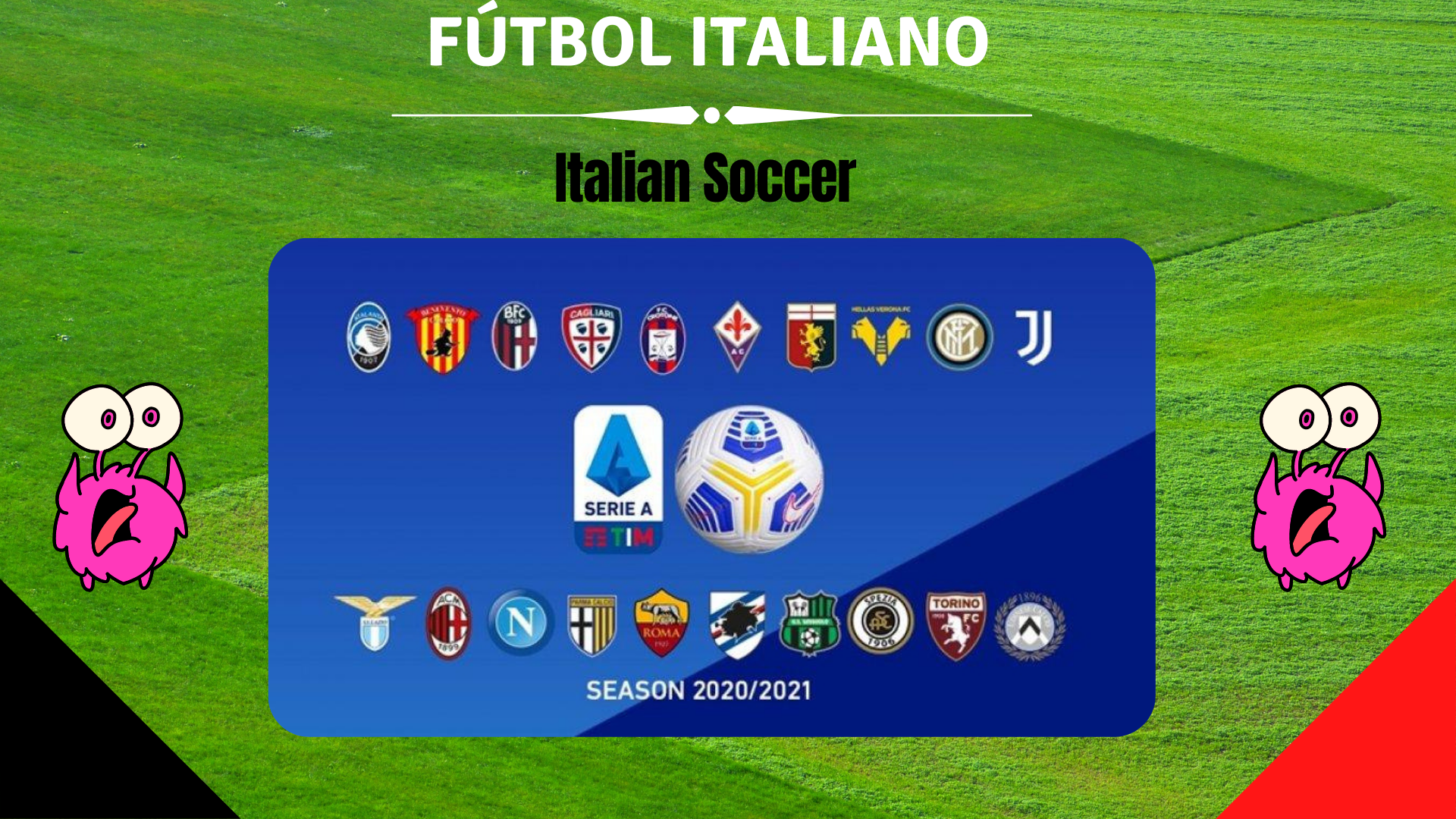 Fuente de la imagen en: Tribun Kaltim y edición desde canva


La Serie A de Italia, cada día está al rojo vivo, debido a que los equipos como Associazione Sportiva Roma, Società Sportiva Lazio, Società Sportiva Calcio Napoli e Inter de Milán siguen ganando sus partidos, obligando a Juventus Football Club S.p.A y Associazione Calcio Milan a no dejar puntos como visitante o local.
Italy's Serie A is getting hotter every day, as teams such as Associazione Sportiva Roma, Società Sportiva Lazio, Società Sportiva Calcio Napoli and Inter Milan keep winning their matches, forcing Juventus Football Club S.p.A and Associazione Calcio Milan not to drop points at home or away.
De igual manera, estos clubes necesitan el potencial de jugadores experimentados como Cristiano Ronaldo, de la Juventus, Zlatan Ibrahimović, del AC Milan y Romelu Lukaku, del Inter de Milán, para sacar puntos dificiles como visitante.
Likewise, these clubs need the potential of experienced players such as Juventus' Cristiano Ronaldo, AC Milan's Zlatan Ibrahimović and Inter Milan's Romelu Lukaku to take difficult away points.
Sólo hay que ganar, no queda de otra // We just have to win, there's nothing else to do
Los equipos como AC Milan, Inter de Milán, AS Roma y Juventus, están destinados a ganar sus respectivos partidos en cada fecha de la Seria A, donde tienen que lidiar con equipos inferiores, pero que muestran tener la actitud necesaria para afrontar y hacerle un digno encuentro a estos clubes de mayor envergadura, los cuales poseen y tienen consigo a grandes estrellas del fútbol como Cristiano Ronaldo, ex Real Madrid de España, Zlatan Ibrahimović, Edin Džeko y Romelu Lukaku, quienes deciden un juego en un abrir y cerrar de ojos, gracias a sus capacidades futbolísticas y habilidades, que hacen dudar a la defensa rival. Además de esto, AC Milan con 20 partidos jugados en la presente temporada del fútbol italiano, ha demostrado que en los encuentros complicados, aparece la individualidad del portugués Rafael Leão, de 21 años de edad, quien ha sido indispensable para el director técnico, Stefano Pioli. Por su parte, Inter de Milán, AS Roman y Juventus, con la obligación de que no perderle pisada al líder AC Milan, tienen que ganar sus cotejos, con fin de seguir en la pelea y luchar hasta el final de la campaña, en donde todo puede pasar.

Teams like AC Milan, Inter Milan, AS Roma and Juventus, are destined to win their respective matches on each date of the Seria A, where they have to deal with inferior teams, but they show they have the necessary attitude to face and give a worthy match to these bigger clubs, which possess and have with them great soccer stars such as Cristiano Ronaldo, former Real Madrid of Spain, Zlatan Ibrahimović, Edin Džeko and Romelu Lukaku, who decide a game in the blink of an eye, thanks to their soccer skills and abilities, which make the opposing defense doubt. In addition to this, AC Milan, with 20 games played in the current Italian football season, has shown that in complicated matches, the individuality of the Portuguese Rafael Leão, 21 years old, who has been indispensable for the technical director, Stefano Pioli, comes to the fore. For their part, Inter Milan, AS Roman and Juventus, with the obligation of not losing ground on leaders AC Milan, must win their matches in order to stay in the fight and fight until the end of the campaign, where anything can happen.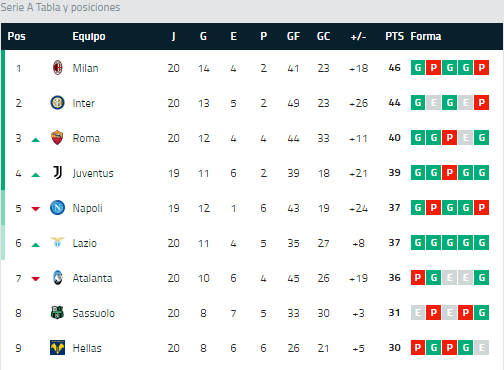 Captura de pantalla desde mi canaima en la página de goal

¿Por qué está que arde el fútbol italiano?
El AC Milan, con la difícil tarea de seguir sumando puntos en la Seria A de Italia, se ubica en la primera casilla, con 46 puntos y 14 partidos ganados, en donde ha perdido en dos oportunidades, uno contra la Juventus 3-1 y el otro ante el Atalanta de Duván Zapata 3-0, viéndose inferior y superado en todas las líneas por estos dos clubes. A pesar de estas dos derrotas, Los Rojinegros, saben que no deben de dejar puntos a partir de ahora, ya que en el segundo lugar se encuentra Inter de Milán, equipo que tiene 44 unidades y puede ubicarse en el primer lugar con una victoria, dependiendo si AC Milan pierde este Domingo 7 de Febrero ante su similar de Football Club Crotone en la jornada 21. Los clubes AS Roma, Juventus, Napoli, Lazio y Atalanta, con serias aspiraciones de alcanzar al líder, entienden el significado que tiene cada encuentro, en donde el deber es ganar y nunca perder, sino estarían más lejos de estar en los primeros lugares de la tabla de clasificación. Juventus y Napoli con un partido menos, tienen 19 partidos disputados, esperando próximamente que este juego se dispute, para ver si algunos de los dos equipos se lleva la victoria en la reprogramación de la fecha 3, la cual estaba pautada para el Miércoles 13 de Enero de este año.
Why is Italian soccer on fire?
AC Milan, with the difficult task of continuing to score points in the Italian Seria A, is in first place with 46 points and 14 games won, where they have lost twice, once against Juventus 3-1 and the other against Duván Zapata's Atalanta 3-0, being outclassed and outplayed in all lines by these two clubs. Despite these two defeats, Los Rojinegros, know that they must not drop points from now on, since in second place is Inter Milan, a team that has 44 points and can move into first place with a win, depending on whether AC Milan loses this Sunday, February 7, to Football Club Crotone in matchday 21. AS Roma, Juventus, Napoli, Lazio and Atalanta, with serious aspirations of catching the leader, understand the meaning of each match, where the duty is to win and never lose, otherwise they would be further away from the top of the standings. Juventus and Napoli, with one game in hand, have 19 games in hand, and are waiting for this game to be played soon, to see if either team will win in the rescheduled matchday 3, which was scheduled for Wednesday, January 13 this year.

Por los puestos de clasificación hacia las competiciones // For qualification positions for competitions
AC Milan, Inter de Milán, AS Roma y Juventus, hasta ahora estarían en la próxima fase de grupos de la UEFA Champions League. Evidentemente, los puestos de la UEFA Europa League, lo conformarían los equipos Napoli y Lazio, este último, jugaría los Play-off para entrar en la fase de grupos de dicha competición. Entonces, todo queda en la determinación y en el balance positivo que vayan presentado estos clubes en cada jornada, en donde saben que deben de ganar y sacar puntos valiosos en condición de visitante en la Seria A de Italia.

AC Milan, Inter Milan, AS Roma and Juventus, so far would be in the next group stage of the UEFA Champions League. Evidently, the UEFA Europa League places would be for Napoli and Lazio, the latter of which would play in the Play-offs to enter the group stage of the competition. So, everything will depend on the determination and the positive balance that these clubs will present in each matchday, where they know they must win and get valuable points away from home in the Italian Seria A.
---
¿Cuál equipo se llevará el campeonato y por qué? - Which team will win the championship and why?
---


---
---