[ESP-ENG] Recordando viejos momentos // Remembering old times
¡Hola a todos!
Sé que he estado ausente estos días, debido a que mi canaima letra roja presenta algunos problemas de mantenimiento y por eso le estoy haciendo algunos arreglos para que vuelva a la normalidad.
Hello, everybody!
I know I've been absent these days, because my canaima red letter presents some maintenance problems and that's why I'm making some arrangements to get it back to normal.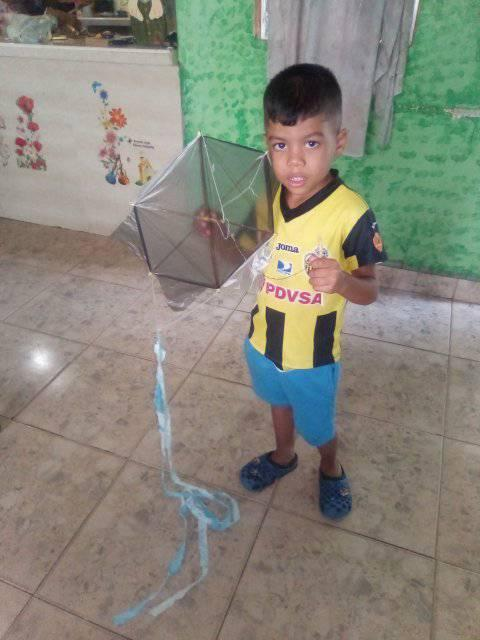 Foto tomada con mi teléfono inteligente alcatel tetra el día Miércoles 9 de Diciembre al niño Rafael, con su nuevo papagayo



El Miércoles 9 de Diciembre del presente año, en horas de la mañana me dirigí a cargar agua a donde mi vecino Richard, quien tiene un nieto llamado Rafael Salazar de 5 años, un niño que le gusta volar papagayo y se siente alegre al volarlo con la felicidad que lo caracteriza. Pasaron algunos minutos y le dije al Jovencito: "El volador no vuela bien hijo, dame para hacer ese volador de nuevo". Enseguida él me dijo: "Si, cuando este listo me avisas".
On Wednesday, December 9th of this year, in the morning I went to carry water to my neighbor Richard, who has a grandson called Rafael Salazar, 9 years old, a boy who likes to fly parrots and feels happy to fly them with the happiness that characterizes him. A few minutes passed and I told Rafael: "The flyer does not fly well son, give me to make that flyer again". Right away he told me: "Yes, when it is ready, let me know".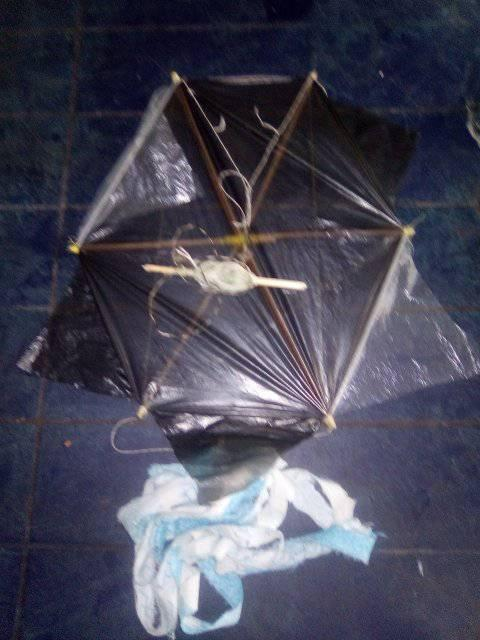 Foto tomada con mi teléfono inteligente alcatel tetra en lo que seria el termino del papagayo



Al momento de hacer este papagayo, recordaba viejos momentos vividos a mis 11 años de edad, donde participe en un campeonato de volador en el Estado Monagas, Venezuela, quedando de tercer lugar en aquella ocasiones. Por eso mismo, tuve la valentía y la amabilidad de hacerle el papagayo al niño Rafael en 15 minutos, armando y acomodando un volador que tenia una varilla en mal estado, lo que me llevó 2 minutos en reparar ese sector para seguir con el procedimiento para la realización del papagayo.
Asimismo, al terminar el papagayo llame al niño Rafael, con la intención de que él observará como había quedado su papagayo. Cuando se lo di, él me comento: "Mira, quiero que a la cola del volador le pongas hojilla". Yo le dije: "No hijo, eso es peligro y más para ti".
At the moment of making this parrot, I remembered old moments lived at my 11 years of age, where I participated in a flying championship in the State of Monagas, Venezuela, coming in third place on those occasions. For that reason, I had the courage and kindness to make the parrot to the boy Rafael in 15 minutes, assembling and accommodating a flyer that had a rod in bad condition, which took me 2 minutes to repair that sector to continue with the procedure for the realization of the parrot.
Also, when I finished the parrot, I called Rafael, with the intention that he would observe his parrot. When I gave it to him, he told me: "Look, I want you to put a blade on the tail of the flyer. I said: "No son, that's danger and more for you".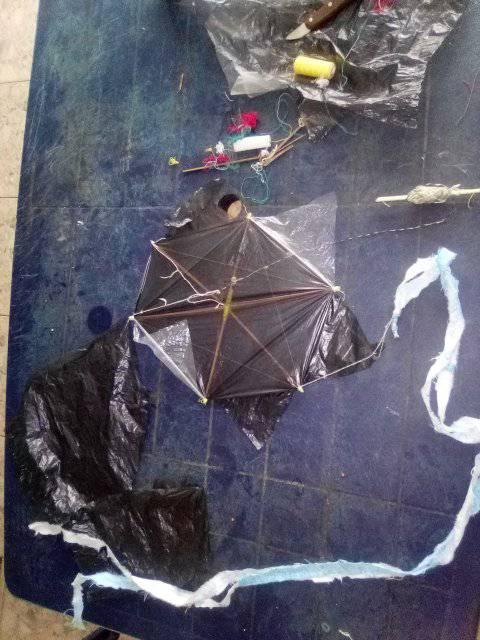 Foto tomada con mi teléfono inteligente alcatel tetra en otro ángulo, en lo que seria el termino del papagayo



Rafael, tranquilamente y viendo que su volador volaba con normalidad, me expreso: "Chamo, quedo pequeño el volador, pero vuelva bien, gracias". Seguidamente, me alegre al escuchar sus palabras de agradecimiento por la realización del papagayo. Sin duda alguna, esto me trajo varios recuerdos, los cuales hoy se los pude compartir mediante está publicación.
Rafael, calmly and seeing that his flyer was flying normally, expressed himself: "Chamo, the flyer is small, but come back well, thank you". Afterwards, I was happy to hear his words of thanks for the realization of the parrot. Without a doubt, this brought back several memories, which I could share with you today through this publication.


---
---