[ESP-ENG] Reto "Cómo es Vivir en Hiperinflación" // Challenge "What is it like to live in Hyperinflation"

¡Hola amigos financieros!
Luego de varios días sin publicar en la comunidad de @leofinance, el día de hoy regreso, con la intención de participar en el reto de los amigos de @rutablockchain, quienes tocan el punto de la hiperinflación para este desafió. Si deseas unirte, sólo tienes que ingresar a esta publicación.
Hello financial friends!
After several days without posting in the @leofinance community, today I'm back, with the intention of participating in the challenge of the friends of @rutablockchain, who touch the point of hyperinflation for this challenge. If you want to join, you just have to enter this publication.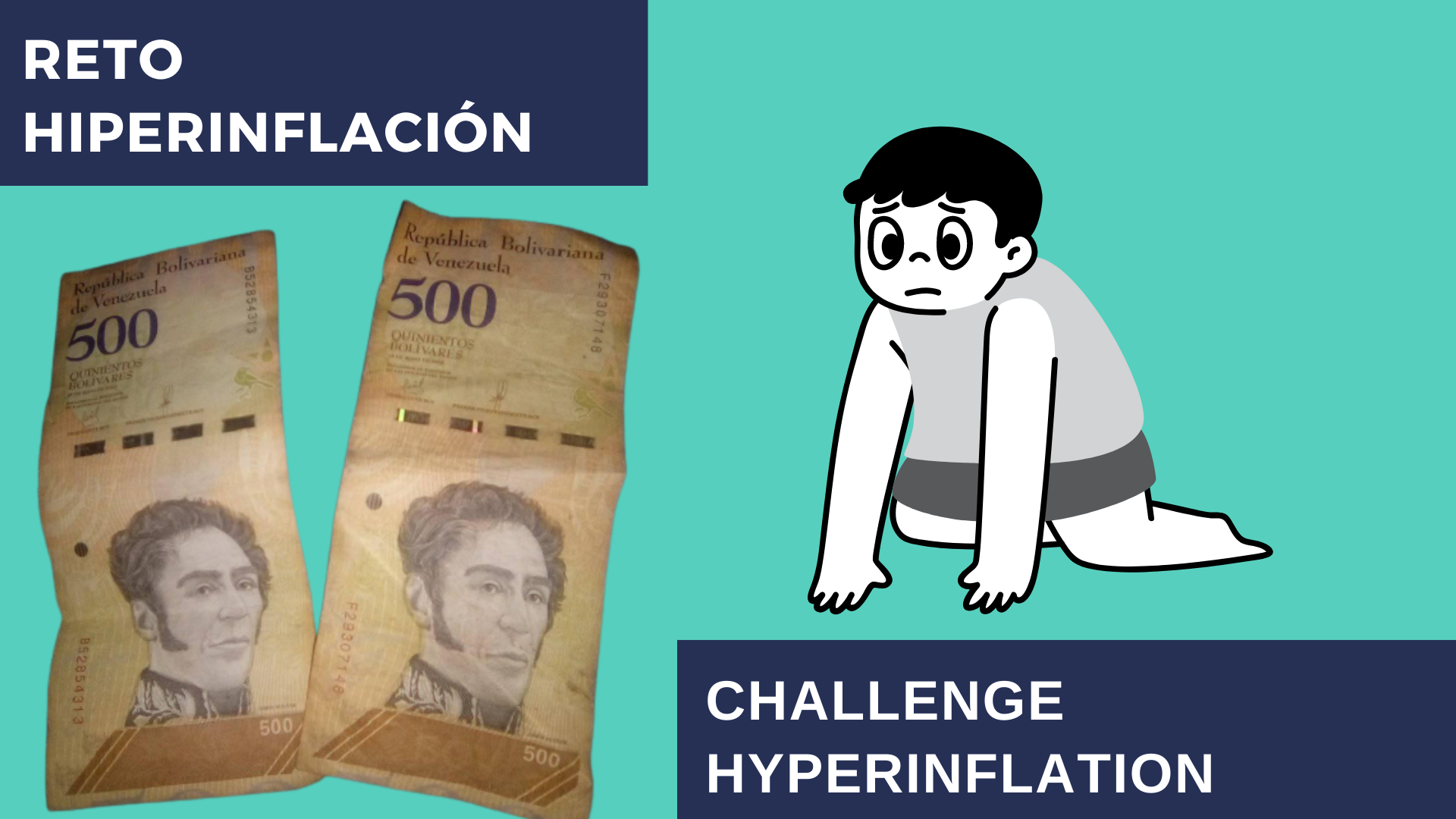 Foto del billete de quinietos bolívares tomada con mi teléfono inteligente alcatel tetra y edición desde canva


La hiperinflación, se ha convertido en una situación critica para todos, más que todo para los Venezolanos que día a día batallan por buscar algún alimento que comer, viéndose en la necesidad de salir a la calle a ver que se puede conseguir.
Hyperinflation has become a critical situation for everyone, especially for Venezuelans who struggle every day to find food to eat, having to go out to the streets to see what they can get.
En está publicación, escribiré acerca de algunos puntos importantes de la hiperinflación, que como sabemos, consiste en la elevación de los precios.
In this publication, I will write about some important points of hyperinflation, which as we know, consists in the increase of prices.
¿Cuál es la parte más difícil de vivir en hiperinflación? // What is the hardest part of living in hyperinflation?
A medida que pasa el tiempo, la hiperinflación que vive mi país Venezuela aumenta enormemente, donde vemos a algunas personas tocando la puerta del apartamento para pedir comida, otras salen a la calle a cantar en los autobús y los demás piden zapatos o dinero para comprar algo de comer. Es frustante la situación que vive mi país. Hace como dos semanas atrás me toco regalar 2 pares de zapatos que no utilizaba y unas cholas de color verde a unas personas mayores que llegaron pidiendo a la casa, con el fin de llevarle a los niños más necesitados de una fundación que queda en la invasión de la Puente, específicamente en Monagas, Venezuela. Ese día, le regale los zapatos y las cholas al señor que toco la puerta de mi apartamento. Al rato, llegó mi mamá de la iglesia y le dije: "Mira, regale unos zapatos y las cholas verdes". Ella me respondió: "Si eso estaba en tú corazón, Dios te bendecirá hijo".
As time goes by, the hyperinflation in my country Venezuela increases enormously, where we see some people knocking on the door of the apartment to ask for food, others go out to the street to sing on the buses and others ask for shoes or money to buy something to eat. It is frustrating the situation in my country. About two weeks ago I gave two pairs of unused shoes and some green cholas to some elderly people who came begging to the house, in order to take them to the neediest children of a foundation that is in the invasion of the Bridge, specifically in Monagas, Venezuela. That day, I gave the shoes and the cholas to the man who knocked on the door of my apartment. After a while, my mother arrived from the church and I told her: "Look, give him some shoes and the green cholas". She replied: "If that was in your heart, God will bless you son".
¿Qué has aprendido de esta situación? // What have you learned from this situation?
El 2020, fue un año complicado, en donde pude aprovechar las oportunidades de ingresos y de nuevos trabajos en mi vida. Uno de esos, fue trabajar en radio (93.5 FM) y trabaje como escritor de fútbol en la Asociación de Fútbol del Estado Monagas (copa navidad). Actualmente, me encuentro trabajando en la 93.5 "La Gran FM", como locutor. Aparte, sé que no soy un cerebro en esto de la tecnología, pero cada día trato de aprender de los experimentados en la materia. También, he aprendido a no depender del fulano dólar, sino de mi arduo trabajo, el cual me llevará al éxito. Aprender de está situación tan difícil, me ha hecho entender y enfocarme en mi futuro. Próximamente, se vienen nuevas oportunidades en este año 2021.
2020, was a complicated year, where I was able to take advantage of income opportunities and new jobs in my life. One of those was working in radio (93.5 FM) and I worked as a soccer writer for the Monagas State Soccer Association (Christmas Cup). Currently, I am working at 93.5 "La Gran FM", as an announcer. Besides, I know I am not a brain in this technology, but every day I try to learn from those experienced in the field. Also, I have learned not to depend on the dollar, but on my hard work, which will lead me to success. Learning from this difficult situation has made me understand and focus on my future. New opportunities are coming in 2021.
¿Cuál fue el detonante de la hiperinflación en tu país? // What was the trigger for hyperinflation in your country?
---
---