December 2022: HPUD | Time for An HP Check-Up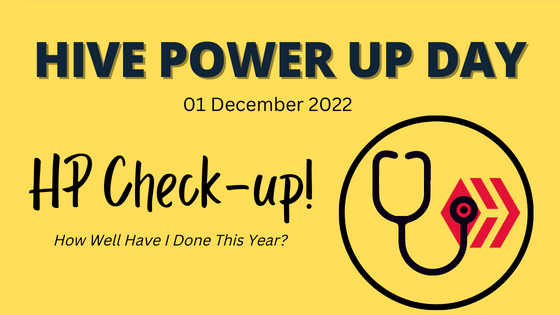 Hive Power Check-Up!
We did it! We just entered the final month of the year. It's the best time (if you haven't yet) to start looking back at our goals for 2022 and see how far we've come.
I love that I have almost religiously made Hive Power Up Day posts because it could help me easily review my account growth. At least in terms of Hive Power staked. Hive has become a combination of a lot of things -- with lots of ways grow, not just in blogging, but there are lots of projects and second-layer tokens that we can dip into as well. Looking forward to 2023, I hope to be able to track not just my HP but the other aspects of my account as well.
Anyhooo, since we're talking about HP, let me first grab and share the record of my Hive Power when 2022 started:

I started the year with 4,734.21 HP!
Holy molly! Guacamoleeee! 🥑 Before today's power up, I had accumulated 6226.58 HP meaning I had earned (through posting and curation) and powered up almost 1500HP in a span of 11 months.
Not too good, but still good, considering I had been slacking a lot.
About last month...
I was able to publish a total of seven (7) posts in November. Eeek! I wish I had more time for more, but I guess that's all my very limited time could allow.
November 2022 Hive Account Growth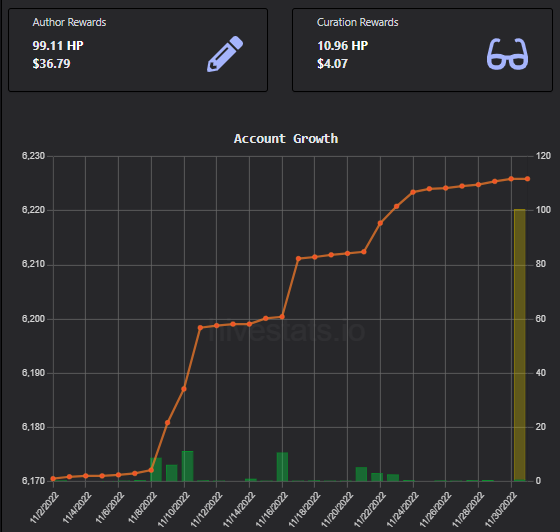 Screenshot: https://hivestats.io/@arrliinn
Power Up!
I cannot remember why I transferred a few Hive at Hive-Engine. I guess that was supposedly to buy some tokens. What in particular, I now don't know. LOL.
Anyway, it doesn't make any sense to just let that sit idle in my HE wallet so I took them out and powered up 100 Hive for today's #HPUD.

9 Bees Collected!
Actually, that's 10 bees but there was a month (May) when I powered up my cold wallet insted. Hmmm, in hindsight, I think I ought to have divided the 100 HP and powered up that account too. Hmmm, let me do that later (I mean, in the coming days 😜).
If you've been joining Hive PUD, then you must be getting these badges too. Do checkout https://hivebuzz.me/ to view your badges and some other cool info.

Speaking of stats, let me again put the this here for my reference: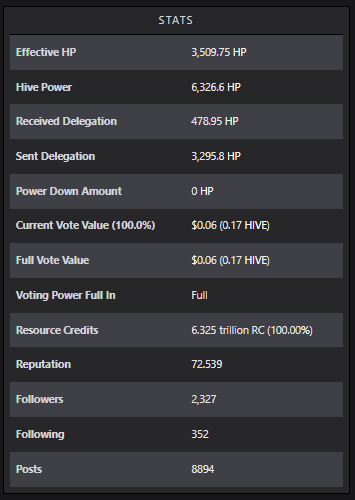 Final Stretch
I guess I will be ending the year with about 7000 HP -- 3000HP short from my 10k target. Weww. That elusive 10k HP! I've been dreaming of that since last year.
Dreaming is one thing, but working for it is another. I'd have to make some big adjustments if I were to reach that goal. Will aim for that next year!
---
My 2022 Hive Power Ups!


Posted Using LeoFinance Beta
---
---