Dragon Slayer, Who? | LEO Power Up Day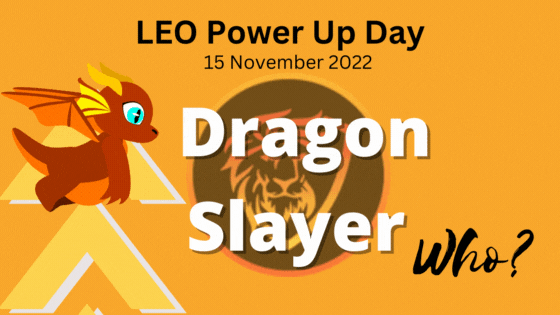 So apparently, there's a lookout for a mighty dragon slayer to protect the Lion's Den from dozens of dragons attacking it. I was oblivious of this hunt, until this morning when I started reading about Lions trying to defend the pack through their LPUD's --
you have to face this foe with an attack worth 2,000 Leo Power or 5,000 Leo Power, depending on the dragon you decide to fight to defend your pride.
Do you have what it takes?
Those who are brave enough to face these adversaries will be rewarded handsomely.
| | Elite Dragon | Elder Dragon |
| --- | --- | --- |
| Slay The Dragon with: | 2,000 - 4,999 Leo tokens | 5,000 or more Leo tokens |
| Reward | 4,000 Leo Power delegation for 25 days | 10,000 Leo Power delegation for 25 days |
More info: LPUD is coming - 🦁 Slay the Dragon 🐉
While I would have loved to get rewarded, I don't think I am equipped to do this right now. Considering, this is a one time thing, too! Danggggg-itttt!
Despair not, myself!
For of course, the regular LPUD is still a thing... This is manageable just remember a few simple rules:
Your total Leo Power (on the 15th) must be less than 20k
You must power up at least 150 Leo on November 15.
You must not have powered down Leo since August 15.
Make a post or a #thread on Leo Finance about LPUD
Let's do this!

Screenshot: My https://leofinance.io/ wallet
This time, I powered up 200 LEO tokens, bringing my LP up to 1700 LEO Power. Not bad, self! Not bad.
At least, I got to increase my stake and then I added a badge to my collection courtesy of HiveBuzz. Check yours here - https://hivebuzz.me/
Hurry, you still have 10 hours left for today's LPUD event to qualify for the badge.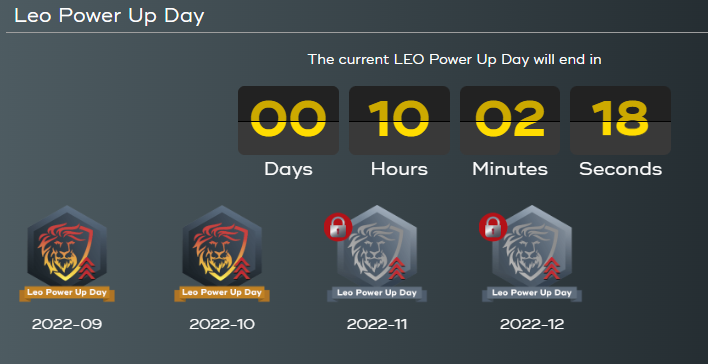 Screenshot: https://hivebuzz.me/@arrliinn
Note: Nothing in this post is a financial advice.
Cover image created via Canva. Leo Finance logo credit: https://leofinance.io/.


Posted Using LeoFinance Beta
---
---