It's Weekend! It's Time To Get A Polish
Just Hive It!
Hello, Hive-Land! It's Sunday and hope all is well with you, that your're having a blast this weekend!
Forgive me if I am just uploading something so raw as this is kinda an impromptu blog entry, but I guess would still count as a Weekend Experience?
I'm sitting here in a small office of a garage where I have brought my car this morning for a final polish post full body repaint. Initially, the mechanic/garage owner said it may take up to 6 hours for his job so I came to his workshop this morning prepared...
Armed with my tablet and portable keyboard so Hive can keep me company as I wait. Thankfully, when I came to the workshop they said it can take up to three hours only but nonetheless, let's blog away.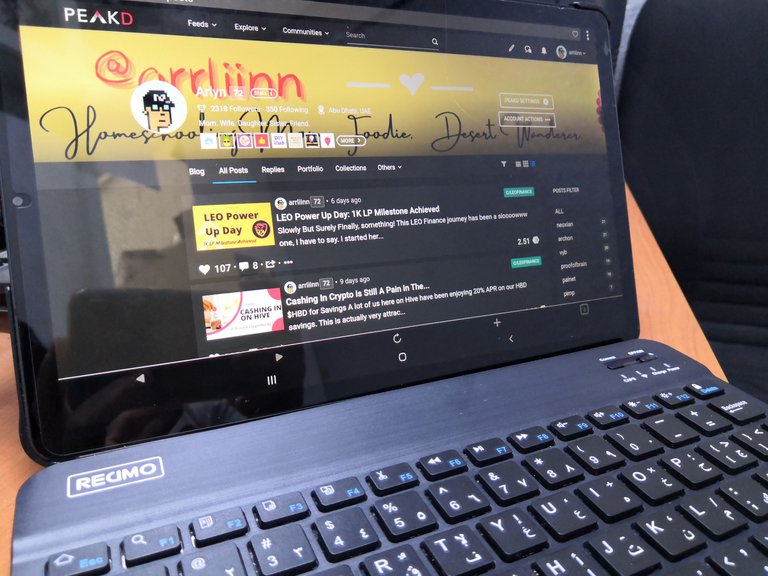 Ready to Hive!
What's In The Mom Bag Reveal
The garage is in an industrial area off Abu Dhabi city (where most of these kind of businesses are) and it's like in the middle of nowhere so I wanted to make sure that my waiting time will be "fully covered".
Inside the mom bag are my desert essentials, just In case I had to leave my car and commute going back home, or should I decide to stay and wait (like now).
Hydrate! Hydrate! Of course, I have water. It is absolutely necessary and one should never leave without a bottle of water in a harsh summer like this.
Sun protection. Others are my towel, if in case I should head out and walk so that I have something to wipe the humidity off! Then my scarf and sunglasses for sun protection. And oh, I have also worn arm socks to prevent my arms from direct heat exposure especially when driving. I find that my arms get uneven skin tones during these times (darker on the left arm). And yes, I also have an umbrella. LOL.
Connectivity. Since I do not know how long I will be staying here, I of course brought my mobile phone charger and this tablet I am working with has been fully charged.
Avoid getting famished. The last time I was here I did not see any convenience store nearby so although I ate before leaving the house, I also brought something to eat just in case.
Health Protocol. An essential we never forget these days are masks and sanitizers. It may seem that things are getting back to normal but we can never be too complacent, right?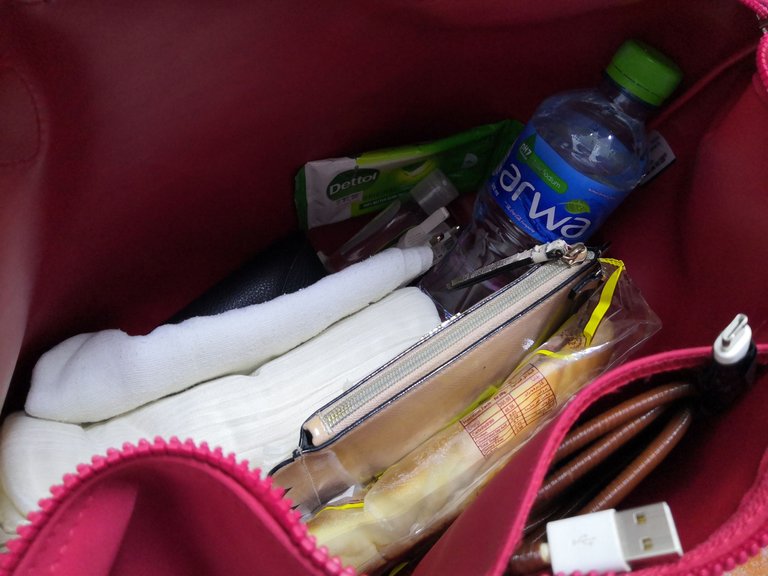 The "Mom Bag" Desert Edition.
The Garage
Since I have already bored you to death with the contents of my bag, let me kill you further with some shots I took around the area. Hey, I am also trying to kill time so let me just type away. Please?😌
Where's my car?!
I parked my car somewhere here, but I could not find it... They've driven it off to the polishing area. What's left are these forklifts.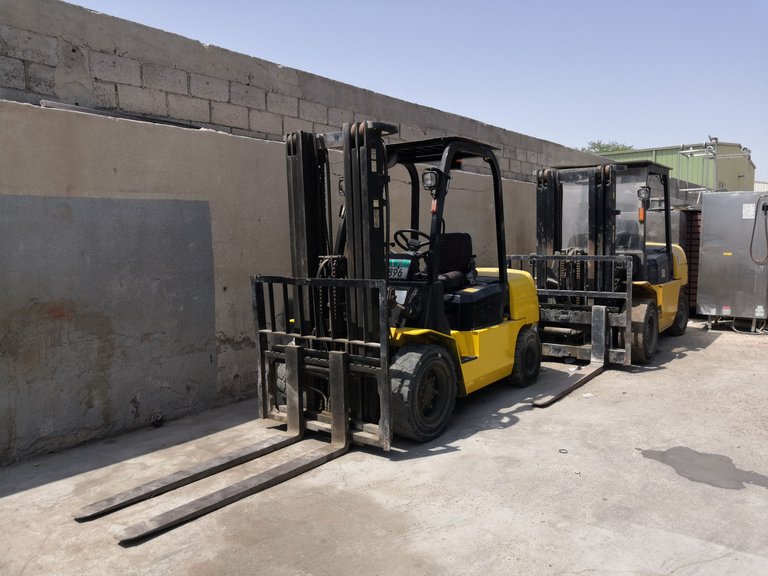 It's a busy weekend for these guys!
My original appointment was yesterday but my husband had work and I could not leave the kids alone so I moved my polishing appointment today. The owner was quick to respond that it was okay, and that I could bring my car anytime at my convenience.
Another reason I chose to come today, Sunday, is because toll fee is free! LOL.
Anyway, I reached at around 11am and there was already a customer waiting before me and some other deliveries happening. Poor guys don't get a day off? I have no clue how their schedule works. The first time I called them, they came to get my car at 9:00pm.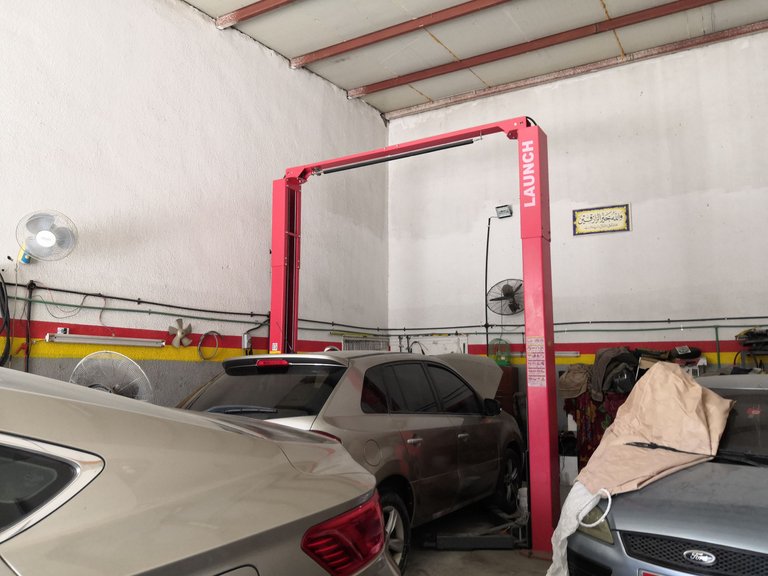 Busy workshop on a weekend.
Are you still there?!
I hope you are.
Don't worry coz I am closing this blog with this odd thing that's sitting here at the garage.
Found a stationary bike! Hmmm, I've been sitting far too long I think this one can be made useful. LOL.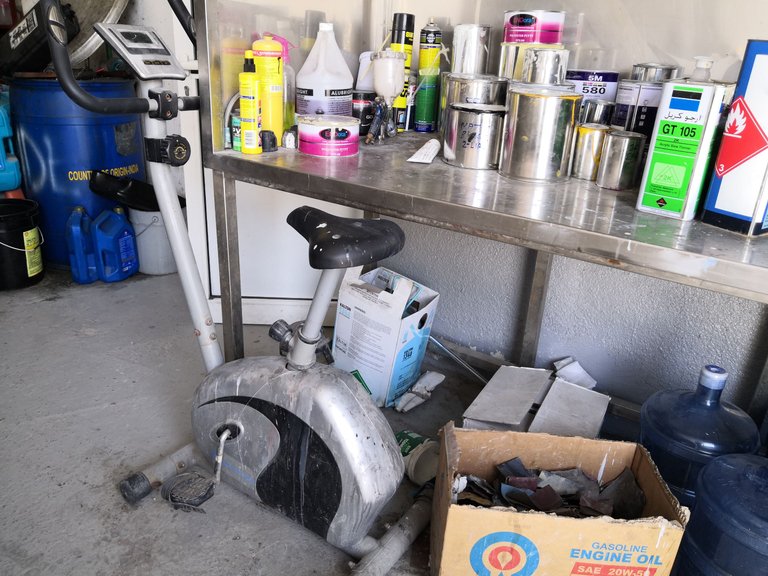 That's it so far for my weekend. It's been uneventful, apart from me almost getting lost earlier. I think there's something with my mobile provider that GPS signal gets lost at exactly the same spot. I made two stops just to make sure I go to the right direction.
I've already typed away some waiting time for me. The lady sitting across me seems sleepy already, I know you're bored of this nonesense I just shared... pardon me. Off you go, please go on and proceed to enjoy the rest of your weekend. ❤️


---
---