January 2023 | LEO Power Up Day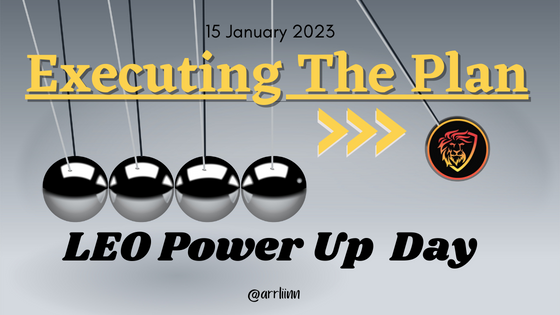 I've got a feeling. This year will breeze us by again, just like last year and the years before... It's like we're not allowed to blink, or else we will miss out on pretty much everything.
That's why we plan so that we will have more structure in our approach to our lives. In LEO Finance, I have made a plan on how I will become a CUB in 2023.
Join each #LPUD in the coming months and power up 250 Leo each time. This means that I would be able to power up 3000 Leo in 2023, 200 Leo above the goal.
Now, let's execute the plan.
So today I powered up 300 $LEO just so that I will touch 2500 LP staked.

Screenshot: my LeoFinance wallet.
If I add a bit more, then that should get me closer to the goal faster, right?! Of course, that is, if I keep track with the plan.
| 2023 | $LEO Power Up | LEO Power Staked | Balance to Goal |
| --- | --- | --- | --- |
| January | 300 | 2,500 | 2,500 |
So far, I still get about 5.5 $LEO daily from leo.voter for my HP delegation, and I get a few from curation. Obviously, I do not make a lot of LEO contents as I wish I could. Let's see in the coming months...
---
What is #LPUD and why you should join (in case you haven't)
#LPUD (LEO Power Up day) happens every 15th of the month where one can grow his stake in LEO Finance by powering up LEO tokens. It's a fun way of growing our wallets in addition to having a chance to win some nice LP delegations from generous sponsors.
Be sure to follow @leogrowth and check out their official announcement.
If you're up to collecting badges like me, you can also get a participation badge courtesy of @hivebuzz each time you power up on the 15th. LEO Power Up Day - January 15, 2023
(Of course, as usual, I am not a Financial Advisor and nothing in this post should be taken as a professional advice.😉)
Cover image created via Canva


Posted Using LeoFinance Beta
---
---