LPUD: Stacking LEO Tokens Passively? A Pleasant Surprise In My Wallet!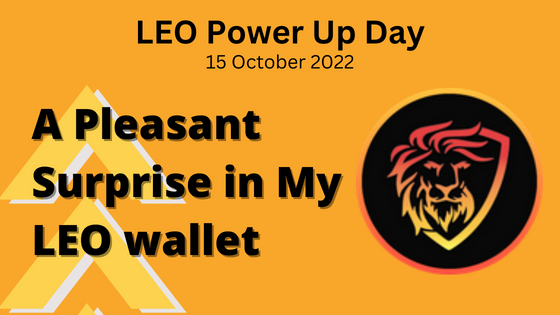 It's LEO Power Up Day!
Twenty minutes before midnight in the Arabian desert, and here I am typing away to share my LEO power-up for today/this month. We promised the kids beach time tomorrow morning so I really ought to be in bed.
The day passed by so quickly that I thought I'd miss this important activity. But hey, here I am! :D
Surprise! Surprise!
Four months ago, when #LPUD started, I shared in my LPUD post that sustaining the 200 LEO power up monthly would be challenging since I do not make that much LEO Finance content. Instead, I earn my LEO tokens through curation and delegation rewards.
So this is going to be a monthly thing and sustaining the 200 LEO power up will definitely be a challenge for me since I do not post regularly in the community and my average LEO dividends from the delegation is about 4 LEO daily only.
I am not sure when it started but upon checking my Hive Engine wallet a few days ago, I was surprised to find a good amount of LEO tokens there. And yes, the dividends from delegating Hive power to @leo.voter has doubled over the past months!

Screenshot: My LEO Finance Wallet
There's power in staking, guys! In many different ways. So if you have extra Hive power lying unutilised in your wallet, then this delegating is worth looking in to (Disclaimer: Not Financial Advice).
Speaking of surprises, I got another one last night. I was busy preparing my post last night when I noticed the notification icon light up. Hmmm...
I won 50 LEO Tokens just by commenting!
Sweet!
It was from a Hive Hardfork and 5th year on-chain give away of @katerinaramm, where she asked of ways that we know or use to earn Hive or HBD.
She timed this giveaway perfectly so it could be awarded just a few hours before the #LPUD. And there, instant 50 LEO for me! Thanks again, Kate!

Screenshot: My LEO Finance Wallet
300 LEO Tokens Powered Up
Closer... closer... closer to my goal!
I decided to stake 300 LEO this time because of the unexpected tokens I got. I'm halfway to my 3000 LP goal, which considering the growth of this account, may not be too far away.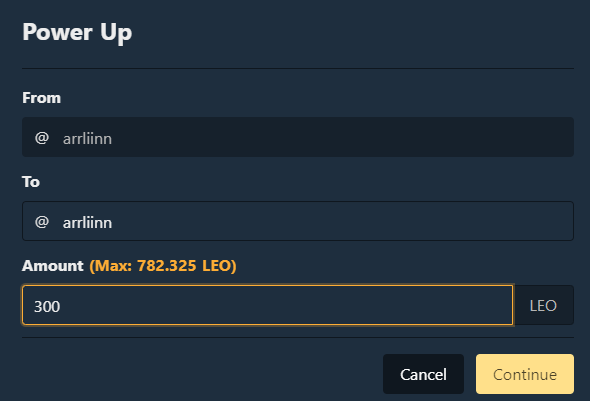 Thanks to the LEO Power Up day, my account now sits at 1500 LP. It has grown a lot since the beginning of #LPUD.

How about you, have you powered up some LEO tokens today?
---
Last month...
Cover Image created via Canva. LOGO owned by LEO Finance.


Posted Using LeoFinance Beta
---
---