Splinterlands Battle of the Day: Healer vs Life Leech?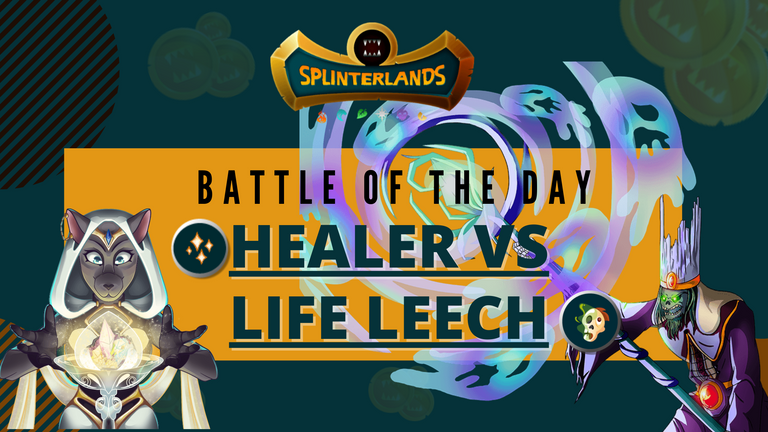 Hello, Splinterlords!
It's been a while since I last shared one of my battles here coz you know... life... But that doesn't mean I've not been completing my daily quests and not splurging on cards. I just can't seem to find where to buy some time and a lot of creative juices to be able to publish a post.
That also doesn't mean I did not even try. I actually planned to share a battle with Stone Golem, but I ended up not saving the battle link and yeah, I could not find it anymore when I was ready to make the post.
Any idea where I can even get old battlelinks? Mine was 2 days old then, and the Splinterland's main battle page could only go down 20 battles...
Venari Crystalsmith vs Ancient Lich
But today is different. I got into this very amusing battle that I could not help but stop and share...
As the title goes, it's a battle against Venari Crystalsmith with the tank heal ability and Ancient Lich with the life leech ability. Which one do you think shall dominate the battle?
It went on for 24 Rounds. Crazy!
The Battle
Rule Set:
Earthquake
Equalizer
24 Mana Cap
Active Monsters: Earth, Life, Death, Dragon
It was a no-brainer that both of us chose the Dragon Summoner, Brighton Bloom, as she gives the flying ability to all friendly monsters that would give both of our teams to have immunity against the earthquake at the end of each round.
Now, it is just a matter of which element and monsters we will choose to battle with.
I went with my Life Monsters while the opponent went with his Death Monsters.
Every time I come across the equalizer line up, I most of the time choose monsters with not too high health and just bank of the opponent to choose a higher one so I can take opportunity of that. That's what he did when he chose the Dark Ha'on as a tank card. It gave us both 13 health to start the game.
Here's the complete line up from both sides of the ring:
| Position | My Line Up | Opponent |
| --- | --- | --- |
| Summoner | Brighton Bloom | Brighton Bloom |
| Line 1 | Shieldbearer | Dark Ha'on |
| Line 2 | Furious Chicken | Furious Chicken |
| Line 3 | Djinn Renova | Shadowy Presence |
| Line 4 | Venari Crystalsmith | Ancient Lich |
| Line 5 | Creeping Ooze | Halfling Alchemist |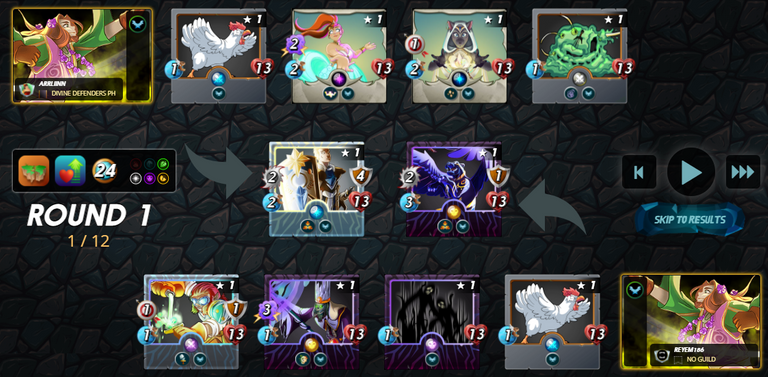 Djinn Renova gave my friendly monsters extra health so my team had a total of 14 health at the beginning of round 1.
Both tank cards for both sides had the taunt ability so each of our own monsters were busy taking on each other's tank.
Dark Ha'on went down at the beginning of Round 4, while thanks to Venari Crystalsmith, Shieldbearer was still standing tall.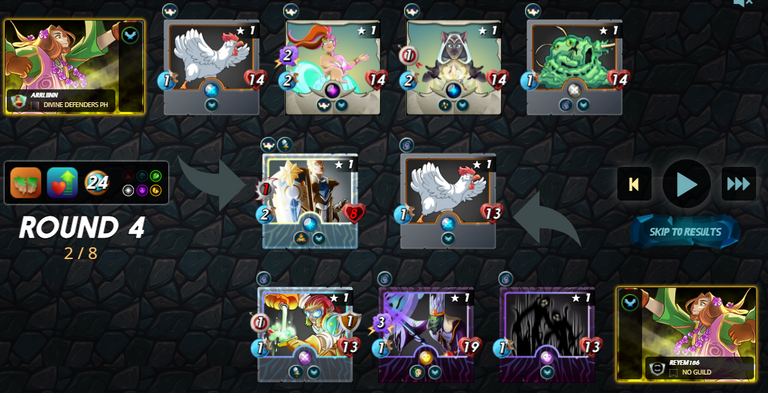 Then onwards, my monsters got busy taking on the Furious Chicken and Shadowy Presence, while the opponent's Ancient Lich had also been accumulating health in the process.
As you can see below, the Ancient Lich stepped on the front lines with a soaring 31 health, immediately leeching 2! Now I wonder if my mosters would be able to win this battle because this leech has just been getting healthier!
But lo and behold! My Shieldbearer was still mighty strong and still had the same HP on Round 11 as he did on Round 4. Hmmm, "Thanks, Venari!". She had been healing Shieldbearer with 4 health each turn.
Take on 4 damage...
Heal 4...
Take on 4 damage...
Heal 4...
Take on 4 damage...
Heal 4...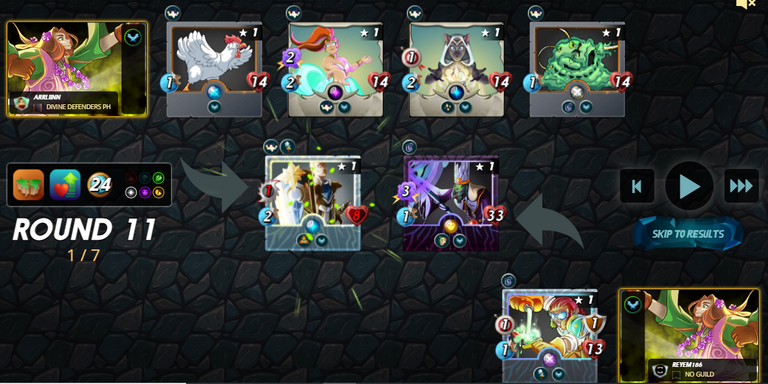 At least now, Ancient Lich would be taking damage already from three of my attackers while the opponents would still be focusing on my Shieldbearer. Plus, Venari Crystalsmity kept on healing Shieldbearer. The future was looking bright! LOL...
But I've got to say, I made a mistake by putting the Creeping Ooze at the last spot instead of Venari. Anyway...
FATIGUE! FATIGUE! FATIGUE!
The monsters, regardless how mighty could only battle up to some extent and then they would face fatigue. From Round 21 up to 24, all the monsters got less health as fatigue applied...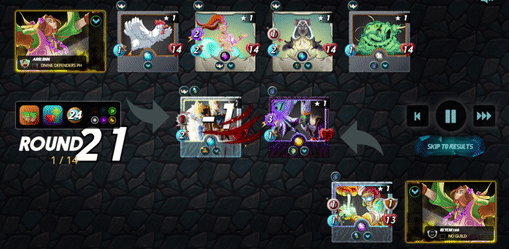 Eventually, Ancient Lich could no longer sustain just only being able to acquire 2 health but getting 4 hits and fatigued each turn...
And the victory was ours! My team went home with all of them still in tact...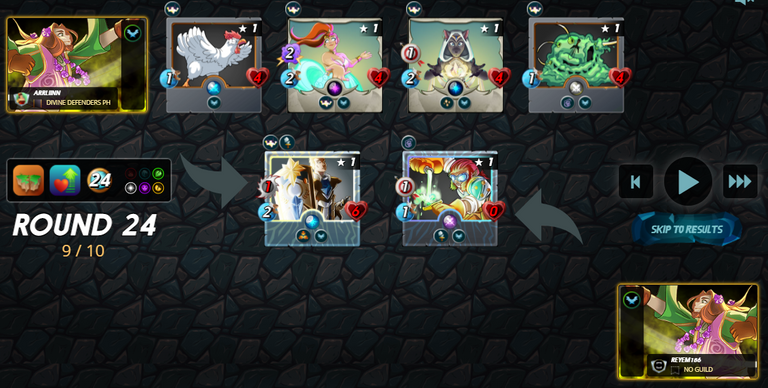 This time, the healing team took the win!
If you're interested on how the whole battle went, here's the full battle link.
---
Not playing Splinterlands yet?
Don't miss out on this amazing blockchain game and #play2earn now. Battle, trade, and earn! You can use my referral - https://splinterlands.com?ref=arrliinn to get started.
Cover Image Created via Canva.
Photos are screenshots taken from the game Splinterlands.com.


---
---