Some Of My Pen Drawings [Talent Tuesday]
It's a new day
A new day to see some Art
Today I want to flaunt some of my pen drawings around the community and I hope y'all will have a good view.
I have loved working with pen but I can't tell when exactly I started using it but I know I used it a lot as a child.
I explored it more during my university days while studying fine art. I like that it doesn't easily smudge or smear around the paper like pencils, I like that it gives definitive mark, I like that the quality of the drawing lasts long if well preserved and more other likes I can't remember now.
Despite the likes, there are still other things you will just have to deal with when working with pen.
First, you can't undo. You will really need to be creative while working with pen. Most of the people that have seen some of my pen drawings will say "Hey, how is it that you didn't make a mistake"
I will always reply "mistakes are everywhere on this work" if I see how engrossed they are with the work, I will proceed with explaining and showing them some mistakes and how I managed them.
The second is Over Floating.
I don't know how to scientifically or mechanically put it but I know that if you work with a pen for long it becomes heated and from that point it loosely drops ink, infact from the beginning of the drawing the pen always deposits more shade than the artist intended to apply on paper so one can curb this by having a paper where you will always wipe the tip of the pen before applying any stroke on your paper.. it's tricky but you will get use to it with time.
The Third is Patience.
Unlike pencil that you use the body to work and can cover an area within some seconds, the pen isn't like that. You must drop a stroke one after the other or scribble round and round till you can cover an area to your taste and you will keep in mind the evenness of the shade applied.
So these are the three things you can find challenging working with a pen, with that let's get into the works I have for you today.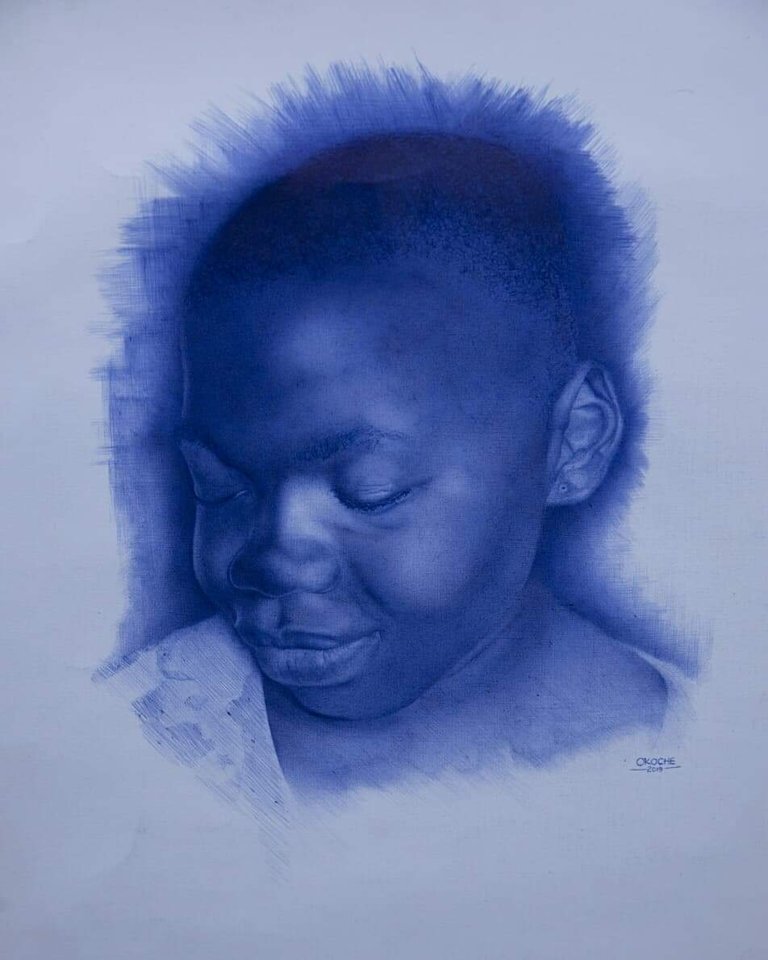 This here I titled 'African Child'
It was done in 2019 and our Fine Art Department is in possession of it after my industrial Training presentation.
With this work, I drew lots of inspiration from other pen artists and studied how they achieved their smooth tonal gradation. One of the artist I studied is Oscar Ukonu
I was moved that I can achieve a well toned drawing with pen after some months of study on his work.
During this period, I learnt a lot about classical art drawing from reading a book by Juliette Aristides and as an intern in an art studio during my industrial training, so I tried incorporating them into this work.
However this was my top well shaded drawing with pen but I can't remember creating another drawing like this to follow up.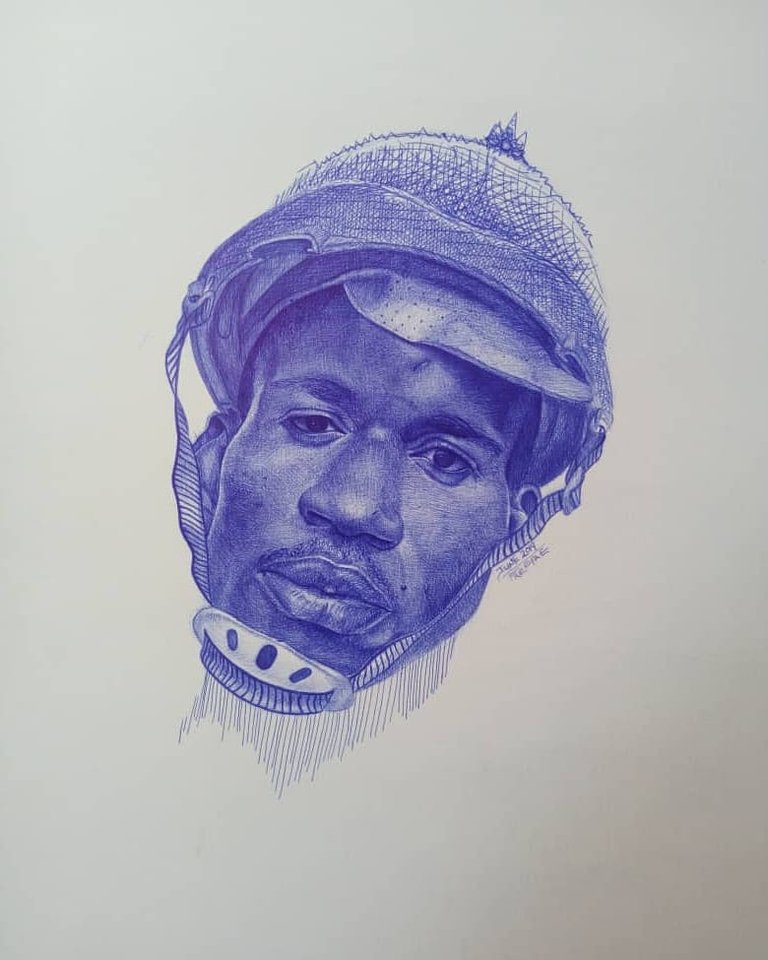 This was also in 2019, I did this before the one above. No much skill was applied to this one and it took me four days to complete. I think the African Child took me about three months to complete, not that I worked on it everyday.
I used lots of hard lines on this and it made things tight and strong.
I didn't patiently work round the whole surface too.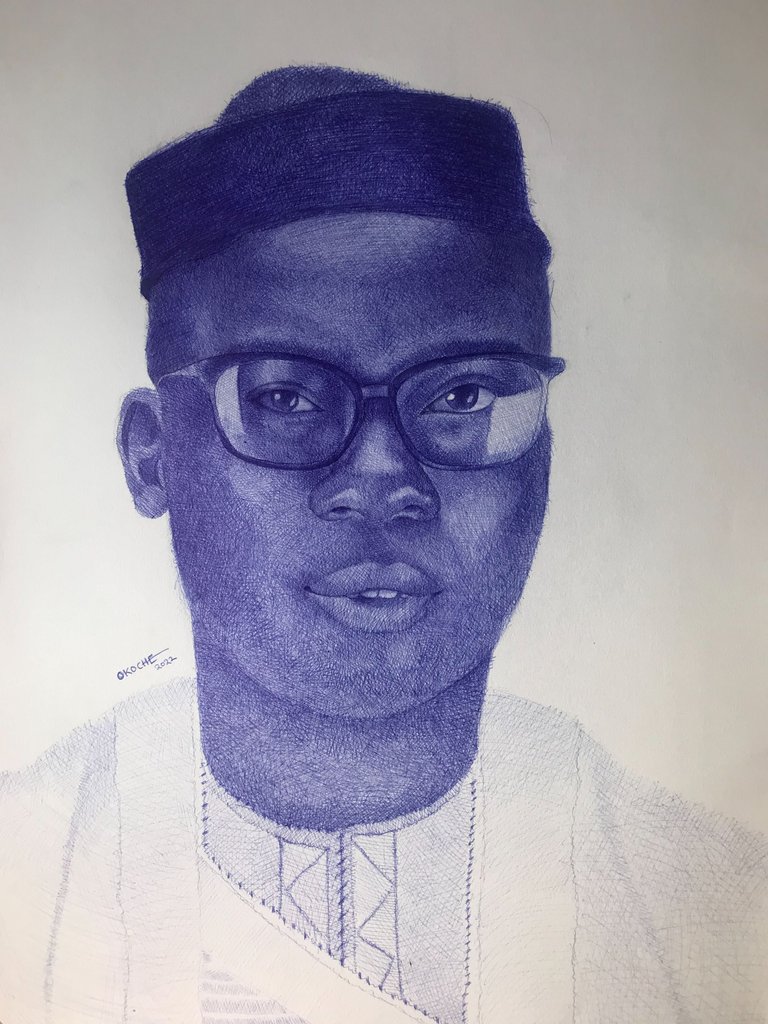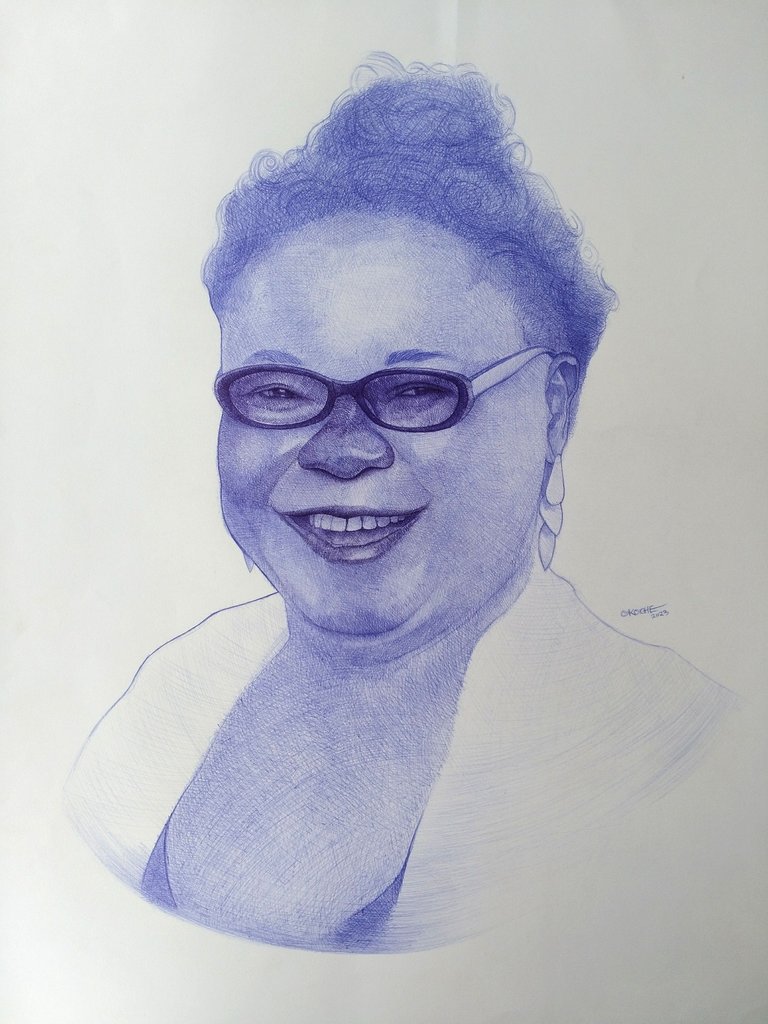 The above two were done in 2022.
There are things I like, and crosshatching is one of them so these portraits was made with that technique.
I fell in love with crosshatching as way back as 2013. My art teacher then, he showed us some snail shell drawing he did with pen and told us to draw it. My drawing was really poor and I never understood how he placed his lines, I was disappointed that I couldn't do it and since that day I have been wanting to do this stroking of a thing. I think I have shared some snail shell drawing of mine here, yeahh here's where the inspiration came from.
I think I will stop here and let y'all engage with my works.
Thanks.
---
---