BTC and STOCK markets overview

Hello to the entire Leofinance community. Let me introduce myself, my name is Gabriel and I live in Léon, Mexico. I am a student at UNAM and the Faculty of Political and Social Sciences.
I have always been passionate about technology and blockchain. With some of my campus mates, we decided to start this blog on Leofinance, with the intention of delving into financial issues related to BTC, but we also have other topics planned to cover.
I will start though with a review of the markets these days.
The main feature of the last few days has been volatility, with fears of a new wave of Covids triggering heavy sell offs on stock and oil markets. In addition, yesterday the President of the Federal Reserve spoke in front of Congress, fearing a further reduction of government bond purchases, putting further pressure on the major listings.
Of course Bitcoin is also sensitive to such dynamics, in fact the price action of the last days has developed in a wide trading range between 59,000 and 53,000 dollars.
On Tuesday morning, the CEO of the Modern company said that the effectiveness of their vaccine against the new coronavirus strain "Omicron" is expected to be lower than expected. Powell before Congress said that inflation continues to rise, which gives reason to think about a reduction in economic stimulus measures several months earlier than previously thought. In his opinion, high inflation will persist at least until mid-2022. In general, his speech was considered harsh, which caused a drop in stock indices, oil and gold prices.
In my opinion this is a blatant bluff by the Fed, in an attempt to show itself proactive in fighting inflation, but if the pandemic situation worsens, very soon we will have the announcement of a new Quantitative Easing and new stimulus measures.
SHORT-TERM OUTLOOK
A consolidation of BTC in the range of $56000 - 58000 is likely pending developments. Judging by the development of the situation, the greatest odds are for a test of the psychological $60,000 threshold. Bitcoin's medium-term developments will be influenced by the outcome of the eventual breakout: either the breakout of resistance, with subsequent formation of a bridgehead in the $62,000 - 64,000 range for the assault on new highs or, alternatively, another test of the support areas at $55,000 and $53,000.
CoinShares' weekly report showed an increase in new capital inflows to investment funds dedicated to cryptocurrencies. The interest of large investors and institutional players in Bitcoin continues to grow!!!
NASDAQ FOCUS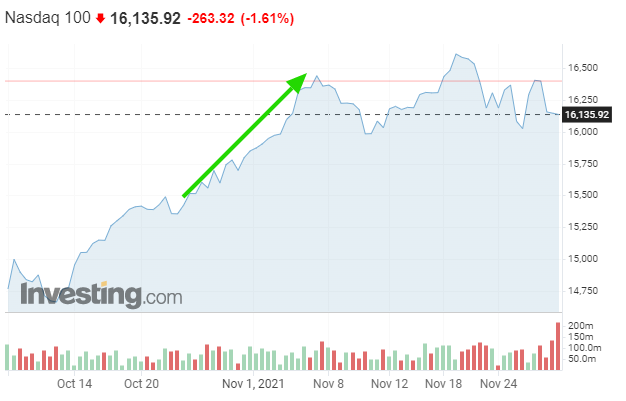 The Nasdaq 100 Index, which represents the 100 most capitalized Nasdaq stocks, rose 7.9% in October and about 2% in November. The index then produced an interesting pattern in late October, with a 10-day continuous uptrend. In the chart below, the green arrow indicates this rise, while the green circles mark the exact beginning and end of the run.
It may seem like a random result, but it's actually a behavior the index has had several times before. From 1990 to today, this pattern has in fact appeared 26 times, producing trends in the following 12 months that have produced returns much higher than average. If in fact normally the index produces average returns of 15% per year, after this specific pattern the annual returns rise to almost 20% (19.6%). In order to produce average returns of this type on the index, it is necessary that the individual stocks that make up the Nasdaq 100 make spectacular rises, even up to 90% within 12 months. The conclusion then is that once the US stock markets begin a true bull market, technology stocks will lead this trend with returns far superior to those of other sectors.
Thanks for reading
Posted Using LeoFinance Beta
---
---