🎶 THE UNSTOPPABLE LEGEND || STARBEATS & GIVEAWAY 3xNFT || SEP 14, 2023 🎶
🎶STARBEATS🎶
Today's Beat :
Paul McCartney: The Unstoppable Legend
In the world of music, few names shine as brightly and enduringly as Paul McCartney. From his early days with The Beatles to his illustrious solo career, McCartney's musical journey is nothing short of remarkable.
One astonishing fact that sets McCartney apart is his incredible chart-topping success. He is the only musician in history to achieve number one singles as a solo artist, as part of a duo (with Stevie Wonder for "Ebony and Ivory"), a trio (with Wings for "My Love"), a quartet (as part of The Beatles), a quintet (with The Beatles and Billy Preston for "Get Back"), and even a sextet (with The Beatles and Billy Preston again for "Let It Be"). This unparalleled accomplishment showcases McCartney's versatility and his ability to create hit songs across various musical collaborations.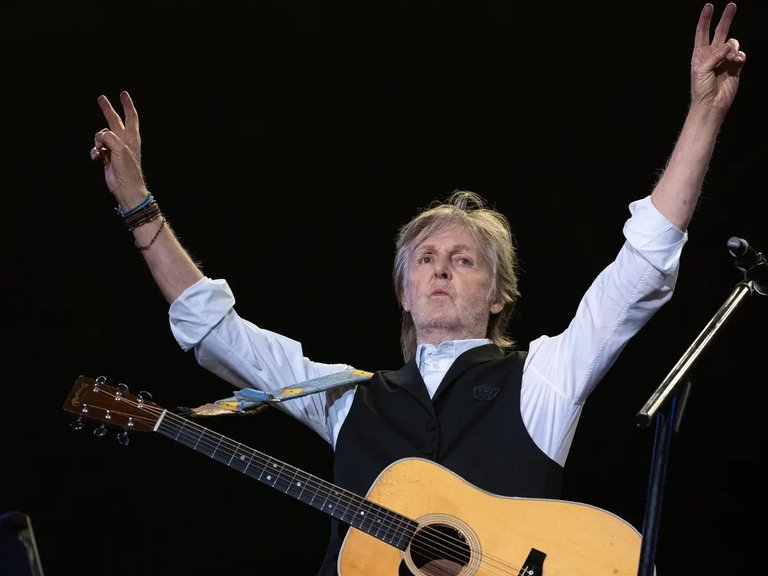 But McCartney's achievements don't stop there. He's not only a music legend but also one of the wealthiest musicians alive. His successful career, spanning over six decades, has amassed him a fortune that few can rival. From the groundbreaking success of The Beatles to his solo endeavors, including his band Wings, McCartney's financial empire has made him a multi-billionaire.
What's even more astonishing is that McCartney continues to make music and perform live at the age of 78. His dedication to his craft and his unwavering passion for music are truly inspiring. He released his latest solo album, "McCartney III," in 2020, proving that age is no barrier to creativity.
In a world where musical trends come and go, McCartney's music remains timeless and cherished by generations. His legacy is not only defined by his incredible chart achievements or his vast wealth but by the enduring impact he has had on the world of music. As long as there's a melody to be sung, you can bet that Sir Paul McCartney will be there, creating music that transcends time and continues to captivate the hearts of music lovers worldwide.
Here's a song from one of their live performances in 2016 :

StarBeats Word : Fine Line
---
---
🍀🍕CARD GIVEAWAY🍕🍀
🍕🍕LAST GIVEAWAY RESULT🍕🍕
Pack Opened :

~ The winners are : @rayius, @bitandi, @nietokilll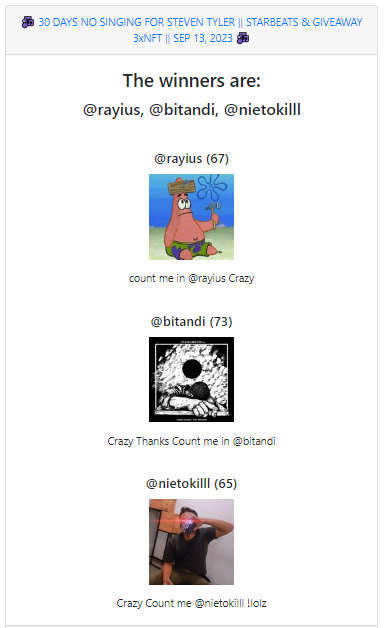 Price sent today :


---
---
RULES :
Every round will require a specific word comment to be qualified for the draw. This word will be located at the end of the StarBeats section.
I will draw 3 winners each round and they will receive cards base on the order of the Cards I have Opened for the giveaway.
Winners will just be run through "HIVE RANDOM COMMENT PICKER". In case there are site problems in it, I will just use wheelofnames
Any entry after I posted the results will be invalid.
I will tag the winner in a post for the results.
---
---
⭐️PERMANENT TAGGED LIST⭐️
If you would like to be notified everytime there are giveaways, just say so in the comments. Just comment "Stop Tag" if you want to be removed. The ones listed here will always be notified per round of giveaways:
@rayius @new.things @servelle @gwajnberg @ruralio @tengolotodo @ekavieka @lordanquek @jonimarqu @meitanteikudo @breadead @lumpiadobo @zatsuchan @uggya @vaynard86 @pirulito.zoado @ifarmgirl @coquicoin @tjnew14 @tawadak24 @dizzyapple @middle-earthling @jdike @blitzzzz @jfang003 @criptosectadepit @tydynrain @stamato @newsc0rpi0 @pooky @nozzy @ifarmgirl-leo @danideuder @yeckingo1 @roscar9 @henruc @circlebubble @sieghard1990 @mario02 @hoosie @vrezyy @rentaw03 @rtonline @bitandi @supriya.gupta @lundall @vicer0y @pix21 @altharoz @pero82 @davideownzall @pedrobrito2004 @bandada @lologom @belzebuzi @dafusa @bokica80 @noroi @philipp87 @edskymiguel @laaalunaaa @coccodema @duekie @monsterbuster @lorddiablo @heatman @imno @mueeya @camillecrls629 @darkeis @kryptofire @sorsa @hhayweaver @giorvis23 @wazock @jimboy04 @nomaddreamer @strongmek @senyong @josman831 @thaddeusprime @ricestrela @caren07 @yourwhisper @blumela @treefrognada @mephiko @daethical @cryptoace33 @diegoloco @arieruzzzz @akiraymd @fredkese @itcouldbecloud @subidu @baburamg @tadesaurius2323 @capodiego @keniel16 @pulubengdugs @oskarl21 @kungfukid @ianballantine @dwarflordnoj @edgerik @maurojd @lisamgentile1961 @ceheran @moonthumb @dk1trade @yhix8ycqc @joseal2020 @steemstreems @memess @loxavius @mango-juice @thebighigg @ladymisa @dailyspam @hiveborgminer @lightbruce17 @lukasbachofner @olaf.gui @tinyputerboy @jxalvar @dracozauberer @kurogan @sylmarill @jay63 @esbat @dewabrata @kraki @wanderingmoon @arngrim281 @alicia2022 @belhaven14 @jhuleader @cursephantom @flquin @liaminit1 @nietokilll @kryptof @yankosoito @alexisgr93 @ragk88 @healjoal @siramadeus @upstaked @gs1 @suhlaing @diochen @sarapony @lilolns19
🍀🍀GOODLUCK 🍀🍀
Upvotes would fuel motivation to give out better prizes
Follow me if you want to get updates of future planned giveaways
---
---
⚠️ WARNING ‼️ ⚠️ THERE MIGHT BE PHISHING LINKS IN THE COMMENT SECTION. I SUGGEST TO NOT CLICK ANY SUSPICIOUS LINKS OR JUST PROCEED WITH CAUTION. THANKS.
---
---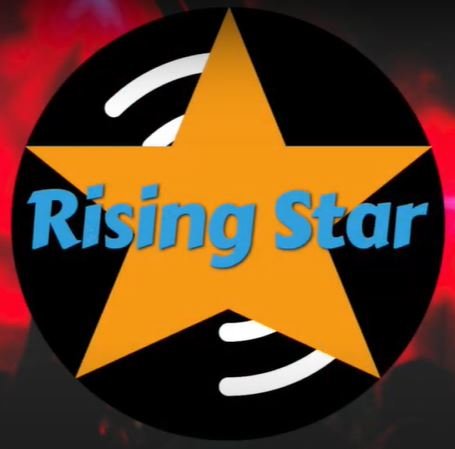 ---
---