Finally a finalist
Good morning to you all. Wow i am finally a university finalist. Actually it seems very impossible at first, but i keep trying everytime all the time, wasn't easy at first, when it got to an extent i was thinking of giving up, but it was one thinking kept me going and that was the word i used to say all the time "i will never give up".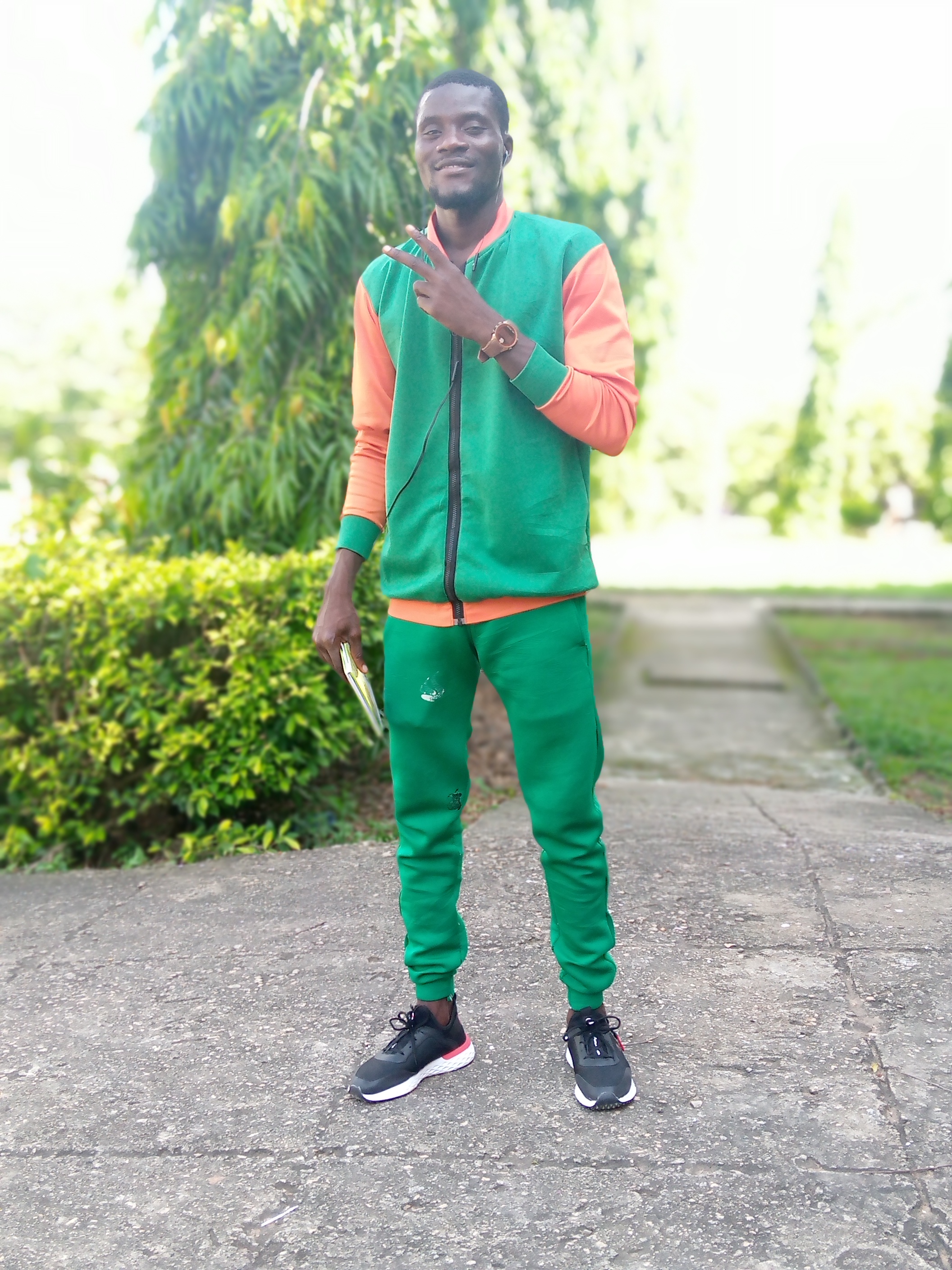 ![Uploading image #1...]
NEVER GIVE UP
Seriously alot of things as happened in life that will make someone to have gone to extinction but if someone dont have focus and believe, honestly he or she will becomes nuisance and become thugs on the street out there all because they've lost focuse and hope. It seems very impossible for me to gain admission into the university in the past, i proccessed admission for over 9years, i used to proccess admission to almost all the tertiary institutions in Nigeria for over 9years and i wasn't offered admission for ones except for a school that gave me admission in die minute, that was kwara state university(kwasu) in the year 2016, have done there school entrance exam since early 2016 but now offering me admission ending of 2016, i have to resume to the school on there matriculation day, i was now like a stranger, i later found some of my coursemate cos i was offered admission to studie Economics and Literary studies. So i was told to go and print the matriculation oath form and the neccesary documents, i went ahead to do so and was also taken to the department to start signing my documents, when i got to the department, the woman in charge to sign my documents asked me that was i just been given admission, and i responded yes, and she started laughing and the rest of the staffs in that office started laughing s well making gest of me as i was the one that gave myself late admission, the woman later told me she cant sign that day that i will have to come back on thursday, me myself i laughed in discouragement, cos as they've make gest of me already, i'm already discouraged, she asked me to come back on Thursday, me that i have nobody in that town, i have nowhere to stay from monday to thursday, i was now thinking how am i going to survive. I left the office and look for some of my coursemates that has been in school before me, i talked to them and they told me they will be starting test the following week, and i was told the school fee is over 400thousand. But i cant afford the money so that was how i forfeit the admission that year.
I went to a school to for there entrance exam in this country ones, when i got to the school, i found out cultist is disturbing them seriously in that school, i entered the school since wednesday and am having my exam on Saturday, so i tried to locate a mosque in the school, that was where i was for good 4days, i was unable to move from a spot in the fear of the cultist. After am done with my exam on saturday, i was the one that entered the school through there main gate myself o but when i want to be going back home i was now started asking around for the school gate. Dont you see how funny that is. Thats how that went too.
I processed university of ilorin admission for 5 different years and i wasn't giving admission for ones. Even the school i am presently, have processed their admission for over 4years and i wasnt given admission not untill i later came to do some 8years programs in the school.
I dont want to go to polytechnic initially but during the period i was processing admissions, i was convinced to go and try admission of a polytechnic in ondo state, owo to be precised, ok i went ahead to do there entrance exam, i did the exam and my result did not come out, i was also told to come and re do the exam, i re do it and still yet i did not have result. That was how i gave up on the school.
OPPRESSION
During the period of all the processing, one of my friends came around then from there school university of ilorin, she told me that day that if i did not gain admission that year that she promised me gun that shes going to shoot me.
Some of my guy came around too from university of Benin, and they started telling me that i was not trying enough, that hadn't been i tried enough that i would have been in a university by now, he told me i should take a look at him now that his now in 300level as at that time, he now started to make some instance for me, he told me to take a look at some set of people that they are now a graduate, he said i should also look at some set of our friends that they are now married actually they are my secondry school mates. And many more like that.
When i was doing the 8years program i did in my school before i later gain admission fully into the school, during the time, i used to scout with some guys in my villa cos i have two sisters in that villa but you know we cant be sleeping in the same room together, so i now have to scout with some guys in the villa. During that time we that used to be in that room we used to be up to 5,actually they are all yahoo guys, they used to put On generator from night till morning, as at that time i dont have one naira with me, i am broke as hell then, they always want me to go out with them, whenever we got out for shopping, they do there shoppings individually, me i will just be looking, i kuku did not have money. And they will never got me anything. The worst experience i ever have with them is whenever they take ladies home to sleep with, i will be sent outside, that there thing may take very long o but i will be outside there, one blessed day rain was falling heavily and they took ladies home, so i was sent outside in that rain, have got no where to go. Damn i cried this day, i cried alot, i was embarrassed, i was feeling cold. I kept crying for so long, when a time even came i also want to impressed them by joining them in working but i dont just know what pulled me back. But you know all this are now stories today.
Actually this my past experiences really made me to be strong, afterwards that have gotten admission, i was unable to have roomate cos of my past experience, i am unable to mingle easily with people, and i was able to do things on my own.
I DIDNT GIVE UP
Actually i refused to give up that was what took me this far, actually during the time i was processing the admissions those years, people used to see me and used to to point fingers at me and used to see me as unserious guy, but here i am today. I wasn't processing admission because people think i wasn't serious o, i just have passion for school, i just want to go to school. And at last of last that i speak out That i am tired, then God make it easy.
When i was just writing my final exam for 300level yesterday i was just kept thinking saying is this really me, wow, for the past 9years, and some other extra years. Wow, now i am in my final year days in school. I am awesomely really grateful to God cos his the one that has made it easy so far for me.
So for those of you that has been trying out there and you are yet to get there, i believe in you, keep pushing, dont give up, there is light at the end of the tunnel. What it requires from us is constant and continuous effort, to keep pushing. Please dont ever think of giving up, if you ever think of giving up first think about the reason why you start in the first place. You will surely get there.
Thanks for taking your time to read my post and i hope you gain one or two things in it.
Have a blessed day ahead of you.
---
Posted via proofofbrain.io
---
---