A QUICK LOOK AT HIVESTATS : LEO&HODL Contest
Do you like to monitor and calculate your progress on the hive blockchain? If yes, then this post is for you. If not it's still for you. Recently I have been seeing a lot of posts from various users where they have talked about the things they've achieved so far, and their goals for the end of the year. One of the things required to achieve those goals is monitoring what they've done and what they need to do if they're going to achieve those goals in a specific time. Or you could be like me who's just always curious to see my stats (Or that of others, shh) on the hive blockchain. Have you tried Hivestats.io?
---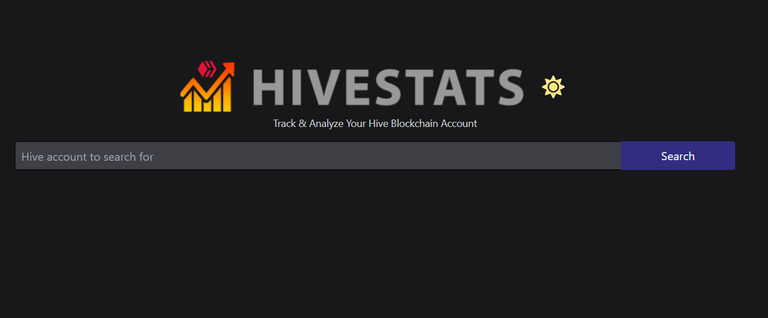 ---

WHAT IS HIVESTATS?
Just in case you haven't heard of Hivestats, it is a site made by the leofinance team that keeps track of the stats of every hive account. It is a very useful tool that I use on an almost daily basis.

FEATURES OF HIVESTATS
Once you log in, at the top you'll see all the leofinance applications as well as the top 15 leofinance posts of the day. There's also the sun Icon to switch between light and dark modes.
---

---
Below all that is an overview of the stats of the account. You can see the effective Hive power, current vote value, and vote value at various voting powers. You can also see the rewards the account has acquired from curation, posting, and witness over the last 7 days, last month, and even all time.
---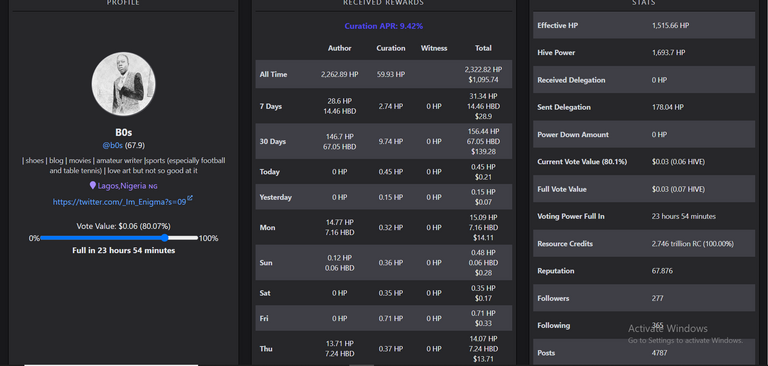 ---
Below that there's the price of hive, HBD, and a couple of leo projects.
---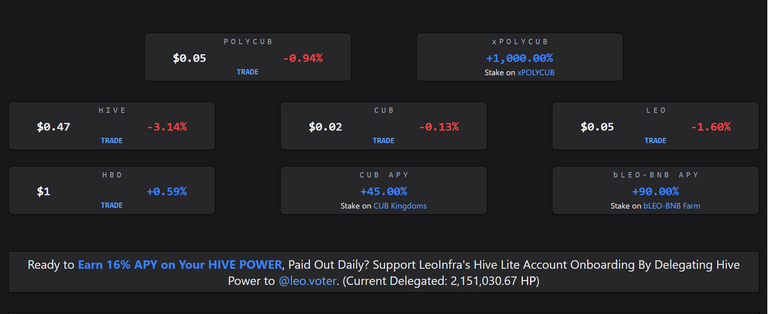 ---
Then a detailed view of the accounts wallet

Below that we can see the Analytics of the account in the last 7 days or 30 days. Both In text and graphically for a more detailed analysis.
---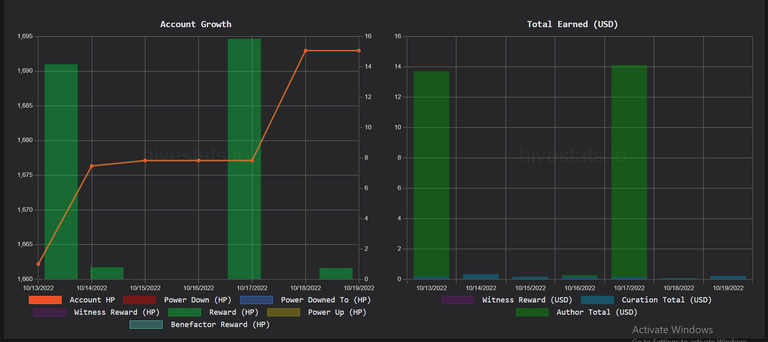 ---
You can also check the pending author rewards, pending curation rewards, all the operations the account has performed recently, the hive-engine wallet, the received hive-engine rewards in the last 7 days, 30 days, and all time, as well as all the hive-engine operations.
---

---

WHAT I THINK IS MISSING FROM HIVESTATS
With all I have mentioned above there's no doubt that hivestats is a very dynamic and useful tool for keeping track of all your stats. But one thing I noticed Is there are not any trackers for engagement. If there's one feature I would add to hivestats it would be an engagement tracker that shows the daily, weekly, and monthly comments made by an account. I feel that'll be very useful to those who like to keep track of their engagement on the blockchain.

Other than that, I think Hivestats is an easy-to-use and very comprehensive tool for checking stats. Tell me what you think about hivestats in the comment section.
This is my entry to this week's LEO&HODL contest. I am inviting @deraaa and @tengolotodo to participate.
~THANKS FOR READING~

Posted Using LeoFinance Beta
---
---