Ultimate guide to hive-engine tokens

As a newbie to the hive blockchain one of the things you don't know from the start is hive-engine tokens. Usually whoever introduced you is already doing their best not to overcomplicate things so they just leave it out at first. And then with time once you've started getting the hang of things you find out about them and then it's easier to grasp cause you're in the system. I realize there aren't many guides to hive-engine tokens (To the best of my knowledge), so in this post, I'll do my best to explain hive-engine tokens and also how to trade them.

WHAT ARE HIVE-ENGINE TOKENS?
As the name implies Hive engine tokens are layer 2 tokens built on the hive-engine which is a platform that integrates smart contracts on the hive blockchain. Hive-engine plans to integrate other smart contracts into the blockchain, but at the moment the only one available is the one that enables us to create our custom tokens. Thanks to hive-engine, tribes and even random users can create their custom tokens on the hive blockchain.
To create your token all you need Is some bee (The native hive-engine token). If you plan on creating a token, you should have an actual use case for the token, or else you'll create a shit coin with no value. This is the problem with hive-engine tokens at the moment. A vast majority of them end up losing all their value as most people are looking to sell and there's no real benefit for holding them.

HOW TO EARN HIVE-ENGINE TOKENS
There are various ways to earn hive-engine tokens. The first one is by using certain tags in your hive blogs or making use of their frontends. Once you do this you can earn the hive-engine token depending on how much votes you get from those who have staked the token. Similarly, those who upvoted the blog will get a share of the tokens according to their vote. This method is not alien to hive users as it's a major way to earn hive, the only difference being that there's no need for special tags. A lot of hive-engine tokens are earned this way, you can earn Leo using leofinance tag, Neoxag using neoxian tag, Cine using cine tag, pimp using pimp tag, and even Bee using the hive-engine tag. Or you can simply make use their frontends to post.
Do note that certain hive engine tokens are niche, and therefore one must make sure they are writing content related to that niche to use their tag or frontend. Leofinance tag is for finance, Cine tag for movies, and then tags like neoxian and pimp accept all forms of content. To discover some hive-engine tokens and their frontend you can check out this post by @dynamicrypto.
You can earn hive-engine tokens by delegating hive power to certain accounts. Delegate hive power to @leo.voter and you earn leo tokens passively, by delegating to @neoxiancityvb you earn neoxag tokens, by delegating to @hive.pizza you earn Pizza tokens and so on.
You can also take the shorter route and buy them if you're really interested in them.

HOW TO TRADE HIVE-ENGINE TOKENS
You have earned a good amount of a hive-engine token and you want to sell some for profit. Or you've heard certain good things about a hive-engine token and you want to get some because you're confident the price will moon, now you're thinking "how do I go about this?" There are four major decentralized exchanges (DEXs) we can make use of, Hive-engine, Leodex, Tribaldex, and Beeswap. With these its very easy to monitor, trade, and swap our hive-engine tokens.

HIVE-ENGINE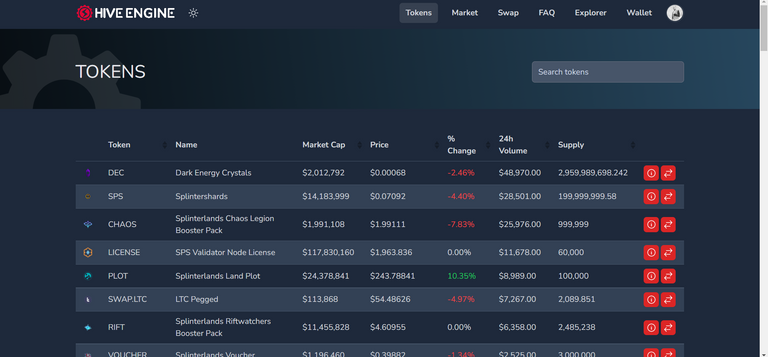 Hive-engine is pretty much the default interface for trading hive-engine tokens. It has the market feature where you set your buy orders and wait for someone to fill your order by selling, and also the swap feature which is actually being done by a 3rd party called dswap. There are no fees except a 0.75% fee when you're depositing or withdrawing.

LEODEX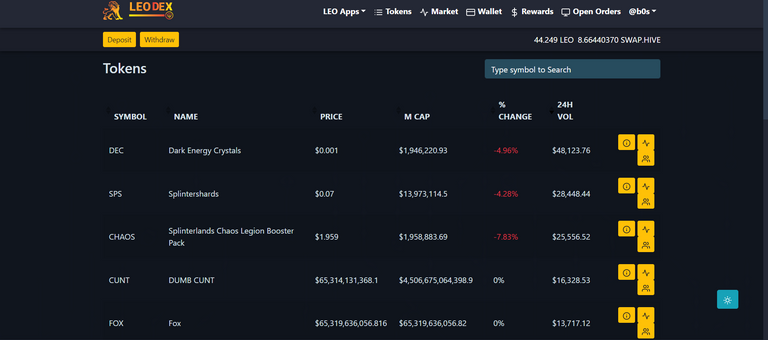 I was supposed to make a separate post on this for the @hodlcommunity's weekly prompt, but I missed it. Leodex is a great interface to make use of. It has a market feature and no swap feature, but it makes up for that with its cheap 0.25% withdrawal fees. Do note that you can only withdraw hive.
One really cool feature it has is the vote weight multiplier. By clicking on rewards and then the lightning symbol
---

---
By setting it to 4 whenever I give a 25% vote It becomes a 100% neoxag vote
---

---
Awesome right?
Then there's also the Rich list feature. By clicking this icon I highlighted
---
---
you can see the list of those who hold the most of the token. This can help one know the percentage of a token the top shareholder has.

Tribaldex
Tribaldex is another awesome interface to make use of. It was developed by the devs that created hive-engine. It has the market feature, no swap feature, but it does have diesel (liquidity) pools which are a feature that helps it stand out. It has an Nft marketplace called Openhive where Nft's can be traded for hive engine tokens, pretty cool if you ask me. There's a witness tab to review your witnesses. It also has loads of other smart contracts which I'm yet to fully understand.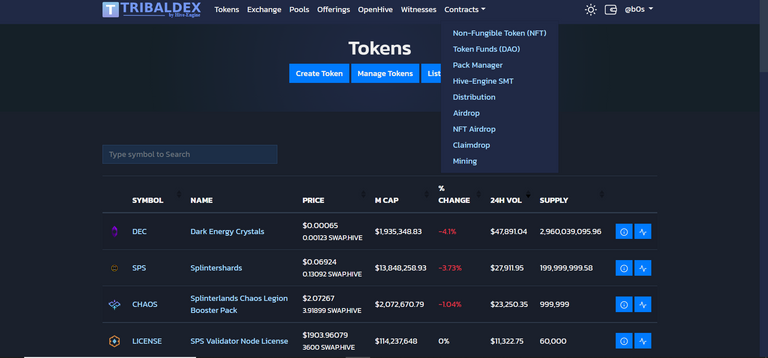 Tribaldex is basically Hive-engine on steroids.

BEESWAP
Last but definitely not the least. Beeswap offers quick transactions between various hive-engine tokens for a small 0.25% fee. Its a swap so it does not have the market function. It does have the liquidity pool option though. Other than the quick swaps it offers, its only distinct feature is the ability to check and transfer your splinterlands in-game currencies easily. I think this is a cool feature and if more blockchain games can be added it'll be cooler.
---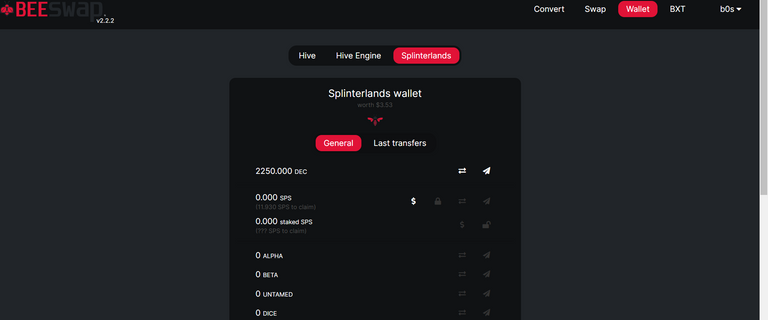 ---
I use beeswap a lot when I have to make time sensitive transactions. The only downside to Beeswap though is that because it makes use of liquidity pools, if there's no liquidity one can't swap between those tokens.

Hive-engine tokens are a really good idea and are very helpful in rewarding niche content. As a newbie it might take sometime to fully understand how they work as there are various ones and multiple ways to earn them, but i hope with this guide I've been able to break it down for you.
~THANKS FOR READING~

Posted Using LeoFinance Beta
---
---