Getting Involved to Taste the Sweetest Fruit
You don't have to search far to find projects that have gone from a small launch to a full-blown rocket flying past the moon without looking back. New millionaires are made every single day, especially, when it's a crypto bull market. We've seen tremendous gains and read hundreds of success stories but we've also seen exit-scams, or rug-pulls as they're calling them now.
We've witnessed hacks, some of us on our own skin, we've seen pumps and dumps, media attention, both positive and negative, we're earning food tokens, and buying digital 32-bit cards. Today, they even started buying tweets but you probably heard about it already.
That's actually not what I wanted to talk about. I think there's one thing that's worth more than the food tokens, and it's the community you're in. Because if the community behind the project is real and, what's important - loyal, no hack will be able to destroy it.
Some of you may not even remember that the first version of WLEO token (LEO wrapped on ETH network) was hacked. The team and the community stayed together and came out much stronger! Just look at where we are now! New projects have been announced and things are only going to get crazier in the months to come with lots of new lions joining up the club.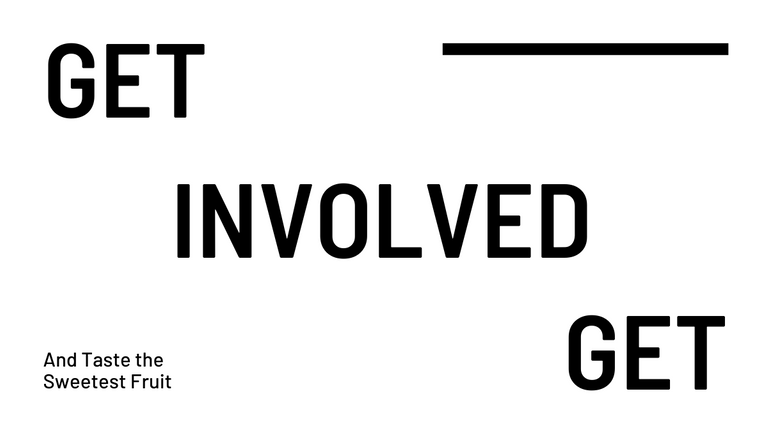 Getting Involved
Being a part of a growing community feels so much more than simply chasing gains with tokens that you don't know anything about. Only that everybody's talking about them. More often than not it results in buying the top because if everybody's talking about a coin, it's probably already super high in the chart.
Now imagine the feeling of stacking a bag of tokens that you love while nobody's talking about them. And then when they rise up and go mainstream, you'll have just the right amount where you can sell a small part of your bag and still have nice gains. Not only will it feel better, you'll also save yourself some precious nerve cells by not having to worry about a token with an anonymous team behind it (audited by Certik).
Not that I don't like chasing gains. Oh, you know I do. I have some pretty exotic coins that you have probably never heard of but that's just a side-play to which I dedicate just a small percentage of my portfolio. My biggest bags consist of coins that have smart and hard-working teams behind them and an active online community. Mostly - because either Leo users wrote about them or I'm using the product myself.
---
I'm a Lion!
As you probably already know, the number one is Leofinance.io to which I'm super grateful. Not only have I earned a nice amount of crypto from my posts and comments, but I have also LEARNED A LOT and that's something you can't buy. Yes, you can buy courses and stuff but it will still take a lot of time to go through them. On Leo, you're learning, earning, and practicing your skills - all at the same time. Thanks, Lions, you are all superb!
---
And a Torum'er!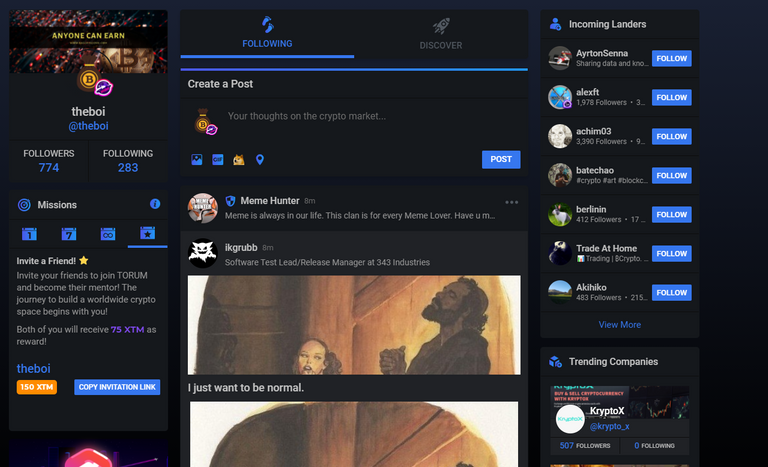 Another community that I'm in is Torum. I've been there since last summer and starting from December, I became a Torum Ambassador. They had to fill a simple form to become one so I decided to give it a go as I enjoyed the platform myself. I think at that time, the only thing that the Torum team saw from me was my Leofinance articles, so I gotta thank Leo once again for being the place where I can showcase my skills. Luckily for me, the Torum team liked it and they gladly took me in their team.
If you're new here and haven't heard about Torum, it's probably because their token is not on the market yet. The platform itself is still in the private beta stage and there is a lot of work being done behind the scenes. If you want to read more, here's my review. When the token comes out, there will be a party on Torum that I don't want to miss. Even now, Torum is rising in ranks like a beast with more and more landers joining every single day. They are all starting to accumulate XTM by completing daily missions and inviting friends.
XTM is Torum's token. I've already managed to invite 58 new users and I'm not the best inviter. Torum is also the place where I have the biggest follower count - it's 774 at the moment. If only a few of them come to read my Leo articles after I share them there, it's good for me. Not only do I get bigger traffic, I'm earning rewards on Torum from either the team or other users.
In the last update, they implemented new rewards and I really love diamond hands one. I've been giving them away like crazy in the last couple of days. Looks good, doesn't it?
---
Plus I'm making Noises.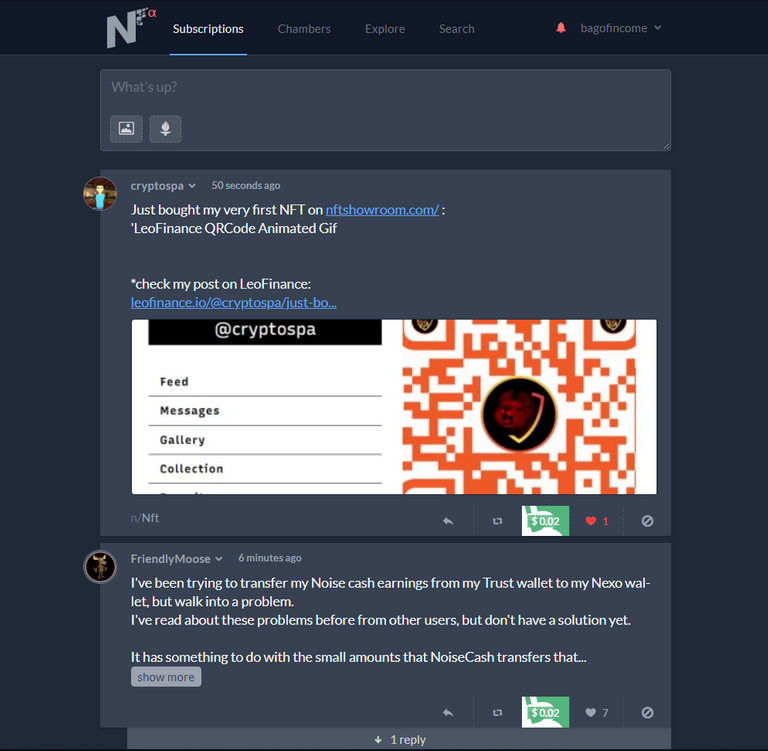 this is a link to my noise profile
You've probably heard about noise.cash too. I would lie if I said that I'm a part of the noise community BUT I'm pretty active there when it comes to connecting with Lions and Torum'ers. I'm also happy about the gains we're all getting. When I see a lion sharing an article, it's a tip from me. When I see my Torum friend writing about their experiences, it's a tip.
Not that I don't tip others, there are some nice accounts but for now, it's only a good place when you have a list of people you want on your feed. On noise - they call them subscriptions. Subscribe to your favorite peeps and that place becomes lovely. A really nice warm-up before Project Blank comes out. Then - I doubt my abilities to use both of these platforms but never say never. Noise team is hard-working and they may have some surprises in their pocket.
---
Conclusive inspiration stuff
If you want to be really early and remain stress-free, choose a project with a real team and an active community. Preferably, one that you can join yourself. Yes, it can be overwhelming at first but let's be honest, your time will be spent either way. Will you choose to sit back and watch the show or stand up and become one of the main characters?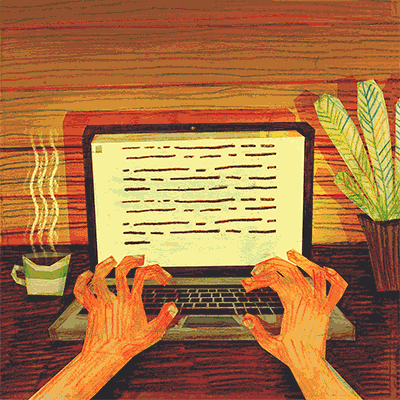 You are writing your own story!
---
Thank you for reading!
Read some of my other stuff:
Top Crypto Accounts You Must Follow - Crypto Twitter Top
Must Read - 33 Reasons Why You Should Be Using HIVE Blockchain!
Crypto Faucets That Really Pay - Browse Here
SwissBorg Lottery With a Guaranteed Bitcoin Prize - Look Here
---
Press on the banner below and browse boi's website.
---
---