It's Christmas Time on Torum (Boi Giving Gifts)
What a wonderful Christmas time for all the crypto adopters out there;
Bitcoin reaches a new all-time high and surpasses the market cap of VISA
More than 55 thousand 1Inch.exchange users get an airdrop with an average value of $1,570
LeoFinance breaks into top 50K sites in the world and keeps moving up
Torum makes us all into Santas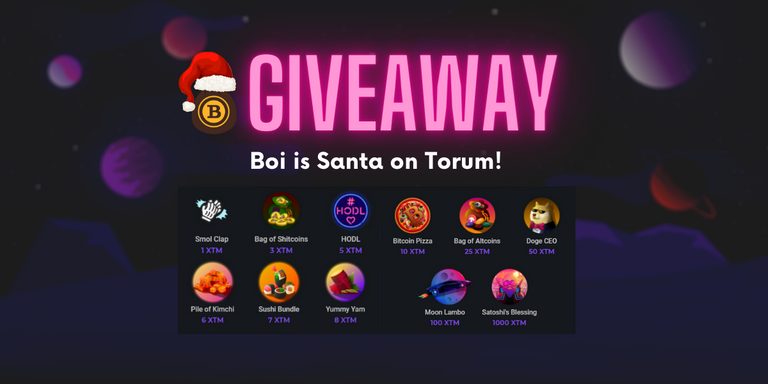 To celebrate Christmas, I'm giving away some of these juicy gifts to HIVE users!
As you can see in the screenshot below, everyone on Torum has a Christmas hat on. Even a small change like that can get that Christmas spirit going, especially in these hard times we're living in. Many people didn't have the chance to meet their loved ones because it was forbidden by the government to prevent the spread of the covid virus. At least they got some love from Torum!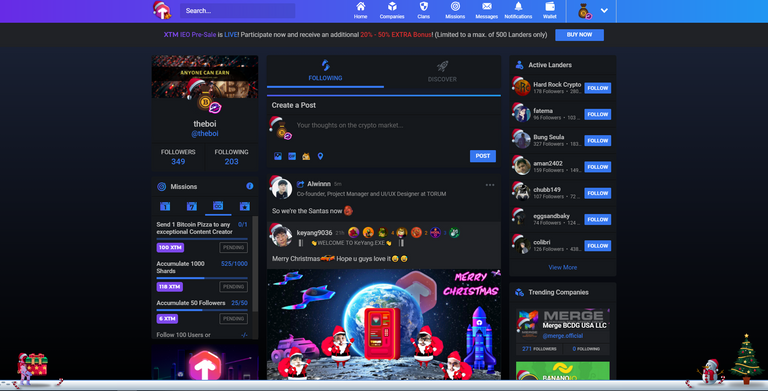 Join The Giveaway
To keep the Christmas spirit high, I decided to do a giveaway of Torum gifts for those HIVE users who are also using Torum. If you don't know what Torum is, here's my in-depth review. To participate in this giveaway, you have to complete a task:
Go on Torum and write a post wishing Torum and all crypto-community a merry Christmas!
If you're not on Torum, register with my invitation link to get 75 XTM as a gift!
Copy a link to your Torum post and paste it in the comment section of this LeoFinance article.
Wait for a Christmas Gift from @bagofincome aka theboi on Torum!
Merry Christmas
Here's my post that could serve as an inspiration! Remember that you can write anything you want but if it's about crypto, you will probably get more rewards!

Thank you for reading and have a great time, my crypto friend!
One last thing, if you're on Torum and haven't joined the LEO Lion Clan, you can do it here. We already have some very well known HIVE users there such as @behiver, @knowhow92, @trumpman, and many others, even @onealfa is there! Both of these communities can co-exist together and help each other along the way!
Until the next time we meet!
---
---