Trying Out Torum Mobile Beta
As a Torum ambassador, I recently got the chance to install the Torum mobile beta version on my android phone. Today, I'll share with you some screenshots that I took from the app. Overall - I'm impressed with how well the app works and how there are all the functions that the website has. I'm pretty certain that after the app goes out to the public, we're going to see a huge influx of new users.
I have to add that after installing the app, I immediately switched to the dark version. I'm choosing dark modes for all the apps that have the option to both, save my eyes and the battery of my phone. If you didn't know it - dark pixels use less energy. Therefore - all that you see in the post can also be looked at in the default (white) version of the app if that's what you prefer.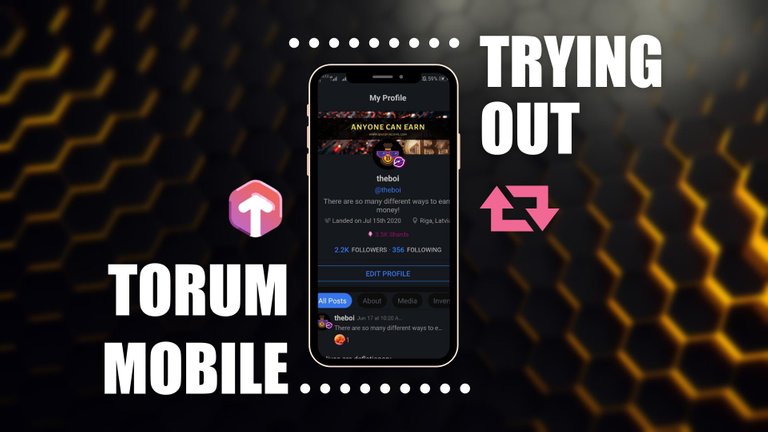 In the first pic on the left side, you can see how my feed looks like. It's pretty easy to grasp and is simple to use. There are two sections on your feed - the people you are following and the discover section where you can find new users and trending Torum posts.
In the middle, you can see my profile, and that I now have more than 2 thousand Torum followers. Although a big part of them are not using the platform in their day-to-day lives, it's certainly a wonderful feeling to see the platform growing.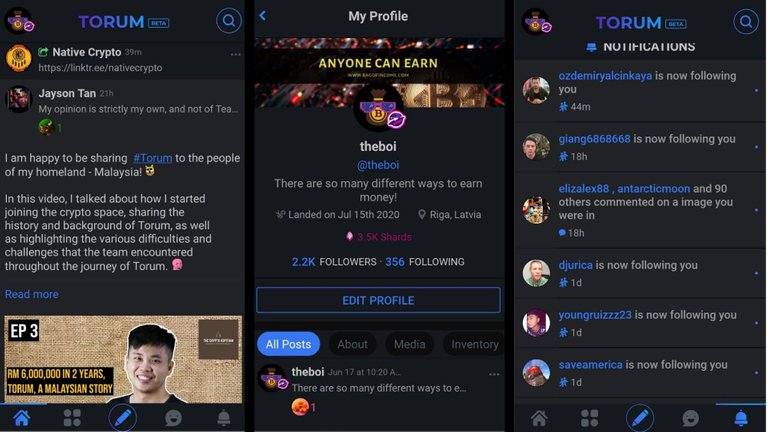 Earning XTM
One of the ways to earn yourself more XTM tokens is by completing missions. Starting from daily and weekly missions of logging in and liking posts to one-time and special missions like achieving a certain follower count or inviting friends to join Torum. There are many ways to earn XTM. All it takes is a little bit of activity from your side.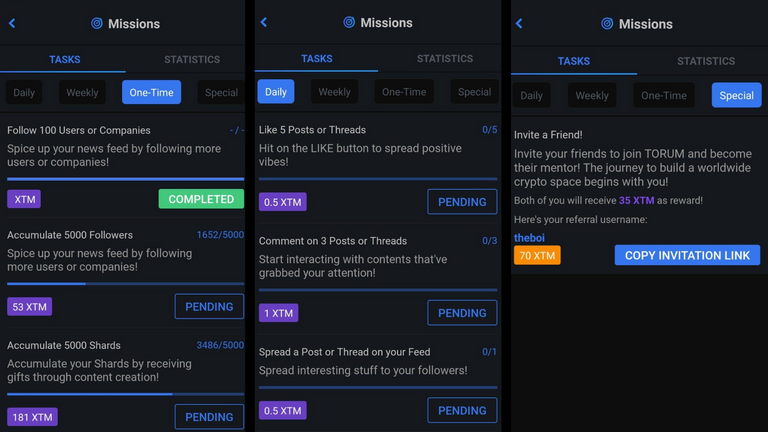 Overall, it's pretty simple - use the platform and get rewards. The more active you are, the better your rewards will get. In addition to being rewarded, you'll meet new people that you can relate with and maybe even cooperate on some project. Even though the XTM token is not on the market yet, right now is a great time to accumulate more of them shiny coins.
Torumified
If you want to read more about what's happening with Torum, here's an article that was recently published and explains all you need to know. Although, the best way to experience Torum is by diving in and using the ecosystem.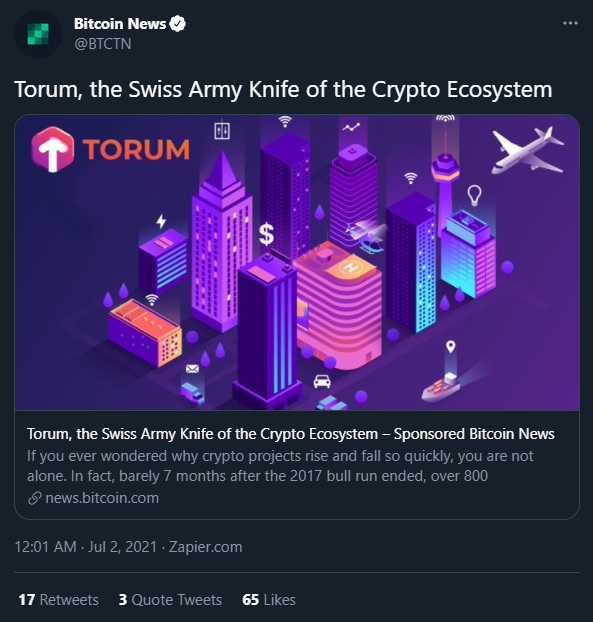 Read the article here: Torum, the Swiss Army Knife of the Crypto Ecosystem
You can also check out my own review that I wrote a while ago on my website:
Crypto Social Media Platform - Torum Review
Or join now by pressing on the banner below and we'll both get 35 XTM in our wallets!

Thank you for reading and have an awesome day ahead!
Other articles
33 Reasons Why You Should Be Using HIVE Blockchain!
Top Crypto Twitter Accounts to Follow
SwissBorg App and a Bitcoin Lottery with a Guaranteed Win
Find me on other platforms:
And feel free to explore my personal website:
Posted Using LeoFinance Beta
---
---