#FinancialGoals2021 Initiative | My Investment Strategy in 2021 with Cryptocurrency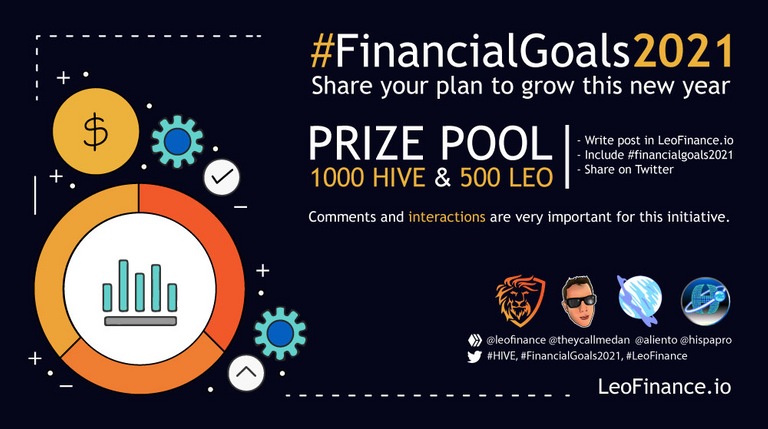 Currently, blockchain and cryptocurrency are a new technology for people in the world. Most of people got what both of them are. And there are not any power to stop the blockchain and cryptocurrency technologu. We know there are so many digital assets or cryptocurrency today. If we start discussing on investing right now mean we will discuss about what cryptocurrencies to be invested; not other commodity or some conventional businesses.
Everything is going to be fine in 2021. This is the year of cryptocurrency. More and more people get knowledge on cryptocurrency and there will more and more people recognize it and be adopted the cryptocurrecy in the world of their business. For that reason this post I create as my participation for the initiative of @theycallmedan; Financial Goals 2021. @theycallmedan needed our answer to his question; what is your plan to grow in 2021?
You are definitely correct if you say that I will invest my money in cryptocurrency. You read my words in the first paragraph of this post that I talked about it and this is clear that my investment strategy is to invest in cryptocurrencies. How will I manage my investment strategy? What kinds of cryptocurrency will I buy as my investment in 2021? And why I but them? What are my goals for investing in cryptocurrencies? Now I will let you know.
Saving Crypto
I am very happy that I am familiar with cryptocurrencies as quickly as everyone else here. This is an era of great change and I am enjoying this phase. Some people are wondering where they will take their money. Investing in the wrong business will make their money decrease and even they will lost. I understand how to manage my income by investing them to buy cryptocurrency. I will be saving my money in cryptocurrency. That's a big opportunity started two years ago and today almost all business people will do the same thing as I did. They will save their money on the crypto market. There will be a profit depending on what assets are they purchased.
Investing in cryptocurrencies allows the funds you invest to grow far beyond the inflation rate. There is a risk if you choose the wrong crypto. I'm going to learn a few things before making a cryptocurrency purchase on a market. Who are the people behind the crypto project? How much is the supply of cryptocurrency? And what about their blockchain technology? It is part of my investment strategy with cryptocurrencies. You have to do some analysis first before buying cryptocurrency as your investment asset. Here is my free professional advice to you! I have a lot of considerations before buying crypto assets and I'm a fast learner for that.
Saving crypto currency is basically you investing a certain amount of crypto market money on a regular basis. I will determine how long I will keep the cryptocurrency. There are cryptocurrencies that need to be stored for a long time and there are those that only take one week to swallow in a crypto market that we have to sell. I will learn from crypto holders on forums and platforms. This is LeoFinance and I am in the right community. I will not worry as there is a lot of content from writers who are experts in the field of cryptocurrency at Leo Finance.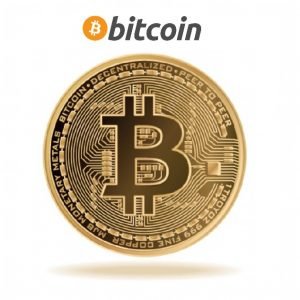 Tutorial to buy #BTC in Rekeningku
.
In fact, saving crypto currency is like adopting a dollar cost averaging (DCA) investment strategy that can be applied to any type of investment. I understand that and I buy cryptocurrencies whose value will increase gradually and continuously, without paying too much attention to the price movements of the cryptocurrencies. I studied Bitcoin ($BTC). And that's what is happening to $BTC right now. I will buy $BTC whenever I have a small amount of money. It's a great investment in $BTC.
To illustrate this, I regularly buy $ BTC with my existing money and I will sell it in 2022. You can imagine how much $BTC will cost in 2022 if you look at the movements in 2020 and today. I chose $BTC for investment.
Then what other cryptocurrencies will I buy and keep as my investment besides $BTC? I know that $LEO is already flying high and it is likely that the price will continue to rise as well. I'm going to buy $LEO and I have already started on the internal market Blockhain Hive. Yes, I do keep some $ LEO on my swallow on [Hive Engine] (https://hive-engine.com/?p=market&t=LEO). My $LEO is still low and I will continue to buy it whenever I have $ HIVE on my $HIVE swallow. The same strategy I run on $ BTC I will do with $LEO as well.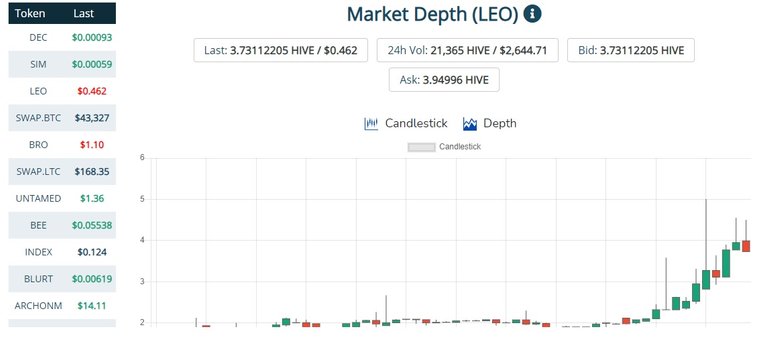 Crypto Trading
Cryptocurrency trading means I trade crypto currency. I bought low value but potential cryptocurrency and immediately sold it on the same day at a higher price. I will buy $HIVE in the Indonesian crypto market which is Indodax. There are many traders who have bought $HIVE on Indodax and most of them are from the Indonesian Hive Community. I am not afraid to buy $ HIVE and I have advised my friends to buy $HIVE on Indodax. Dr. @razack-pulo is one of those people who always tell users from Indonesia to buy $ HIVE on Indodax because he has a lot of $HIVE in the Indonesian crypto market.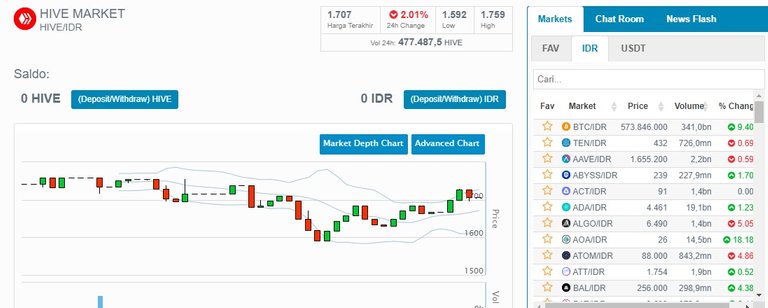 Walet $HIVE di Indodax
.
I and @razack-pulo believe that the price of $HIVE will be even higher in 2021 and I will be doing crypto trading with $HIVE too. That's the reason I love depositing and trading with $ HIVE.
My prediction to the price of $HIVE and $LEO
I am not shy to predict the price of both cryptocurrency. $HIVE will be US$1,5 and $LEO is going to reach more than US$2 during 2021. If you read this prediction, I think you have no reason to be afraid to invest your money on $HIVE and $LEO.
What are you waiting for, my friends? Let's invest our money in $BTC, $HIVE, and $LEO!
Posted Using LeoFinance Beta
---
---