My Story About Cub Finance: I Got The Way to Start Earning on Cub Finance But I Can't Enjoy The Profit Yet

Foto by @@filotasriza3
Hi Leo Financers, how is your day? I am good and I pray that you are good too. Tonight I would like to tell you something important about the most important thing I did during 3 hours today. Hmmm, more and less 3 hours. I did this because of an interesting post created by @filotasriza3 15 days ago. I love reading that post that informed me about how to start earning on cub finance for newbie like me. No worries, you can read the post in this link. If you want to earn on Cub Finance, so this post is really must be your good knowledge and I recommended it for you.
Cub Finance is a great DeFi project of Leo Finance on BSC
Since the Cub Finance became a new DeFi Project on Binance Smart Chain (BSC), there were many cryptocurrency enthusiasts toke a big chance to be farmers of Cubdefi. A friend of mine, @razack-pulo harvested some $CUB every day from his investment on the DeFi of $LEO. It is amazing! And @razack-pulo mustn't be worry because I am not informing everybody here about how much money he spent so far. This post is about my effort to be a farmer of Cub Finance.
I am on Cub Finance but I can't earn Cub Token yet
Frankly, I read more then twice a post of @filotasriza3 before starting to try my journey to start earning on Cub Finance. For me the content of @filotasriza3 is a great tutorial and I got what I need. I didn't wait for a long time to follow the steps to earn the Cub Token. What I did and why I can't earn Cub Token?
I wrapped my $LEO to $bLEO
I have downloaded the chrome extension of Binance Smart Chain's wallet 5 months ago. It was done. Then I visited https://wleo.io/bsc to wrap my $LEO to $BLEO. You can see the process of it from some pictures below;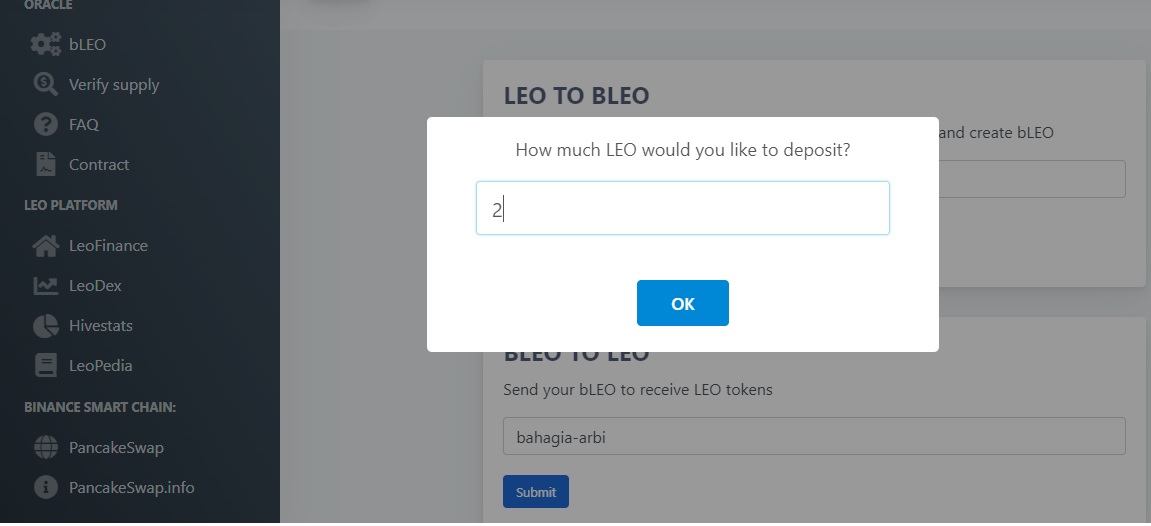 I bought 2 $LEO on
Hive Engine DEX
for this trial. Then I added my BSC Wallet with 2 $LEO.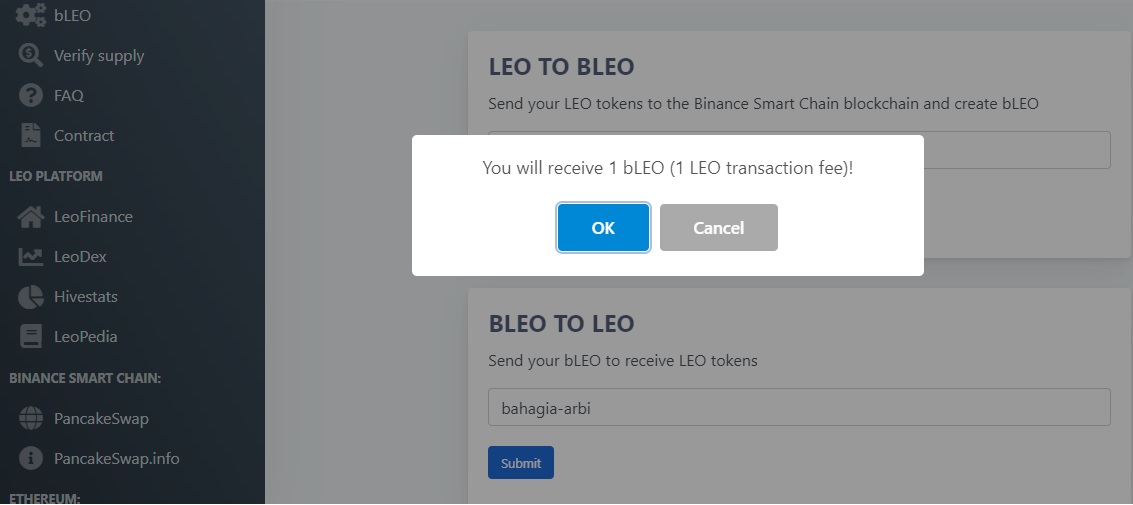 I received 1 $bLEO because I $LEO took as the transaction fee.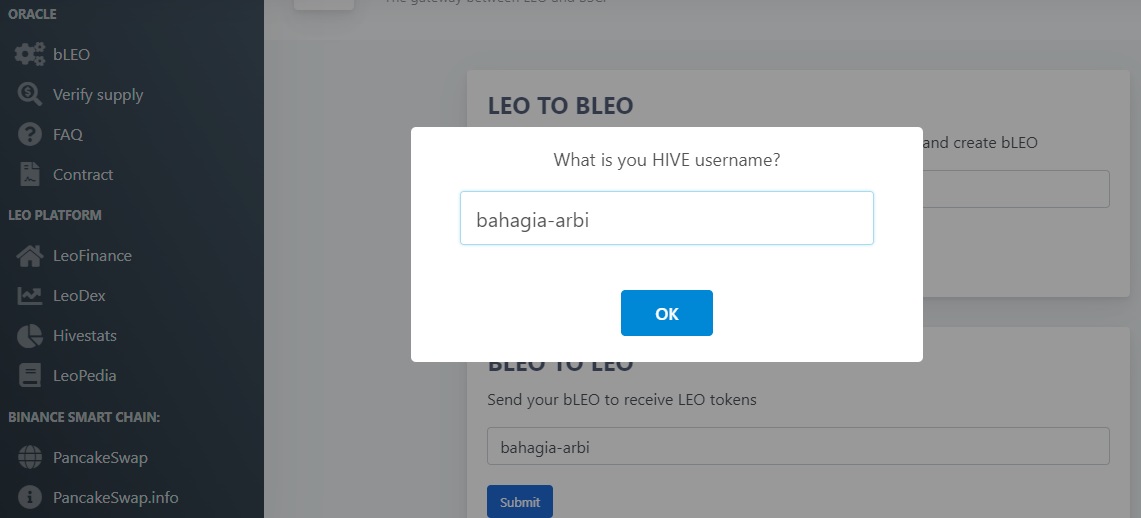 After I added my hive account, then I click OK.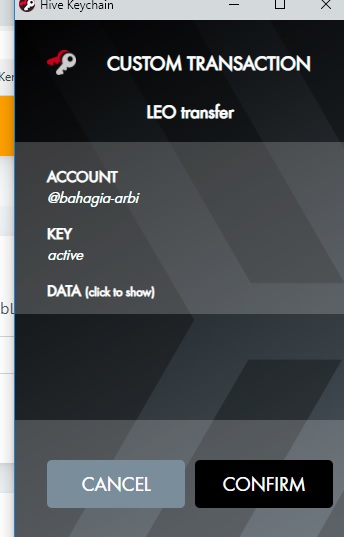 I confirmed the transaction using the keychain.
From the picture you saw above you know that I have wrapped my $LEO to $bLEO. I thanks a lot to @filotasriza3 for his clear explanation.
I was failed to add my liquidity!
I visited the page https://exchange.cubdefi.com/#/swap and I clicked on Liquidity option already. But I was failed! Why I was not able to add my liquidity to start earning some $CUB?I am sure that the following pictures show you why.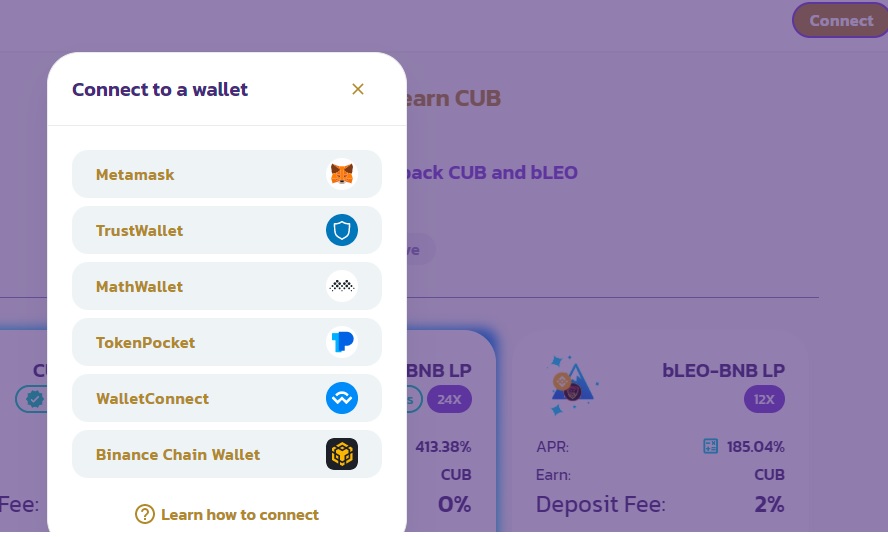 I have connected my Binance Chain Wallet to add the liquidity.
---
---
I did like @filotasriza3 that choosen $bLEO-$BNB. You can see that I just had 1 $bLEO on my BSC Wallet.
---
---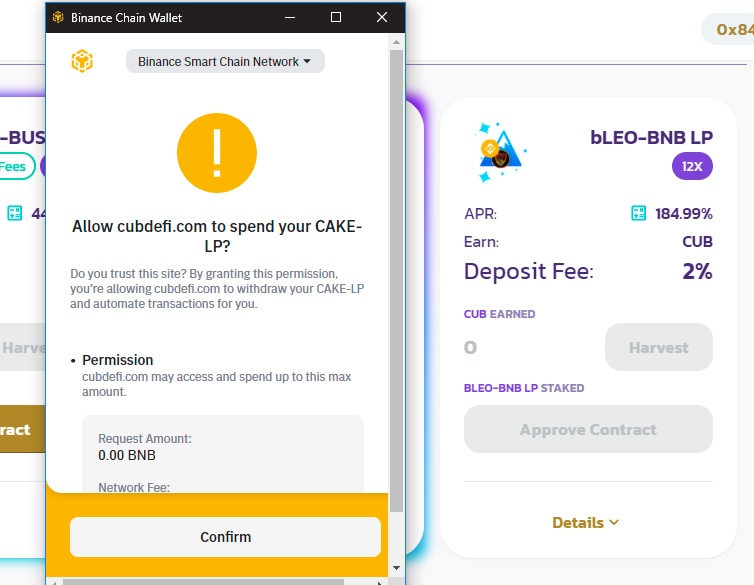 This picture made everything clear why I can't enjoy my profit on Cub Finance yet.
Yeah, you are right! I have no any $BNB on my wallet, right? That is why I can't start enjoying my profit to earn $CUB Token right now.
But, I am happy, even very very happy tonight because @filotasriza3 show me the best tutorial to be able to enjoy $CUB Token next time.
What I have to do to start harvesting $CUB Token is to buy more $HIVE then I can buy more $LEO on Hive Engine DEX. Then, I must buy $BNB too.
Conclussion
Leo Finance had been the pioneer on Hive Blockhain that built a great DeFi (LeoFi) project on Binance Smart Chain (BSC).

Cub Finance is a new way for us, the users of Hive Blockchain to take a chance to have more profit by farming on cubdefi.

The price of $HIVE will be higher and higher with the existence of LeoFi on BSC.
Finally, I thank a great team members of Leo Finance for presenting a DeFi Project for us. And I don't forget about a great post of @filotasriza3 that guide me to know the to be a farmer on Cub Finance.
Posted Using LeoFinance Beta
---
---