My Hive Goals - Weekly report
I realized that it has been a while and I haven't been doing this for quite some time now. Especially starting this quarter, I did not write a post covering my Hive goals. This quarter had been very great for me and my progress is very strong toward reaching my goals. Starting this week, I will try to make posts again describing my goals and my progress towards my goals. I will try to do this every week.
This week I'm planning to focus on and talk about 2 of the primary goals that I have been focusing on right now. I don't know if investing in any new tokens would be a wise move right now. But I still keep exploring new opportunities.
50k Hive power
I had set myself a goal of reaching 50k Hive power before the end of the year. We are almost completing 6 months already this year and my progress was also very good. I still have around 7k Hive to complete the goal for the year. I'm pretty confident because we still have 6 more months and I have a few projects coming my way that can help me grow my Hive power along with the usual blogging I have been doing. The good thing about blogging right now is the price of Hive, as the value of Hive is less, we get more tokens from author rewards.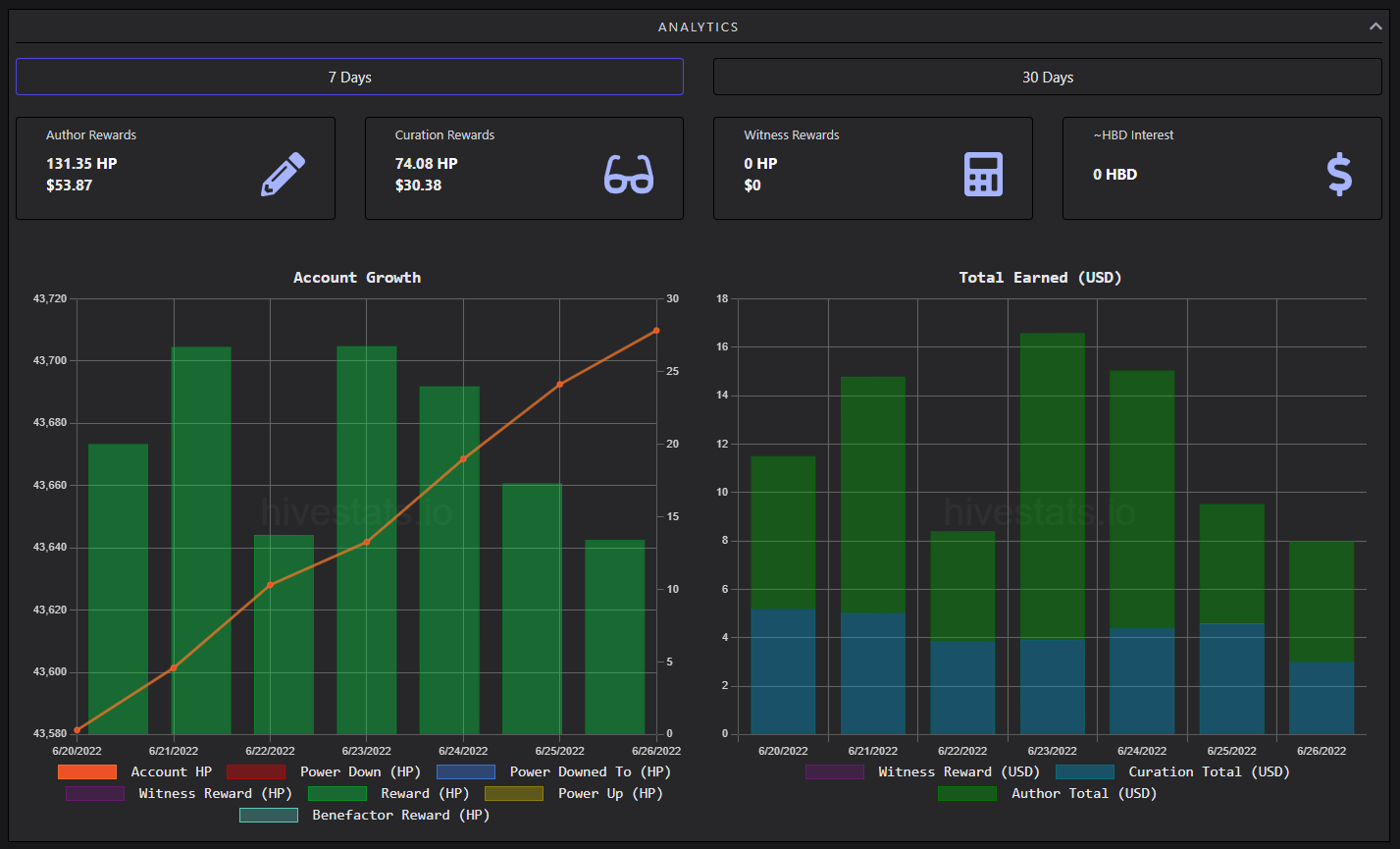 I rely mostly on author rewards and curation rewards to increase my stake in Hive. I lost some big votes on my posts but still, I continue writing every day and the rewards are pretty decent I should say. I share my thoughts on various topics and also my knowledge on different subjects. I use my @balaz account for any technical blog and I sometimes used to think that I should completely switch to technical blogging because I can easily relate to that. But I don't have enough time right now to explore too much. I will stick to whatever is easy and keep going.
100k SPS
This is something that I have been thinking about having for a very long time. I initially targeted 50k SPS but now I'm thinking I shouldn't stop there and go for 100k SPS. It is not an easy goal and even with the current SPS price, it would take lots of effort to purchase and power up more SPS. I have hopes for Splinterlands and I personally feel that the game will get more exciting in the coming months. As the airdrop is going to get over, there is a high possibility that the price of SPS can tank a little bit. But it is really hard to predict. Something that I have been planning is to increase my collection value and also the SPS I currently hold.
For now, these two are my primary goals. I might think about adding a few more goals to the list. Hopefully, it can happen in the coming weeks. I also have a few more goals outside Hive. The bear market is definitely the best time to invest and enter the market. I hope all the investments fare really well in the next bull market and I wish I can cash out some of my holdings and make a decent asset in the real life.
---
If you like what I'm doing on Hive, you can vote me as a witness with the links below.

Vote @balaz as a Hive Witness
Vote @kanibot as a Hive Engine Witness
---
---
Posted Using LeoFinance Beta
---
---