My Monthly Hive Stats and Hive Power Up day
Today Hive had a massive pump and the price almost doubled. Nobody would have expected such a massive pump. I hear some people saying that they all booked their profits and made some decent money by selling their Hive. This is a good thing. I don't have enough liquidity with me to do some trades today. I was going to sell some spare Hive I had with me for 80 cents and at the time of writing this article, I see the value of Hive at 86 cents already which is almost my bought price a few months back.
I'm thrilled to see this massive pump. I don't know what is pumping Hive but it is definitely bringing some happiness to people who are staying invested here. I was glad to purchase some Hive when the price was around 50 cents and now that the price is pumped, it is definitely a good gain I should say. I have all my Hive locked as Hive power but I'm glad that I was able to make use of the opportunity to increase my Hive power when I had the time. I guess it is hard to get more Hive Power when the price of Hive is at its peak.
Powered up 100 Hive Power
Today after the massive pump, many people are trying to sell their Hive and book some profits. But I don't really have so much of Hive. I somehow managed to get 100 Hive and powered it up today on the occasion of Hive power-up day. My Hive power is slowly growing and I'm glad I'm pushing myself hard towards the goal of reaching 50k Hive power before the end of the year.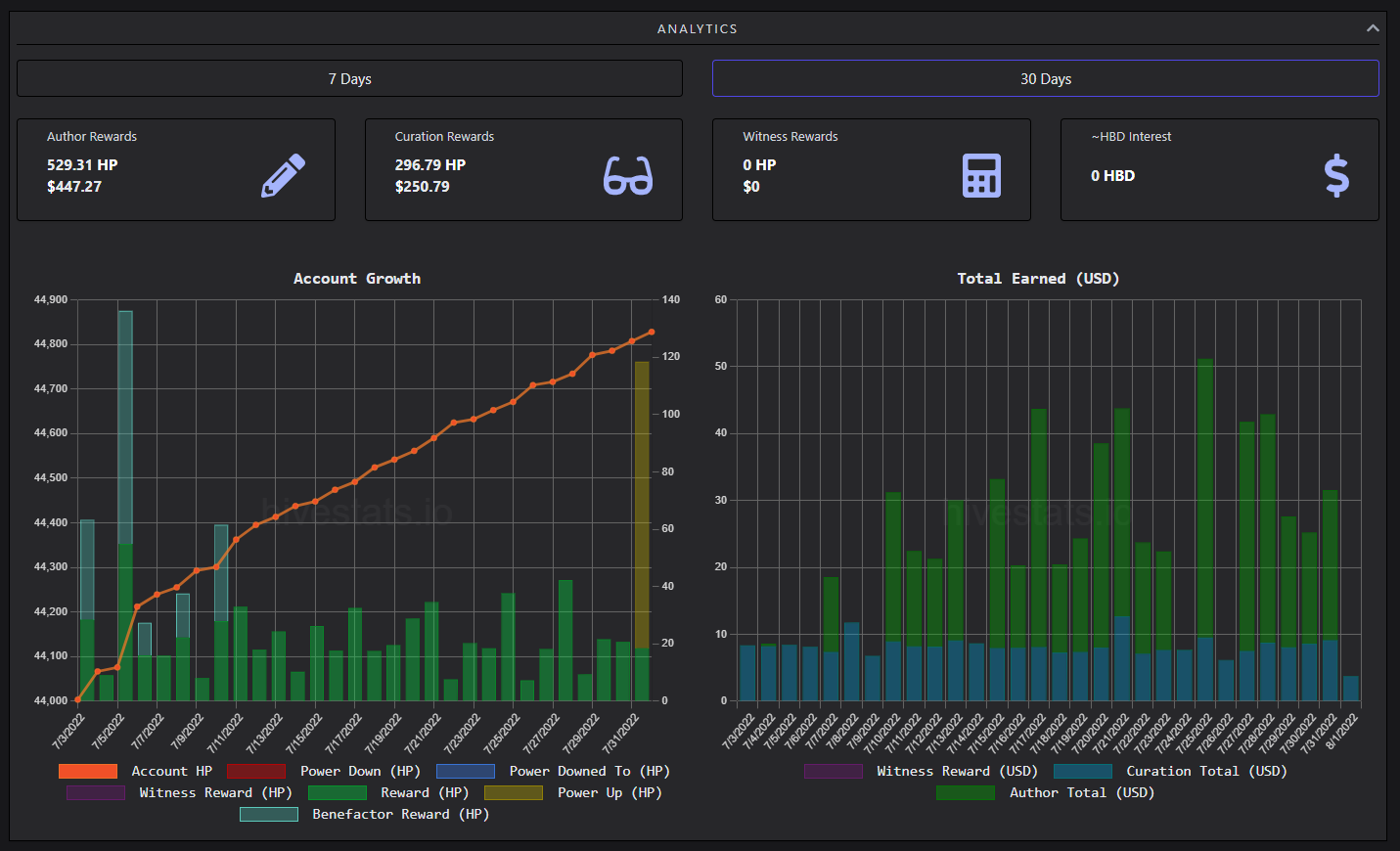 Even though the Author rewards and Curation rewards are not very significant, based on what I earned in the last month, it will appear as if I earned a lot because the price of Hive is calculated based on today's price and it appears to be a big one. I'm really glad I'm able to make close to 500$ from author rewards and curation rewards every month. Hopefully, this value increases going forward or at least remains constant. Maybe if the value of Hive is increasing, this might increase as well.
I have reached a total of 44,900 Hive Power right now which is very close to getting 45,000 Hive Power. After this, I will need another 5000 Hive to complete my goal for the year. We have only 4 more months left. I have to somehow make 1500 Hive per month to reach the goal. I'm not going to push myself hard. But at the same time, I will try to keep working towards my goal. I wish the price of Hive also stays below 1$ making it easier for me to reach the goal. But I want Hive to go above 1 $ after my goal is reached.
Surprising Hive pump
Today Hive had a massive pump and reached close to 90 cents. This is really great. Only a few days back we saw Hive's price at around 40 cents. I was even going to use my liquid HBD to purchase Hive but unfortunately, before I did that Hive pumped today and now I don't have any liquid Hive in hand to book some profits. I'm glad that at least my portfolio value is looking very good because of this pump. I would be very happy to see Hive cross the 1$ mark and I might arrange some Hive at that time to sell and book my profits.
---
If you like what I'm doing on Hive, you can vote me as a witness with the links below.

Vote @balaz as a Hive Witness
Vote @kanibot as a Hive Engine Witness
---
---
Posted Using LeoFinance Beta
---
---