Purchased some LUNA in this madness
The crypto market was going crazy in the last few days, especially after the LUNA event. There are so many articles everywhere talking about what happened and why the entire market had crashed. Some information is quite true and there are also rumors spreading around. Buy only the real news and ignore the rumors. I have heard of this LUNA before but never thought about investing.
Yesterday I saw some people talking about investing in LUNA right now. Terra Luna had a serious hit in the last few weeks and the price dropped several times. I was so curious to find out what this is all about. Though I did not spend time understanding the blockchain itself or the cryptocurrency itself. I only reached Coingecko and watched this. It appears that the all-time high was close to 120$ and the all-time low happened in the month of May. People are still trading the coin on many exchanges but just that Coingecko stopped tracking the coin because it is very unstable at the moment.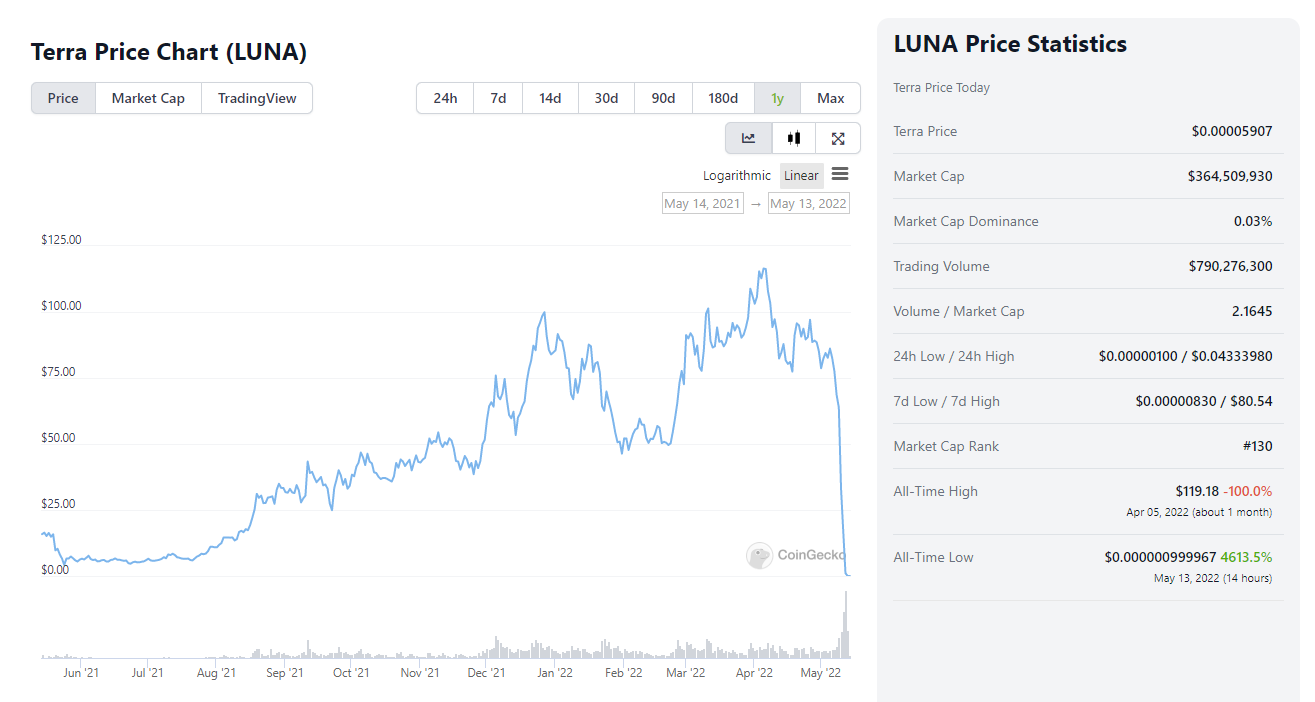 The above image is from Coingecko and I filtered the chart for about 1 year and this is really great fall. Yesterday I shared a message saying that many people also committed suicide because of Luna and someone told me that the count is close to 22 people who committed suicide because of Luna. It is really very sad to hear that and nobody should behave such a dependency on cryptocurrency in their real life. It will take years for this crypto market to reach some stability and even then it is volatile and unpredictable.
I read mixed things about the founder. Some people say he is a good guy and some people say this is all planned. But the founder is a big holder of BTC and it is also believed that he sold some of his personal BTC holdings to recover the price of LUNA. I don't know how this is going to turn around but I thought why not give it a small try. Maybe my contribution to this coin can become like a puny recovery opportunity. Maybe the recovery can be a slow long-term process and we have to patiently wait and see what is happening.
I bought exactly 555555 LUNA for about 20$ today when the price was a bit low. Currently, when I look at the portfolio the price appears to have appreciated a little bit and reached 36$ already. This is a good thing. But I'm just imagining the fact that if LUNA recovers a little bit and the price reaches at least 1$ per coin, I would have all the money that would be required for me to settle down in my life. I wish LUNA recovers not just for the sake of me getting rich but at least for people who have invested so much money on that and are having great hopes on that like how we all have great hopes for Hive Ecosystem. I cannot imagine such a situation happening to Hive or any blockchain for that matter. I do have some decent stakes on some of the blockchains and hopefully, we don't see such events there.
---
If you like what I'm doing on Hive, you can vote me as a witness with the links below.

Vote @balaz as a Hive Witness
Vote @kanibot as a Hive Engine Witness
---
---
Posted Using LeoFinance Beta
---
---