Really close to completing my goal of 1 BCH
I have been focusing on a few other chains apart from Hive Blockchain. On some of the chains, I invest money and on other chains, I invest my time. BCH is one such beautiful blockchain. As I always say, consistency, persistence, and determination is the key. I hope I was able to stay strong there and that is what has led me towards completing 95% of my goal.
When I started my journey on BCH, I wanted to reach a minimum of 1 BCH and keep it as a long-term investment. When there was a huge altcoin pump, the price of 1 BCH went beyond 1200$. Keeping 1 BCH in total can act as a good investment for the future. That was my intention. Even though I have all my big investments inside Hive Blockchain, I wanted to make sure that I have a decent amount spread over on other projects as well. This will help me diversify my assets and give me a good chance to grow faster.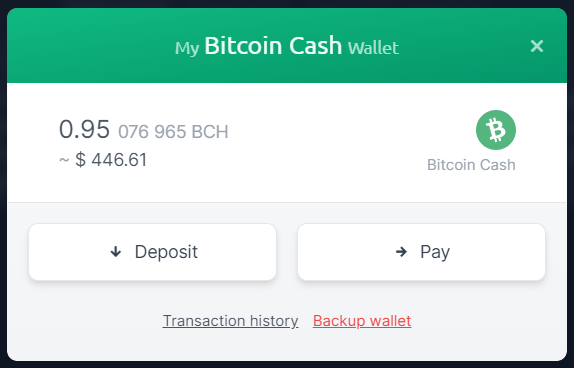 The above screenshot is from my BCH wallet. I decided to reach 1 BCH before the end of this year and I'm already there. 95% of my goal is complete now. Just a little more push and I will be able to complete 1 BCH. I think it is quite possible to complete the goal by the end of this month itself. Having multiple passive income sources from different places is really good. Especially with things that we like and we are good at. Blogging is something that I like doing. That's one of the reasons why I'm able to make posts consistently every day. I somehow find a topic to write and post an article on. This gives me a good daily routine too.
How to earn BCH?
This is the next obvious question people might have in their minds. There are several ways to earn BCH. If you want to take the route of blogging, there are two platforms available from where we can earn BCH. One is NoiseCash and another is ReadCash. NoiseCash is a microblogging platform where we can share out thoughts in small posts and engage with others in the form of tipping and commenting. We are given free tips that we can use on others' posts. ReadCash is a blogging platform. If we write a good article and post it there, we get rewarded for our efforts. If we are consistent and good at maintaining the quality, we will be able to see some BCH flowing our way.
I have to thank NosieCash and ReadCash for rewarding my efforts so far. SmartBCH is another platform that lets us invest and earn. I have not explored this platform yet and have no idea about that. I might start exploring other BCH options after I complete 1 BCH in total. I'm planning to take anything above 1 BCH to other investment opportunities.
---
---
Posted Using LeoFinance Beta
---
---