Splinterlands - I maxed out my Pelacor Bandit
I'm very happy to share with you all that I have maxed out my Pelacor Bandit. Why I think this is a special moment for me is because I'm maxing out my cards after a very long time and this is the first card I'm maxing out after the new reward cards were released. I was initially thinking of going for Gold Foil cards but then thought first let me max out a normal card and then go for the gold foil card if my rewards from the rental income are really good.
I have to really thank the rental system for this. That has been my consistent source of income to be able to purchase these cards by myself. I used to play a lot before and get cards from my game and combine them to increase the level of my cards but now playing a bit hard I should say because of the competition. But I'm glad that at least the rental income is helping me improve my deck.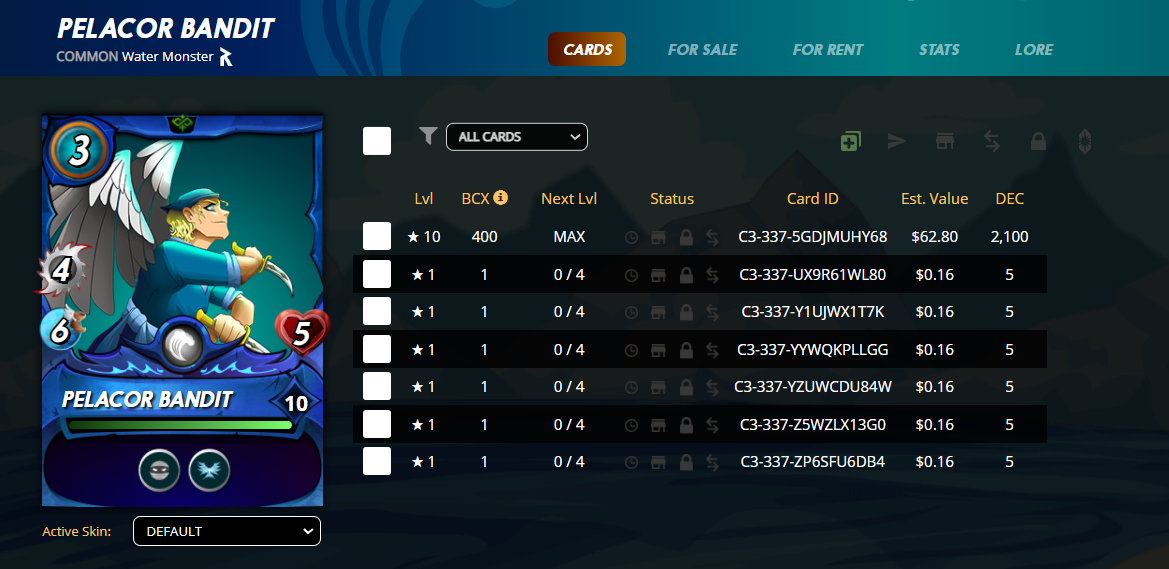 Now that I have reached the max card, I will keep holding the remaining cards that I may get from playing the game and sell them at a later point in time when the price of these cards is pumping. I have no clear necessity now to sell off these cards immediately. Maybe holding them tight will give me a great value in the future and just selling the remaining unused cards might give me the money that I spent on maxing this card out.
I'm having this thought because the old edition cards and the old reward cards are now highly valuable in the market. I remember selling some of the cards pretty cheap and now they are over 50$ in price. I remember selling those cards for just a few cents. This is what makes me feel that anything can happen in this crypto world. HODL is the important mantra we all have to remember here. That has worked out very well for many things in the crypto world and works for the Play2Earn game as well I guess.
Now that this card is done, I will start focusing on the other cards too. I even started upgrading some of the Gold foil cards too. Maybe not today but later they can be of great value. I still remember people who burnt their cards for DEC rewards. Those were the times when DEC was not at a good price and the cards were also not at a great price. But people wanted to book some profits then without knowing the potential of this game and without knowing the fact that this game could grow like this.
---
---
Posted Using LeoFinance Beta
---
---