Step by Step guide to get started with CUB DeFi
I know there is clear documentation available and there are several posts available from the official site explaining how one can get started with CUB DeFi. I still wanted to write this article because for some reason in spite of having all those materials, I found it a bit challenging to get into this. Having multiple materials to glance through is always better for any project right. I hope this article also helps someone who searches materials online to get started with CUB Defi.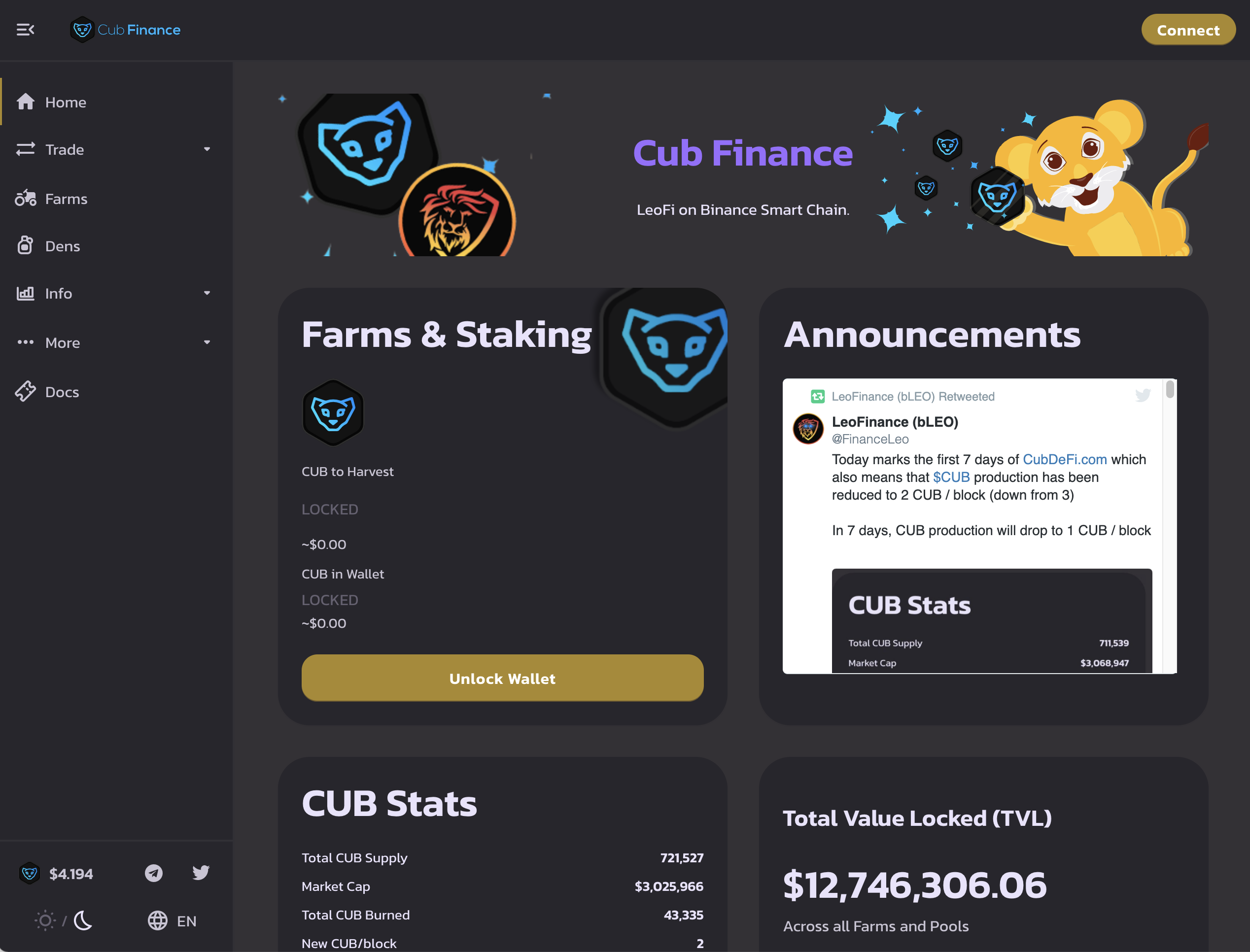 I'm not going to go into details or anything but just mention the steps that I followed to get started. This article will not cover the procedure step by step but this will guide you by providing all the steps that would be required for you to get started.
Step 1: Create a wallet in Binance Smart Chain
I recently learned that Binance Smart Chain is a fork from Ethereum. If we have had an ETH wallet before the birth of BSC, then we can technically use the same wallet address to transact or store our BSC coins/tokens. I did the same thing. I'm using the same wallet address for both ETH as well as BNB. Like how we have ERC20 tokens, there are BEP20 tokens that are exclusive to BSC. One advantage that BSC gives us is the low gas fees.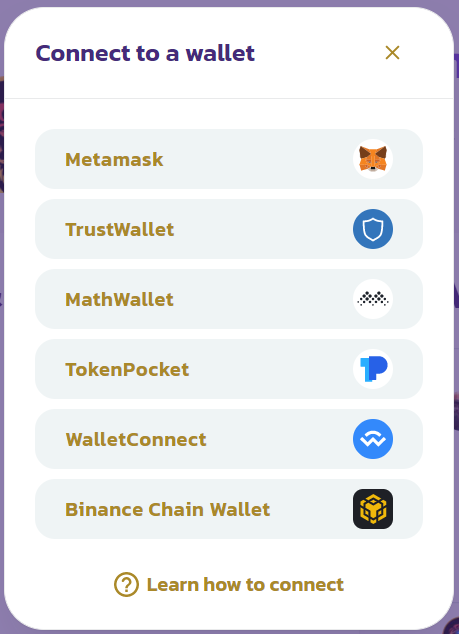 Next, I would like to talk a little about the wallet that you can use. There is this wallet called Trust wallet that can be used. One thing that attracted me was that we can also use Metamask as this is a fork of ETH. We will just have to change the Chain to Binance Smart Chain by providing the chain ID and start using Metamask. That's what I did. Looks like there are so many other wallets that support BSC. Cubdefi website has a nice list of all the wallet options available. I took the above screenshot from there.
Step 2: A small quantity of BNB is required in the wallet
Yes a small quantity of BNB is required to do some actions on cubdefi website. After connecting the wallet (I will cover in a later step), you will have to approve contracts and swap tokens, and do a few other activities for which we will have to pay the fees in BNB tokens. Though the fees are very less, we will not be able to do it without a minimum quantity of BNB tokens in the wallet. I moved about 30$ worth of BNB tokens to the wallet. But I found that just 10$ or even less than that would have been sufficient.
Step 3: Move your funds to your BSC wallet
If you are planning to invest with the funds you have in a different crypto exchange or a crypto wallet, you have to move the funds to a BSC wallet and then swap it for CUB tokens to get started. In my case, I had the tokens in one of the exchanges in the form of USDT. I first converted my USDT to TRX and then moved them from that exchange to my Binance exchange wallet. The reason why I converted it to TRX was to reduce the transactional loss. I was charged only 1 TRX for moving my funds from the other exchange to Binance. So better to use any cheap token that has very minimal transaction fees.
Then on Binance, I converted TRX to BUSD. Then I moved the BUSD from my Binance exchange wallet to my BSC wallet. One good thing about this transaction is that there are no fees involved if you move BUSD from Binance to BSC wallet. Now my BSC wallet has the necessary funds.
Step 4: Connect your BSC wallet address with CUBDefi website
If you login to cubdefi website, you will be able to see a login option. The steps are pretty simple. In my case, I used Metamask to login. Every time I do some transaction in CUBDefi, the request goes to metamask extension and asks me for approval.
Step 5: Purchasing CUB tokens
This was a new thing for me. I have never swapped a token before as I'm not used to Uniswap or these concepts. I then figured it out with the help of a few people. Exchanging BUSD for some CUB tokens is pretty simple.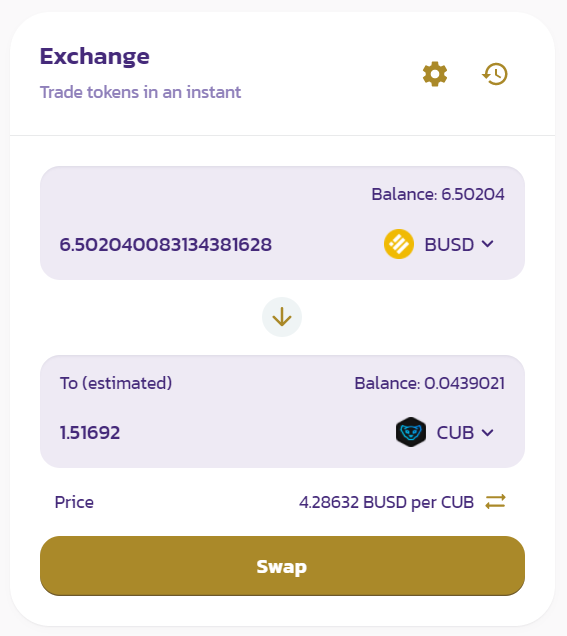 After swapping is authorized the CUB tokens will reach the wallet. We can then start doing our desired tasks with the CUB tokens.
Step 6: Stake the CUB in the Den
Yeah, that sounds poetic. But yeah that's how it is. We have to navigate to the Dens tab and look for the available tokens and then stake them to receive the rewards. Apart from CUB there are also multiple other tokens available. If we have to use the other tokens, then there is a deposit fee of 4%. For CUB token staking, there are no deposit fees.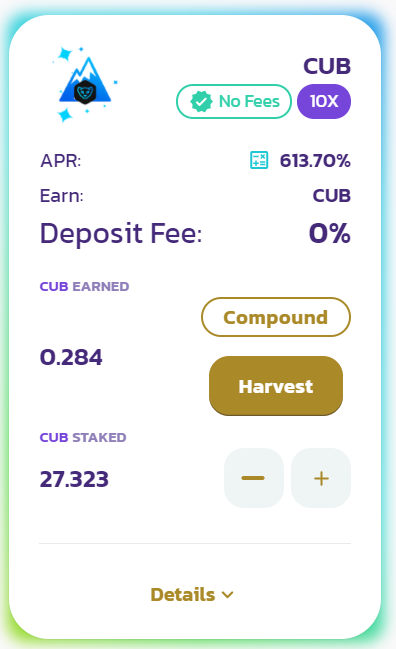 The good thing about this deposit fee is that the revenue from that goes to burning Leo tokens and CUB tokens. This is really a great thing. From what I heard, this is something unique to CubFinance and not all DeFi projects provide such options.
Now that is all after we stake we start receiving rewards every few seconds based on how much we have staked. We can also choose the compound option to automatically compound the revenue we get from harvesting.
Apart from just staking and receiving rewards, there are also other options available.
---





---
Posted Using LeoFinance Beta
---
---