By the light of the moon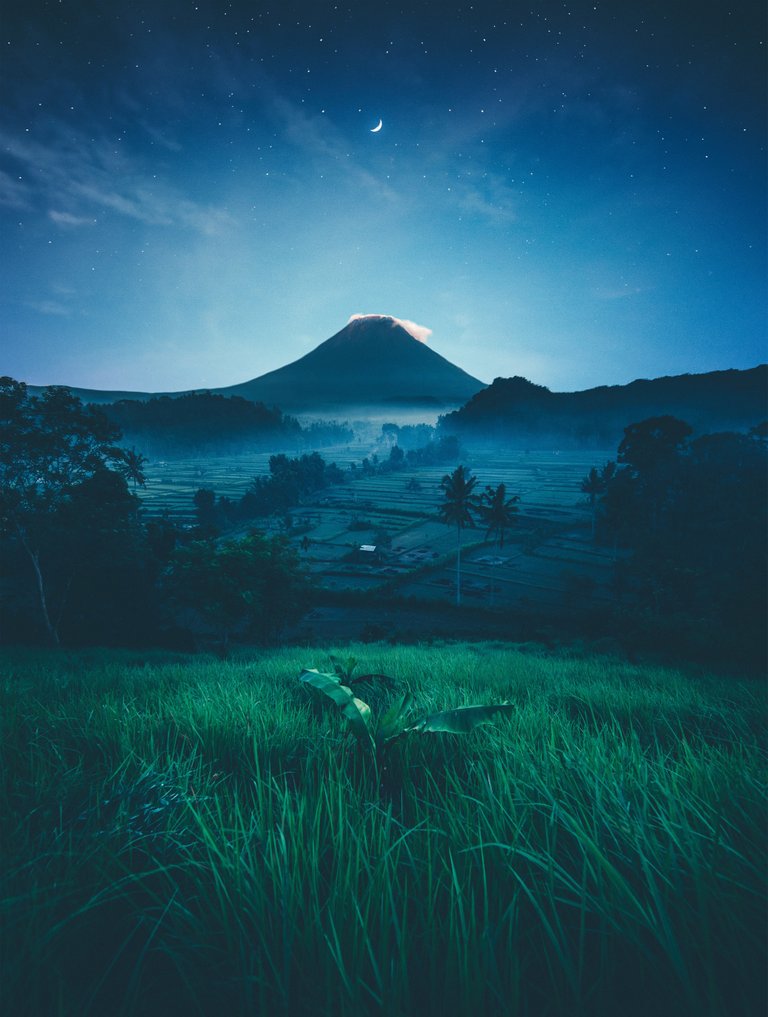 If it was up to me, we'd be out there. Completely lost and away from this mess of a world. Found, in the way our breathings synchronize while we walk through the forest. Lost to the perfect sensation of pieces falling into place as we unfold. Found, in the way our lips touch, bringing memories of a thousand lifetimes. If it was up to me, we'd be out there, together, just you and me.
Out there, we sleep with no bad dreams, cocooned by the sounds of nature, and I fall into your arms so gently, safe at last. Cold nights, we enjoy them the best. They are the perfect opportunity to let our warmth rise to just the right temperature, wrapping us in a bubble. The forest stands as a quiet witness, echoing words of love, the wind dancing between the trees. Nature, you and me, we compose every night the same beautiful song, each moment and note still unique in itself.
I wake you up with my fingers running softly through your hair, a light touch of lips on your forehead, as the fluttering of the first sun rays timidly peek in. The sight of your eyes opening to greet me, the grunt you make when you're still half lost in the haze of deep sleep, the way you twist your body to place yourself over me and proceed to smother me with playful kisses. I laugh as if you had surprised me, like it was the first time, every time.
We have breakfast by the creek, the one I discovered, a pristine haven reserved just for us. Untouched, exactly like the place I hold the thought of you in my heart. The scenery manages to look slightly different, each day a little more beautiful. I struggle to stay still at times, while you just sit there in your usual spot, a flat rock whose mineral composition shines with the waltz of the sunlight. You give me your deadly stare, a bit worried that I might twist an ankle with all the moving around, barefoot amidst the running water and the pebbles.
After a nice walk through the forest, which we are getting to know like the palm of our hands, we come back to the creek. We're almost there, but not quite yet. Still, I'm already dropping clothes and running towards the water, screaming with joy. You chase me, not far back, because even though you could leave me behind almost effortlessly, you love the view of me half naked so much. So, you chase me, playfully, grunting just the way you know I love.
There you are, at the edge of the creek, while I splash some cold water in your direction, cracking up like a mad woman and a bit breathless. Your evil smile comes in, and I'm left mid-laugh as desire kicks in as hard as it goes. You know what it does to me. And you seize the chance to bridge the gap between us, just a few steps forward and I'm caught in your arms, pressed tightly against your chest. I breathe in, fully, inhaling your scent mixed with mine. And as I exhale, I know I'm exactly where I need to be.
I bathe in the small cascade whose muffled roaring serves as background for our afternoons. My energy downs a little, not in a bad way at all, I just need some quiet time to meditate and stare inwards. You know it well, some days I get like that, and you still find it lovely to look at me as the water runs down my body; an absent yet focused expression on my face. Later, we both stay in silence, floating for a while, gazes lost in the shapes of the clouds. Time goes by, and we say enough. Our eyes meet, and our smiles greet, brightening every corner of our paradise. It's play hour, once more.
We eat our last meal of the day by the fire. Flames crackling and reflecting in the shadows, the atmosphere fills with the whispers of critters, your jokes and my giggles. The air is calm, and so are our minds. I slide closer to you, craving the touch of our skins, and we sit there as the light fades out, shoulder to shoulder, holding hands. The silence between us can be the most comfortable harmony in the world, comparable only to the raw sounds of our love by the light of the moon. Yes, dearest, if it was up to me, we'd be out there. Lost, or rather found, in the everythingness of nature.
 
---
I'd like to thank you for reading this. I hope my words resonated with you in some way. If they did, or even if they didn't, I'd like to further connect with you, so I invite you to drop a comment and I'll answer it as soon as I can.
---
Source of the image:
📷 by Aron Visuals

---
---