Call it a truce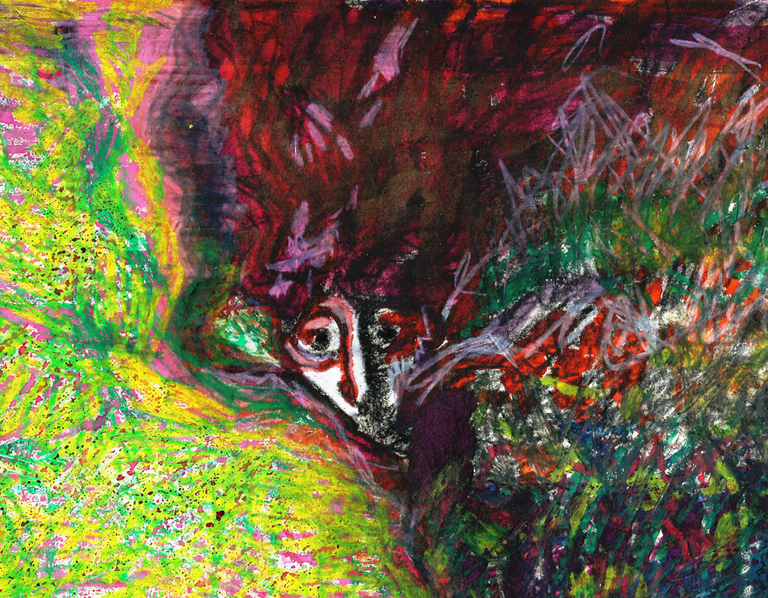 Yesterday, I was at my mother's house, and I happened to have my sketchbook with me. At some point during the afternoon, I felt compelled to show my family my latest works, not really caring whether they'd like them or not. I guess I just wanted them to see me, even though they probably wouldn't know what they were looking at.
It turns out that the art was well-received, with quiet contemplation and an absence of uncomfortable questions that I enjoyed very much. Particularly coming from my mother. And so, I felt inspired to pursue a little more connection, since I was going to be there for a while. I invited her to paint with me.
In my still limited and biased opinion, my mother is a true artist. I've always loved her works, and in some ways, I might have inherited the rawness of her vision. She has never been able to be consistent with it, though, and like the old me, she crashes against the wall of judgment and criticism and quits. I hope to be able to show her one day that it's okay to speak up. It's okay if people respond to you speaking up, too. Let's just say that it's good to learn how to talk to others and how to listen to them, without losing ourselves in the process.
For the few that have read my posts, the tone of my writing might seem strange. You see, we should deny power over us to anything that stunts or messes with our energy, our growth, our future. The universe has been keen to deliver that message for me in the best possible way. And so, I decided to shift my perspective and regain power over my thoughts and reactions to my mother. I want to leave the past where it belongs, and carry forward only the lessons learned and the love.
---
Her piece
I've always thought that we can discover plenty of things about ourselves when looking at the traces we leave behind. This painting exercise with my mother allowed me to delve deeper into who we are as individual beings who happened to cross paths as mother and daughter this time. My mother started this piece with a self-portrait, as she often does. Drawing our own faces is sort of a sign of seeking understanding and acceptance, in my opinion.
Looking at the strokes she does on the canvas, I see pain. They're often harsh, strong, difficult to watch. Somewhere along the way, she even noticed it herself; the art was too dark, it needed some light, she said out loud. And light she added, and colors, and brightness. She started playing with textures, unveiling a truth only she can see. The end result might not be appealing to most people, but I can perceive the value in it. With this work, which she gifted to me, I think she asked for a truce. Perhaps.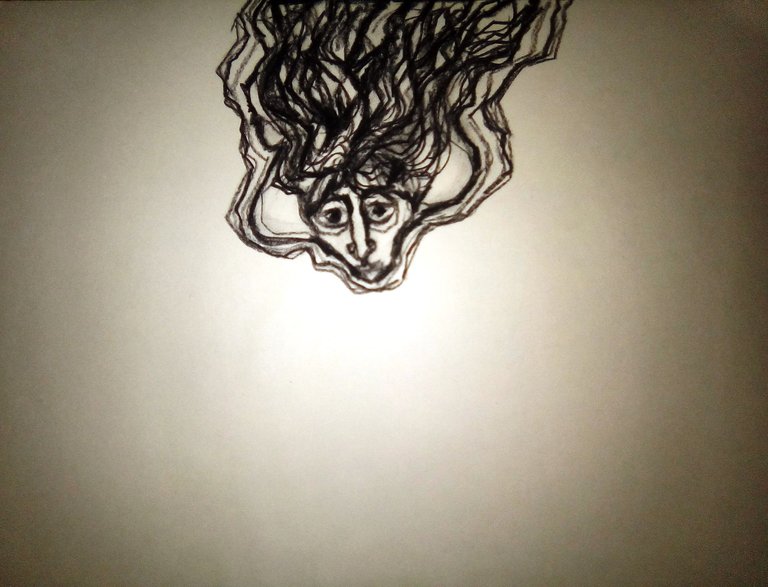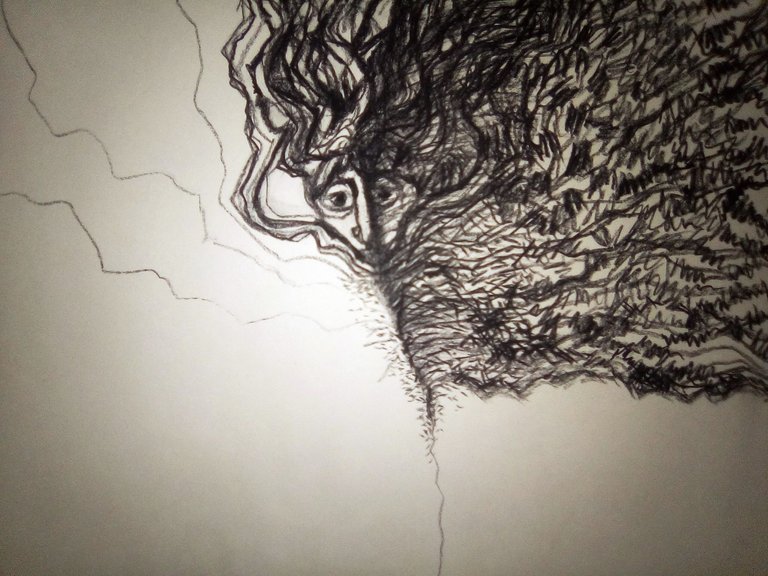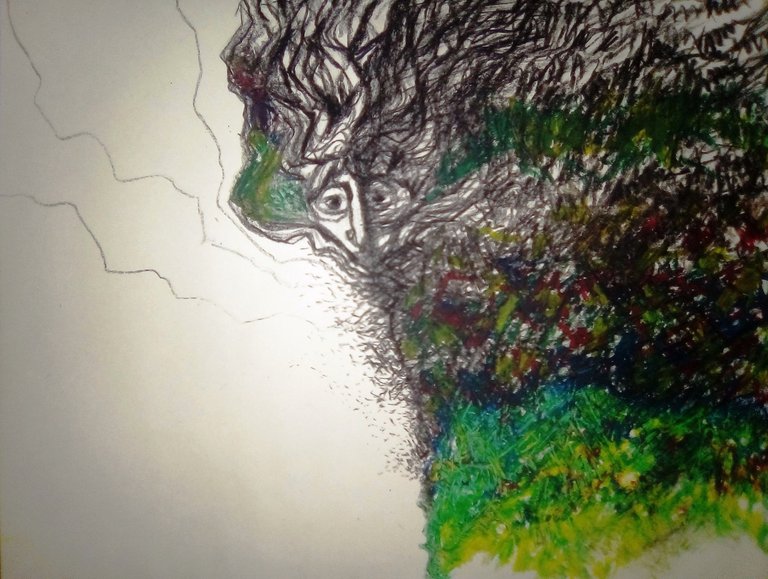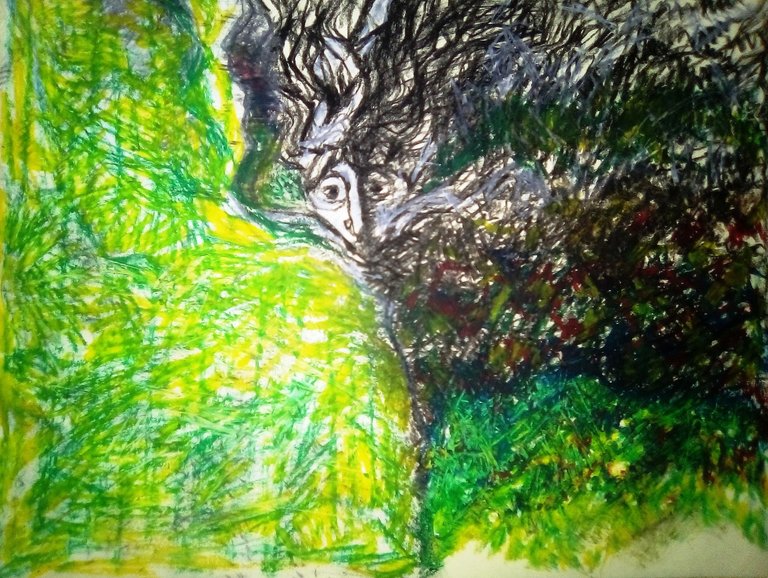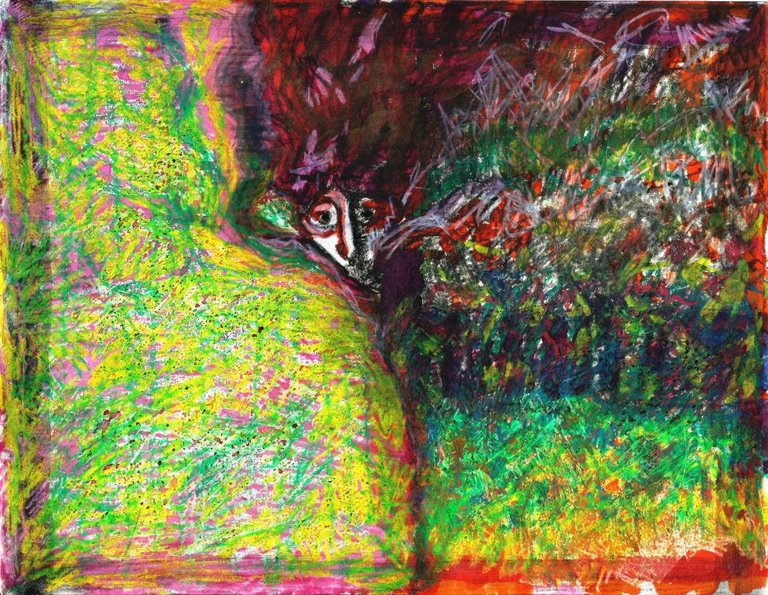 ---
My experiment
Meanwhile, I decided to use a small rectangle of white cardboard I had hidden between the pages of my sketchbook. Looking at the blank space, I had no idea what to do, but looking around, I noticed my mother's old materials for making stained glass. Aha! Now I knew. I started with a free-hand sketch. My strokes are always a bit timid and shaky until I gain confidence and really put my soul into them. I like straight lines, symmetry, but I also leave room for unexpected things. Sometimes I push too hard and the line breaks or goes to shit, but I always find a way to fix it and give meaning to it.
For this piece, I used what I had in hand. A few old markers giving the last of their short lives. Making the most of everything is something we should always try to do; there's too much waste on this planet to add more. And so, I gave the little fellas a chance to shine and color one more time. When placing the tones in each space, I played it by ear. Then, I realized a few things. Yellow appeared in specific areas related to enlightenment. Red showed up around the places we use to speak up. Green, around the intuition spots. And dark blue, it's the knots we keep inside, hidden in the back, the tears we hold and never let out. Overall, the darkness of some shades is balanced by the brightness of others. And the result... It's not perfect, but it can be beautiful.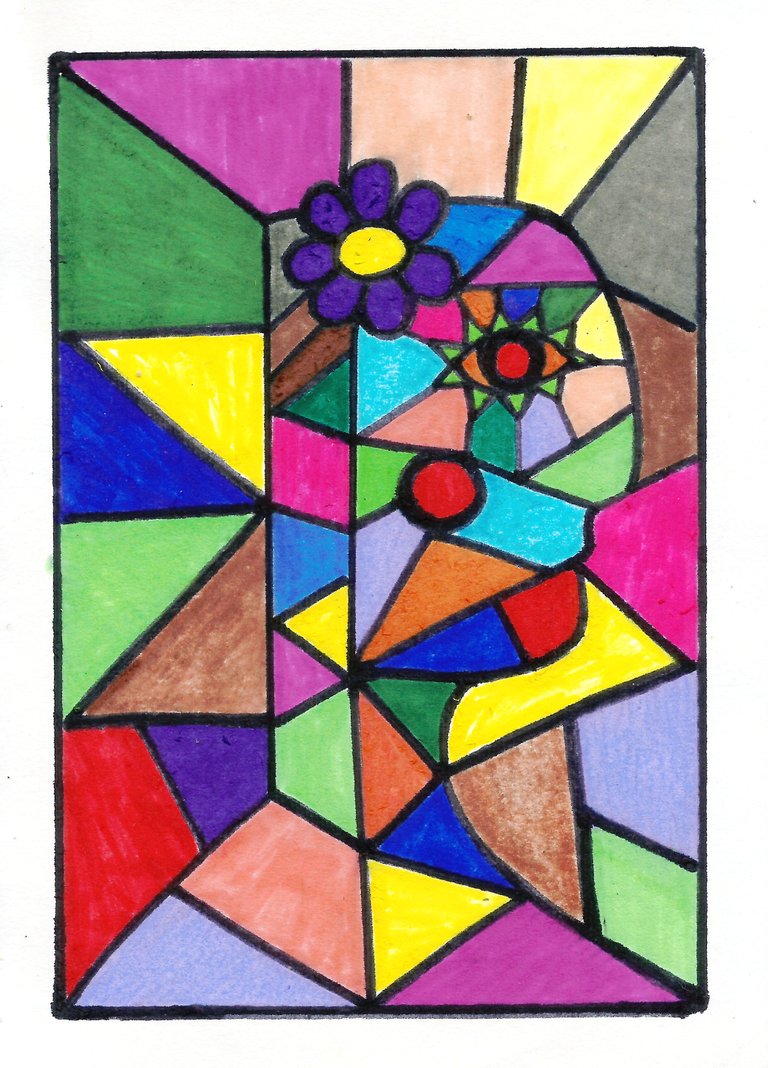 Pitch black, pale blue
There was a stained glass, variation of the truth
And I felt empty-handed
You let me set sail
With cheap wood
So I patched up every leak that I could
'Til the blame grew too heavy
Stitch by stitch I tear apart
If brokenness is a form of art
I must be a poster child prodigy
Thread by thread I come apart
If brokenness is a work of art
Surely this must be my masterpiece
I'm only honest when it rains
If I time it right, the thunder breaks
When I open my mouth
Pitch black, pale blue
These wild oceans shake what's left of me loose
Just to hear me cry mercy
The strong wind at my back
So I'll lift up
The only sail that I have
This tired white flag
(White flag)

---
I'd like to thank you for reading this. I hope my words resonated with you in some way. If they did, or even if they didn't, I'd like to further connect with you, so I invite you to drop a comment and I'll answer it as soon as I can.
---
All images belong to my mother and me, respectively. The text is mine, except for the lyrics of the song.
---
---