Unfortunately no Pink Cadillac ...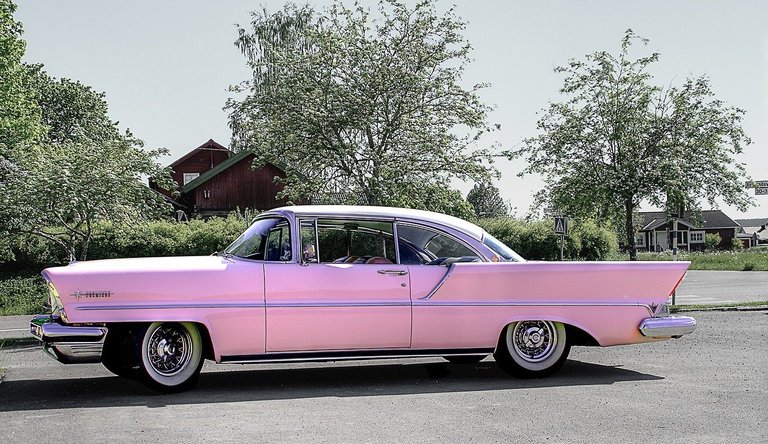 source pixabay
( EN / DE ) ... but a nice pink acoustic guitar! It's time for a new report about my journey with Rising Star, one of the games here on the HIVE Blockchain.
I have no idea how many days I've been playing the game now, and honestly I wonder how so many people in their postings know that for sure? Are they counting? Do they have a calendar for it? Anyway, I couldn't find that information anywhere.
I only know that I started playing this game about 2 months ago, here is the link to my post back then: https://ecency.com/hive-195370/@beeber/a-new-star-was-born
Now I have not always played very continuously, but finally reached a small milestone! I was able to leave my home town for the first time and give my first radio interview in the "Local Gig Circuit".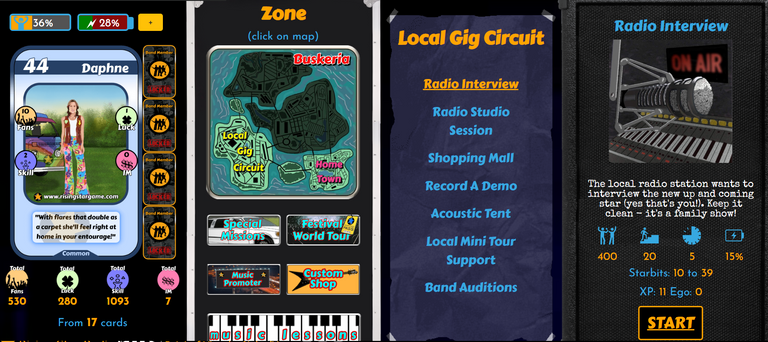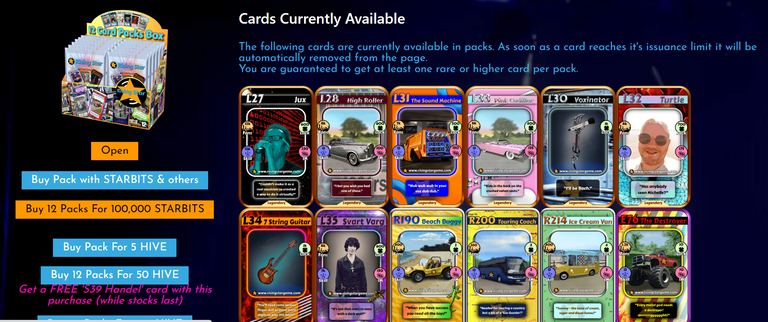 I did it thanks to a card that was included in a pack I bought: The R214 Ice Cream Van ! Yea! This brought me the fans I needed to get over the hurdle.
Of course, I had speculated on the Pink Cadillac as shown the picture above, which would have been really cool ;-) But I do not want to complain, so an Ice Cream Van also has its advantages!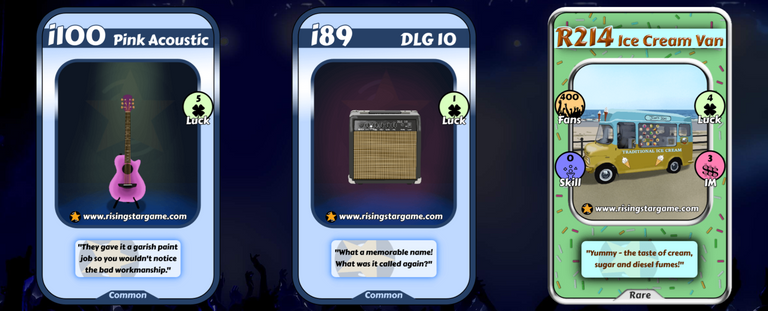 Before that I had already bought a card pack, in it I found those: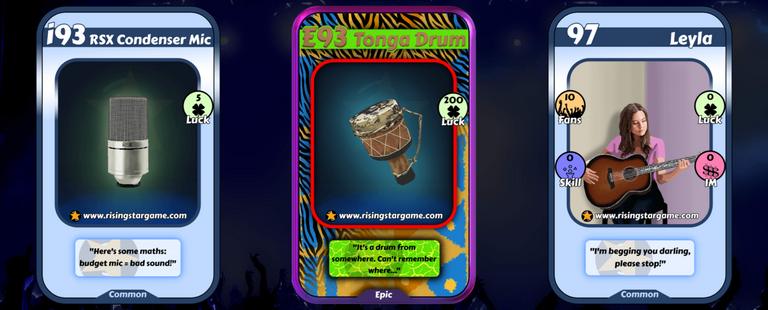 And a few single cards I bought, for example the Daphne, because I liked her Flower Power VW so much. Laugh, yaaaa... I guess I'm not the typical play-to-earn player!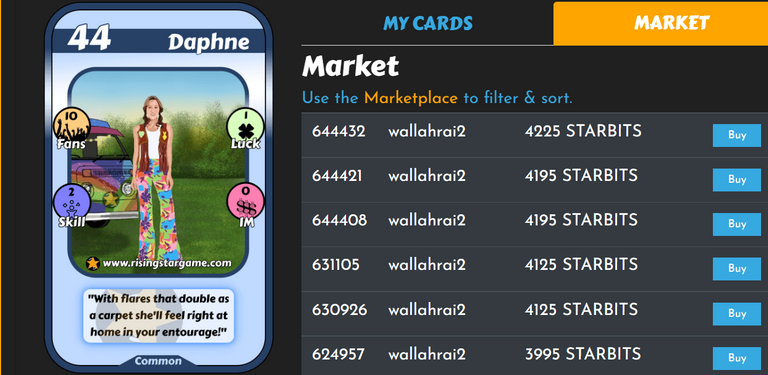 I financed all the new cards with my Starbit earnings from the various gigs in the game. My personal investment is still e at this 0.89 HIVE I had invested in buying a pizza box two months ago.
Now, in my eagerness to leave "home base", I have once again overlooked my "ego", which of course has gone very high due to the gigantic success on stage and all the fans cheering me on.
So back to basics and take music lessons ;-)
---
---
DEUTSCH / GERMAN
Leider kein Pink Caddilac ...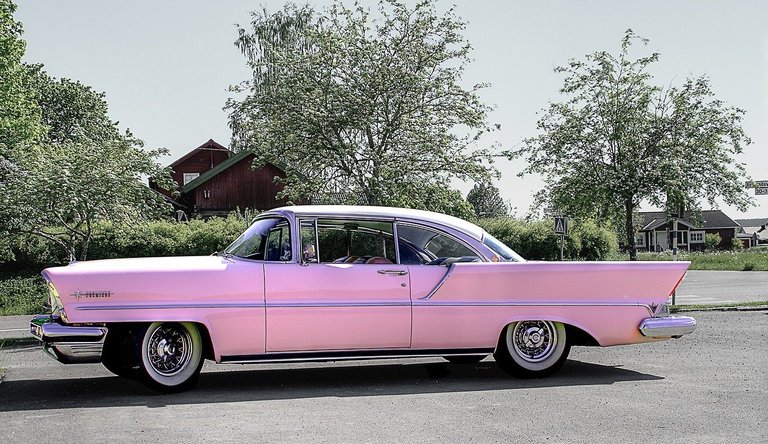 source pixabay
... dafür eine nette pinke akustische Gitarre! Es ist einmal wieder an der Zeit zu berichten, wie es mir mit Rising Star, dem Spiel hier auf der HIVE Blockchain, so erging.
Ich habe keine Ahnung, wie viele Tag ich das Spiel jetzt schon spiele und ehrlich gesagt frage ich mich, woher so viele Leute in ihren Postings das so genau wissen? Zählen die mit? Haben die einen Kalender dafür? Ich konnte diese Information jedenfalls nirgends finden.
Ich weiß nur, dass ich vor ca 2 Monaten begonnen habe dieses Spiel zu spielen, hier der Link zu meinem Post damals: https://ecency.com/hive-195370/@beeber/a-new-star-was-born
Nun habe ich nicht immer sehr kontinuierlich gespielt, aber dennoch jetzt endlich einen kleinen Meilenstein erreicht! Ich konnte meine Home Town zum ersten mal verlassen und im "Local Gig Circuit" mein erstes Radio Interview geben.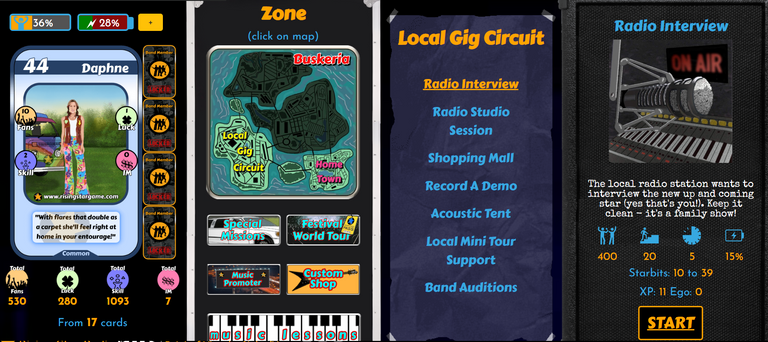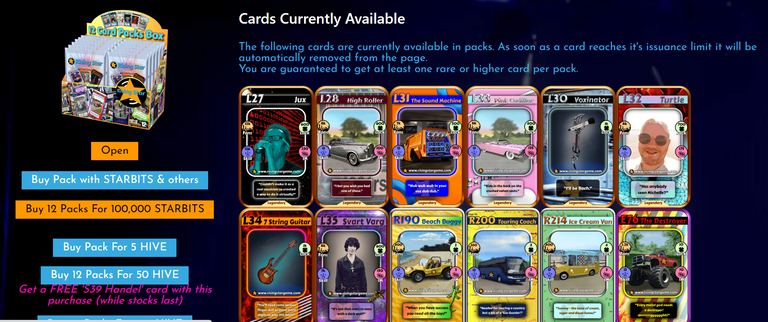 Geschafft habe ich das dank einer Karte, die in einem gekauften Pack enthalten war: Der R214 Ice Cream Van ! Yea! Dieser brachte mir nämlich die erforderlichen Fans, um die Hürde zu schaffen.
Natürlich hatte ich wie auf dem nachfolgenden Bild zu sehen auf den Pink Cadillac spekuliert, der wäre schon richtig cool gewesen ;-) Aber ich will nicht meckern, so ein Ice Cream Van hat doch auch seine Vorteile!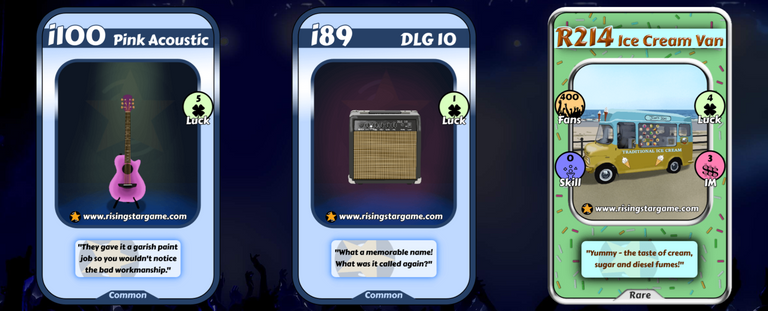 Davor hatte ich schon einmal ein Karten Pack gekauft, darin habe ich diese gefunden: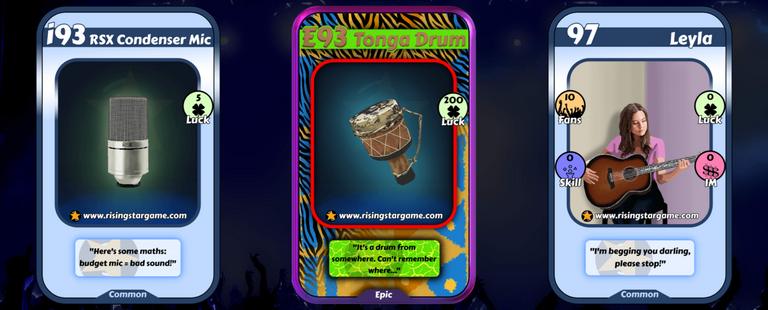 Und ein paar einzelne Karten habe ich gekauft, zum Beispiel die Daphne, weil mir ihr Flower Power VW so gut gefallen hat. Lach, jaaaaa... ich bin wohl nicht so der typische play-to-earn Spieler!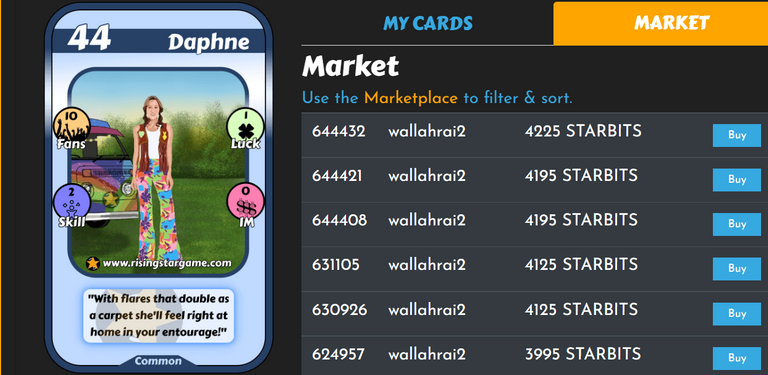 Finanziert habe ich all die neuen Karten mit meinen Starbit Einnahmen aus den verschiedenen Auftritten im Spiel. Mein persönliches Investment ist immer noch bei diesen 0,89 HIVE die ich vor zwei Monaten in den Kauf einer Pizza Box investiert hatte.
Nun habe ich im Eifer, die "Home Base" zu verlassen mal wieder mein "Ego" übersehen, das natürlich ob des gigantischen Erfolgs auf der Bühne und all der Fans die mir zujubeln sehr hoch gegangen ist.
Also mal wieder zurück zu den Basics und Musik Unterricht nehmen ;-)
Mein Fazit:
Auch wenn ich natürlich noch lange nicht alles verstanden habe, es macht echt Spaß und meistens geht es so nebenbei zu spielen. Falls ihr also jetzt Lust bekommen habt und noch nicht dabei seid, hier wäre ein Refferal Link von mir um es mal auszuprobieren: https://www.risingstargame.com?referrer=beeber
---
---
My Conclusion:
Even if I still haven't understood everything, it's really fun and most of the time it's easy to play along the way. So if you feel interested now and haven't joined yet, here's a refferal link from me to give it a try: https://www.risingstargame.com?referrer=beeber
---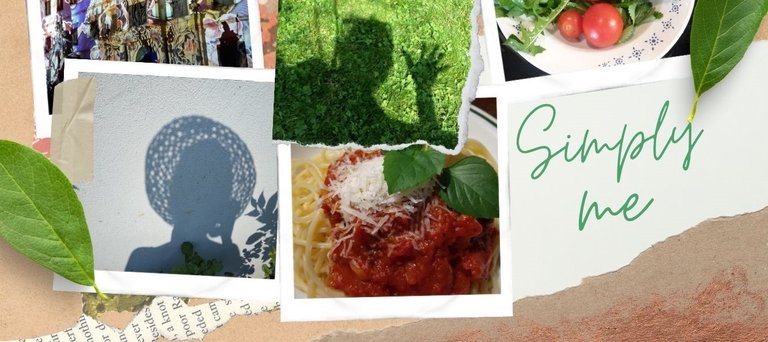 Beeber - a blogger from Austria, founder of the Hive Memorial Forest Community and admin of the Introduce Your City Community, active in ecency discord and here and there all around this beautiful blockchain.
screenshots by me from risingstar game, thumbnail pixabay aidigital
mostly translated with www.deepl.com (free version)
---
---