What would you tell your younger self about crypto?
If we only could turn time back, but unfortunately we cannot. Still, remembering the mistakes from our past should lead us not to repeat them again. With that in mind I want to ask you what would you tell your younger self about crypto?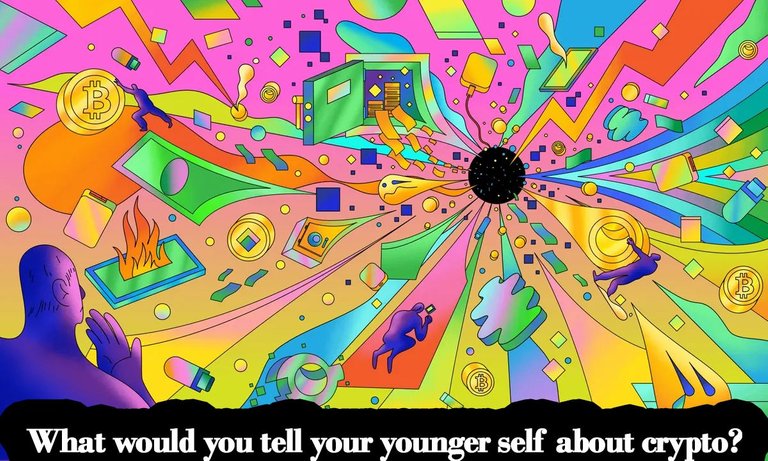 In my case I remember when I heard the first time about Bitcoin that I've been intrigued right away about the technology. At that point - probably somewhere in 2010 when BTC was priced under $20, I was working in a corporation and had few blade servers on my hand which I was using for testing. But guess what? When I wouldn't run any test, I would use the CPU resources to mine Bitcoin. And without too much hardship, I've succeeded to mine more than 1 Bitcoin. What did I do with it. Well I've transferred it to MtGox exchanged and sold 1 Bitcoin for around $20 just to confirm that I can sell it. And it really worked and I got my money. Afterwards the crypto market was hit hard, MtGox filled in for bankruptcy (I still need to get back some Satoshi from them) and my enthusiasm about Bitcoin hit bottom. What's the conclusion from here?
If I could tell something to my younger self about crypto is that when investing in new technology don't rush to sell anything until it matures. And being on the ground floor, don't slow your involvement, investment or any means on getting your hands on more assets. These will pay hefty in time, just need to make it a life changing event when wanting to sell.
At the same time I consider that if you put a considerable investment in crypto and you get x20 return, profits should be taken from the table when lifechanging. A serious investment with a big return can settle you for a good life, even if not eccentric. But you get the chance to enjoy it much earlier and we all know how precious time is as well. If the investment is rather small and doesn't change your lifestyle by grabbing profits, I think you are better off holding onto it and maybe get x50 or x100 or more.
What about you?
What would you tell to your younger self when it comes to crypto. I am sure you would give yourself a good advice, so I am waiting to see what that might be. We are all so different and driven by different goals and needs, so I assume the expectations are various for each of us. So let's hear it out!
Posted Using LeoFinance Alpha
---
---