A worker BEE progress report | 12-December-2021
I am Behiver on TribalDex and I am starking my journey as a worker BEE on this ecosystem and this is a progress report on the TribalDex blog with the goal of building up, staking and ranking at the top of the hive in this community. Any gains that I will be getting from content creation or curation will be exchanged to BEE (unlimited goal) and HIVE (until I reach 100 HP, after that will convert any HIVE to BEE as well).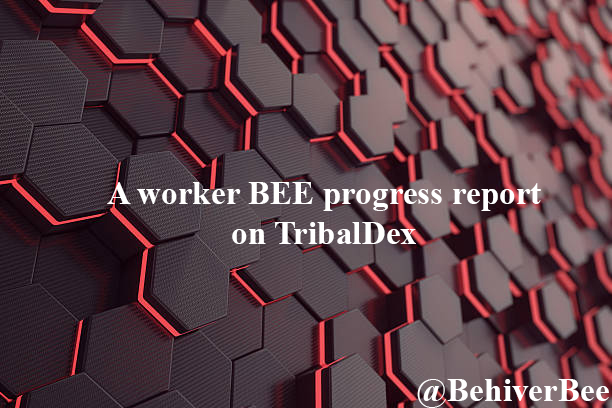 Progress report date: 12-December-2021
Hive Tokenomics:
HIVE Power: 20 HP


Hive Engine Tokenomics:
BEE Tokens (staked): 313.11395201 BEE
Bee Ranking: 139


Daily and Weekly goals:
Create a post once a day or few per week
Curate TribalDex content, read and review at least 10 posts per day
Stake or exchange to BEE/Hive once per day to increase influence


Tools and apps used for above tokenomics:
BEE Richlist: https://leodex.io/richlist/BEE
Hive Tasks: https://hivetasks.com/@behiverbee
Hive Stats: https://hivestats.io/@behiverbee
Hive Ranking: https://hivebuzz.me/ranking
Once I will become more active on the TribalDex I am seeking to come with new content specific to this community. I will also focus on networking and stay up to date with the new developments that are done around and/or suggest improvements.
---
---