5k SPS, DEC dropping and I finally have a six pack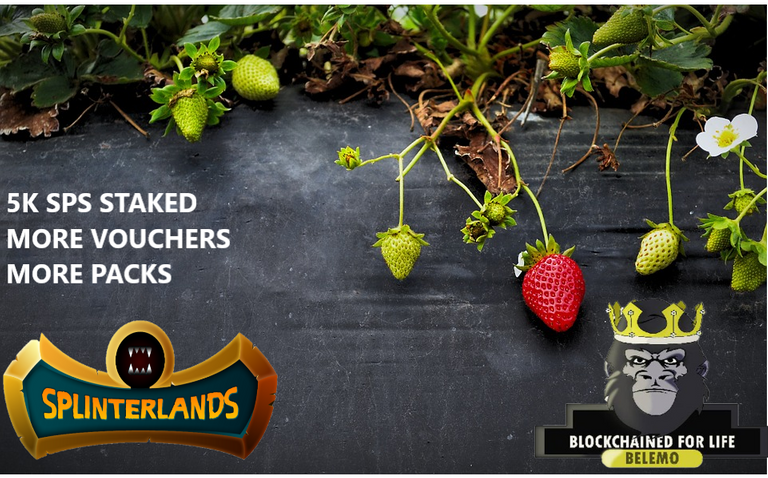 It has been a long time coming but I'm pleased to say that I've finally gotten to 5K SPS tokens staked. It's not much in the general scheme of things but it's a personal milestone.
It's a really big deal for me because I'm in sort of a pinch and had to sell quite a lot of assets from my Splinterlands collection. Yet in that time, I've still been able to grow my staked tokens while converting a decent chunk to stables.
More Vouchers and a Six Pack
Thanks to the staked tokens, I'm getting one voucher per day. I've sold a few vouchers along the way and also bought 6 chaos legion packs as well.
Looking at the current price of vouchers and packs on the market, it's profitable to just throw either of them into the market after purchase.
Then again, vouchers will play a role in the game going forward, so I wonder if holding them won't be a nice idea. The price of vouchers will almost certainly drop dramatically after this presale but their utility going forward might be too much to ignore.
So maybe I'll sell them now and then wait for their price to go down. When they've dropped enough, I'll pick up more vouchers.
Right now each voucher costs about $16.25 and packs are going for $7.52. I decided to hold packs because they're adding to my SPS airdrop points. I think holding packs makes more sense than vouchers for now, unless someone decides to buy packs for $50 a piece, then I'll just sell.
It's only a couple of points that the chaos legion packs add to my SPS airdrop, but I reckon that in the long run, especially considering that SPS will probably pump to $50 at some point, these little drops will amount to an ocean of wealth.
General market influence
Speaking of an ocean of wealth, lots of people have been cashing out from Shiba Inu. New millionaires are springing up all over the place and many people believe that this pump has adversely affected the other markets by sucking in all the liquidity and shit.
That's an interesting view but is it possible that it also had an effect on Splinterlands assets?
Looking at the situation in the game right now, the price of DEC and SPS has dropped dramatically. Could it be that the general feeling of the market affected the Splinterlands tokens?
It's not out of the question to consider that possibility mentioned in the previous paragraph because these assets(DEC & SPS) are pegged/traded against BNB, BTC, and a couple of other assets that have taken a hit during this minor dump.
Interestingly and as expected, the price of monsters and NFTs were somewhat immune to the situation. I think this is an opportunity to get more DEC from card sales and then hold for even more SPS.
Alternatively, I could just sell a few hundred thousand DECs and that will, in turn, lead to an increase in the number of DEC in the liquidity pool. The only problem is that the amount of DEC I sell won't be directly proportional to the amount of DEC that will increase in the LP, so there's no need to bother.
In summary
At the end of the day, it's just decisions, decisions, decisions, and you have to make them.
The industry is volatile and very unpredictable, so you always have to make strategies that will help you cope.
For me, it's about taking profit but still being in a position that enables me to invest.
Yesterday, I talked about selling my only plot of land and reinvested it into other projects. I regret not buying more plots when it was only $15 but that's just life.
Today, it's about balancing my Splinterlands portfolio and deciding whether to hold it sell vouchers, or just buy packs. I've been either selling vouchers or holding packs, either one works out well for me.
I'm going to keep picking my moments and doing what I have to do. Sometimes I take giant strides forward and get knocked back, other times, it happens in reverse. At the end of the day, the most important thing is growth and I'm growing this bag, one day at a time.
Contact & Support
Discord: belemo#9593
Twitter: https://twitter.com/belemo__
Telegram: uncleskipper
Email: belemok@yahoo.com
ETH and BSC wallet: 0xC75E34E3ee9a343041B3322E1bD97b4940Ed721d
Bitcoin Address: bc1q635vre2jj9zhde9cyvflyz4h9c0p57gg3s3yre

Posted Using LeoFinance Beta
---
---