Don't worry about things beyond your control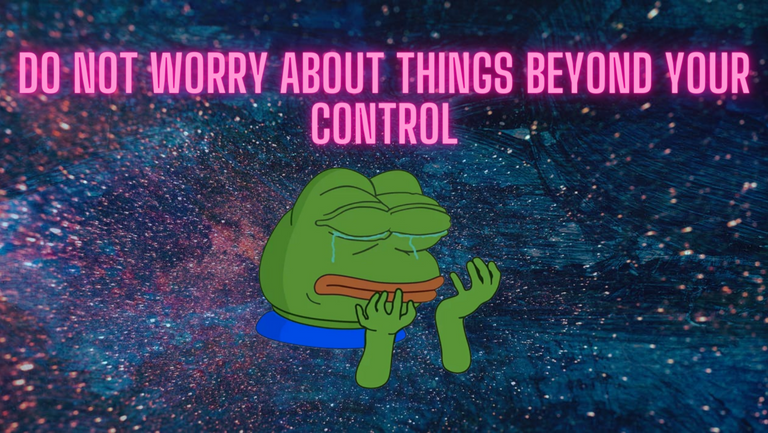 As simple as the title sounds, it is one of the most difficult things to do as a human. Our constantly wandering mind will always try to pick apart the universe, hoping to unearth something stowed away in a far far galaxy beyond our reach.
Watching @taskmaster4450's video yesterday got me feeling philosophical. It is a perspective that I've held and unconsciously practised but I hardly say it out loud.
I'm Tasky's video, he talks about the current state of the crypto market, worst-case scenarios and the effects they could have on a person. As much as your wallet is affected, the real pain starts in your mind.
Alas, if you look at the numbers today, you'll find that they're not quite as bad as it was last week. However, they're also a far cry from what in the first quarter of the year.
When you think of the crypto market, how does it make you feel? How do you handle the pain? What if things get much worse, like say, Bitcoin drops to $10k or even lower, how will you handle maximum pain?
Strategy
The key to surviving this market is always to have a strategy. Even if you're a hodler, always have a strategy.
If you're spooked by the market and willing to take your L, you can take your L in peace. Sell everything and get out with your sanity, if that is what you need to ensure your mental health is intact.
On the other hand, if you've decided to hold your assets, you should, first of all, have a clearly defined strategy that accounts for your peculiar requirements.
Secondly, and the crux of the post, only worry about things that are in your control after you design your strategy. It is easier said than done but it is ultimately the best way to manage your sanity.
Acceptance
In both bear times and bullish times, strategy is vital. Always set targets and whatnot to ensure that you're not simply floating in crypto space.
If the market goes super bearish, what is your next step? If we're bullish and Hive gets to $10, what will you do?
In between both bullish and bearish scenarios, there are forces at play that in most cases, are completely beyond our control. It is okay to hope for the best, inspect chart signals and all that but in reality, there's not much else you can do.
Knowing that you're powerless, at least when compared to the forces at play will, for the most part, keep your mind in a sane state. You will be conscious of the risk you're taking and live with the consequence.
Finally, to ensure that you're on the safe side, follow some basic rules in the game;
Only invest what you can afford to lose
Not your keys, not your coins
Never reveal/share your keys with others
Always remember that even if there's no disclaimer at the end of a "crypto tip", it is NOT financial advice. What you do with your crypto is ultimately your decision to make.
The point is, to ensure your mind is insulated from volatility, you have to take steps to achieve it. A combination of a tailormade strategy, and following the basic crypto rules will ensure that your head is in the right place, no matter where the market goes.

Posted Using LeoFinance Beta
---
---