Hive moon, Chaos Legion and feeling confident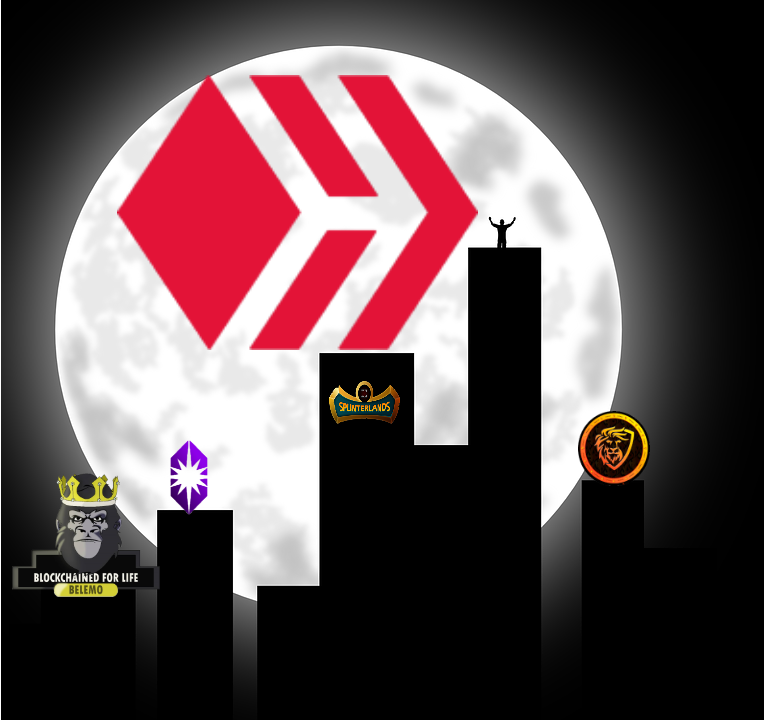 Hive pumped aggressively while I was sleeping like a baby and while it is something that I've predicted many times, it was still surreal to wake up to such levels of excitement.
It's a weird thing to say but everyone saw this coming but I don't think anyone saw it coming. We all just knew deep down that Hive deserves to be more than it is.
At the time of writing, Hive's price is $2.74, which means it is sitting pretty at a $1.05 Billion market cap. This is kind of a big deal for me because these days, this is the only way to break it into the top 100 cryptos.
I really love where we are right now as a community and the way things are going, I don't even think we've seen the top yet. I reckon we'll be riding it all the way up to $5 at least in the coming days after this healthy and natural pullback.
What we're seeing here is the market catching up to the value that Hive offers to users and investors. It deserves to be in the top 100 and at some point, Hive should also be a top 20 coin.
I hope we're all enjoying ourselves and hodlers are taking some profit. Those stables will be very useful in the near future.
I also hope that after the run, we can consolidate at prices above $3 and settle there for the long run. It won't be bad if Hive could somehow hold its ground between $2-3.5 during the incoming bear market that will kick off in the future.
I like the pumps and it gets me excited but I also want it to be sustainable. I want us to be spoiled and always aspire for even more. I mean, can you imagine how beautiful it will be when we've normalised $3 hive and we start clamouring for a $20 hive? That's just how ambitious I think this project deserves to be.
Hive-engine reaction
Speaking of ambition, the pump also had a positive effect on some of the assets listed on the Hive Dex. Some notable tokens including PoB, DEC, Leo, SPT, Dhedge, Oneup and a bunch of others gained a little bit.
For some assets like Leo and DEC that I assumed will have an inverse relationship with Hive, I guess their own pumps are based on their individual project developments. Then again, it is also very common for projects like these to also gain because the smart money now have more smart money to splurge.
One of the aftermaths of this aggressive pump will be some reshuffling in the richlist of various tokens on Hive-engine. If you recall, I was bugly fixated on getting into the top 20 of Leo rich list and if you also recall, 15k Leo tokens used to be enough. Nowadays, you need at least 20k Leo to break into the first page of the Leo richlist.
I need to point out that it's not a real competition, although I also think that considering this is a Dpos blockchain, jostling for tokens to climb up the governance ladder is actually very healthy for the platform. So, on that note, I'm still working towards climbing up.
As Hive continues to pump, different assets on Hive-engine will continue gaining against the dollar. Also, more people will pump some of that expensive Hive into their various projects, thus leading to a very sexy ecosystem with a lot of smart money.
Chaos Legion pumps
Still, on the topic of Hive-engine tokens, there seems to be some sort of rush for Chaos Legion packs that have seen it trade for upwards of $9 for a while. The only explanation for this is that people want to make sure they get the best monsters on the 8th of December when packs can be opened.
At the moment, Chaos Legion trades at $8, which is double the price it will go for when you no longer need vouchers to buy it. So again, perhaps hyped about opening them?
Anyway, in the near future when CL packs are available, those packs will be gobbled up in a matter of hours. I'm just saying that if people were able to gather that many vouchers and presale packs, then you best believe that they'll have enough resources to buy everything when the packs are sold for $4 a piece.
I'm guessing it will be like the untamed days where a specific number of packs purchased leads to the release of a new monster and stuff. In this case, the Splinterlands team is going to have their hands full because I'm fairly confident that it is going to be days apart.
Summary
The community is looking very healthy and productive right now. This is a sign of things to come in the future and I'm just grateful that I can be part of this journey.
I got pushed back by $10k but looking at the way things are going right now, I'll probably earn it from publishing posts alone. This is actually amazing and it would not have been possible without this awesome community.
I hope everyone continues to grow their portfolio, always do thorough research, invest in security and make good moves. May the odds continue to be in our favour and see you on the moon.
Contact & Support

Posted Using LeoFinance Beta
---
---