Holding packs, buying more credits and preparing for the general sale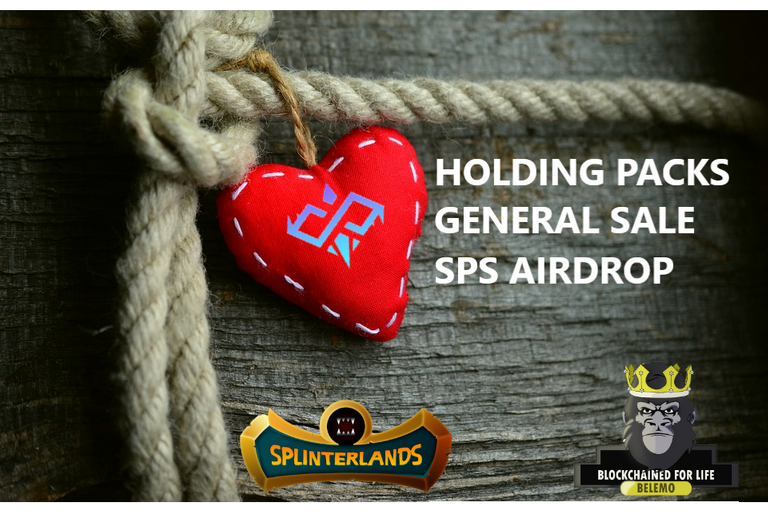 In the last voucher airdrop, I received 2.258 voucher tokens. After receiving them, I minted two Chaos Legion packs, thus taking my total airdrop packs to 28.
Instead of holding the packs, I decided to open them, hoping I'd find some gems inside but my luck has run out. While I was sitting in front of the TV and reading posts on Hive, I realised that perhaps I might have been going about this all wrong.
I got carried away with opening packs and forgot that holding packs adds to my SPS tokens. However, that's not even a big deal because the monsters I got more than compensated for the airdrop points I was getting from holding packs.
The real issue and something I just realised is that I might have opened the packs a bit too early. So, subsequently, I won't be opening the packs I mint with my vouchers.
I'll be keeping my fingers crossed to receive the next airdropped monster but I'm not holding my breath because the competition is stiff these days. If you're not a mid-range or high roller, there's almost no chance of getting the new monsters.
With that said, I intend to get the monsters outside of the airdrop period. Well, all the monsters except Dr. Blight because he's special.
The plan is to buy packs as I already planned but then, instead of opening all of them, I'll just hold them until the end of the general sale. At that time, all the airdropped monsters will have been unveiled and I could get them from the packs.
The only disadvantage of this strategy is that some monsters could go out of print while I wait. As I said, the completion is now very stiff, and if you blink, you could miss quite a lot.
How did I miss out on Credits?
In recent times, I've been buying Splinterlands credits with my other assets on the blockchain. It's so weird that I didn't figure out how awesome it is to use credits for transactions.
Unlike DEC and SPS that fluctuate in price, credits are fixed. So that makes them really convenient for buying stuff in the game.
Chaos Legion packs really opened my eyes to credits and man I'm so happy about this. Henceforth, I'll be using only credits for all my transactions on Splinterlands.
Even if DEC and SPS tokens pump to infinity, I'll just buy credits with them and then use the credits for purchase. I can't explain it but there's a certain level of confidence I have knowing that the credits I'm holding won't randomly dump on me.
SPS heading in the right direction
Still on the topic of Splinterlands tokens, SPS has been looking really nice in recent times. The governance token is slowly recovering from the dip and slowly climbing up to 40 cents.
Assuming nothing dramatic happens in the general market, I expect SPS to trade sideways for a while before a major move when the mega bubble kicks in. Then again, even without a mega bubble, a listing on a central exchange is also likely to lead to a big move.
To prepare for that, I've increased the number of SPS tokens I receive from the daily airdrop. After making some monster sales, I increased my daily SPS drop. On top of that, my rental business is also paying me in DEC, thus adding to my SPS points.
Right now, things are looking good and all roads lead to the general sales. The last time I checked, the current round of sales is already 30% complete.
The pace has slowed down a bit recently but I reckon there will be a flurry of Chaos Legion purchases in the coming days to take it up to 50% by the weekend. If we continue at this rate, including "cool downs" along the way, I reckon the second round of sales will be completed by this time next week.
Assuming it happens around the period I'm speculating, the general sale will commence immediately. You don't want to miss out on that because it is going to go really really fast.
For now, the pace is slow because we have to wait for daily voucher airdrop before we can get packs. However, as I've said on numerous occasions, when vouchers aren't needed, packs are going to be bought out very fast.
I'm very excited about the future of Splinterlands and more excited about buying these packs. My target is to spend $1k on packs, thus making it the most money I've ever invested into Splinterlands assets at one go.
The best part about it is that all the funds are coming from post rewards and airdrops that I'm receiving on hive. So all I'm basically doing is reinvesting profit to make a profit.
Speaking of Hive, the price has consolidated between $1.6-1.9 and I find that to be very incredible. At this rate, my post rewards are just enough to enable me pump in more cash towards buying Splinterlands credits.
I hope the price stays at this level or even gets higher in the coming weeks. Further increase in the price of Hive assets would be awesome for all the investment opportunities I'd like to dabble in before the mega bull run starts(Fingers crossed).
Contact & Support

Posted Using LeoFinance Beta
---
---