Leo top 100, Climbing up the SPT ranking and staking every day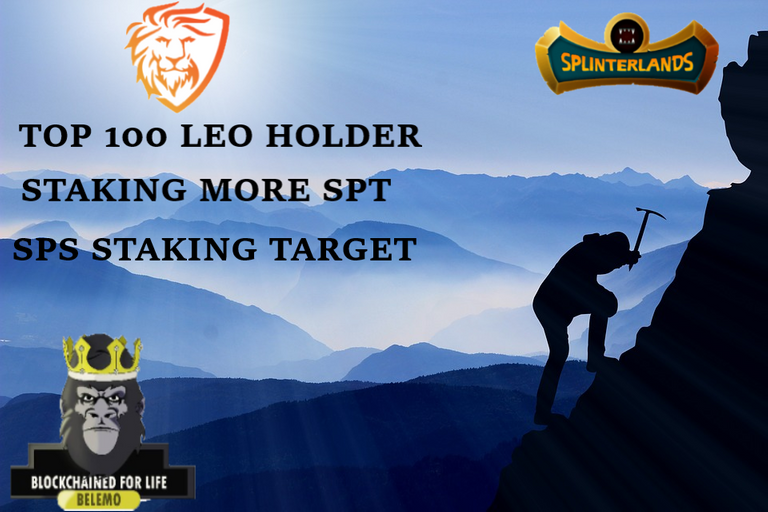 Every single day that passes, I make sure I stake at least one token within or outside Hive. I feel that it's not my responsibility to myself and of course my portfolio.
If there's one takeaway from this post, let it be that you consider this a reminder to stake a token every day. It doesn't matter how little it is, just stake something every day.
Leo target
I've been fixated on this Leo target for quite some time now. My goal has been to break into the first page and eventually be a proper Leo whale with a big influence in the community.
Things have been progressing quite nicely and I've increased my stake in the community.
It pleases me to say that I'm now one of the top 100 Leo stakeholders. I hold all my Leo stake in my curation account @belemo.leo.
In the coming weeks, I'll still be working towards increasing my stake by making even more purchases and staking post rewards.
To break into the first page of the rich list, I need around 16k Leo power, so that's basically 2X from my current position.
The only issue is that the people above me aren't just sitting around and waiting for me to overtake them, so by the time I'm up to 16k, I'll probably need to put a bit extra to compete.
SPT staking rages on
On top of Leo, I'm always staking SPT tokens and my target is to achieve as 100k tokens staked.
At the current rate, that's about $1k worth of tokens and I intend to accumulate most of it through posting and curation.
Anyway, something rather interesting happened yesterday when DEC 10Xed the imaginary cap. It turned out that SPT also 10xed that target.
The increase in the printing rate of DEC has driven the price down a bit but SPT held its ground.
Yesterday, I was talking about how the Splinterlands ecosystem continues to grow and one part of it that gets missed in the conversation is SPT.
A lot of the growth is based on the demand for SPS tokens and I suspect it'll remain this way for the entire airdrop period. So just in case you've not benefited from the airdrop, it's not too late to get involved.
At this moment, I'm curating with about 29k SPT power in my @arsenal4life account. Although that number might be a bit off because I'm powering down from the curation account, moving it to my main account, and then delegate it back to the curation account.
I'm trying to avoid any confusion with my airdrop and want to earn everything in one account.
Staking SPT and actively curating is a very move right now when you think about it.
Holding or staking SPT tokens adds to your SPS airdrop. However, on top of that, your curation rewards also add to your points, so you're basically making more money on money with money. Now that's money.
I'm also pulling out
Lastly and something I always add is that I'm pulling out some assets. I've been selling to fund our escape plans.
I've basically been trying to balance it out. Most of the sales have been from Splinterlands, while I've been reinvesting into other parts.
Despite pulling out though, I'm still on target to achieve my 15K SPS token staked by the end of the airdrop.
In fact, if I stay on this road, I'll end up with slightly more than 18k SPS tokens. It's not a lot but that's still a pretty decent amount.
If SPS gets to $1, that's like $18k worth of tokens staked. That is still a decent amount of money to have staked, especially in our current circumstance.
Contact & Support
Discord: belemo#9593
Twitter: https://twitter.com/belemo__
Telegram: uncleskipper
Email: belemok@yahoo.com
ETH and BSC wallet: 0xC75E34E3ee9a343041B3322E1bD97b4940Ed721d
Bitcoin Address: bc1q635vre2jj9zhde9cyvflyz4h9c0p57gg3s3yre

Posted Using LeoFinance Beta
---
---