Nigerian Government vs crypto, Freelancers in danger and a government that hates the future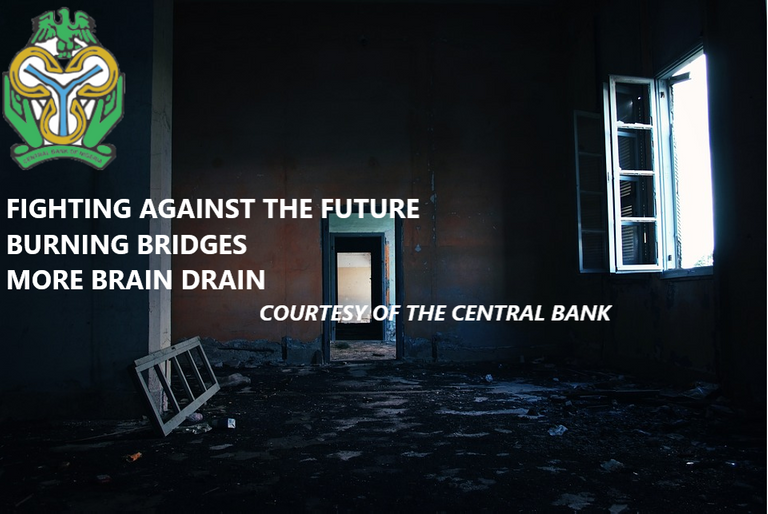 As if things aren't screwed up as they are right now, the Nigerian government is taking further steps to mitigate the trade of crypto in Nigeria. Their recent move to protect the Naira from international influence could be termed "desperate" in a weird way.
The word on the street is that the government now installs sleeper agents on P2P trading platforms to flag individual accounts that are involved in crypto trading. I haven't experienced it or had my bank account closed yet, but the story is that the government is going as far as infiltrating exchanges.
@edicted highlighted the possibility of the government actually hacking my BSC wallet and while there's no proof, this recent move, if true, shows that there's nothing beneath this government. Personally, I don't think it was the government but looking at the way things are going, it genuinely feels like the walls are closing in on me.
For now, my bank hasn't threatened or mentioned anything to me about my activities, and that's because I don't make regular transactions and I don't interact with sums that could raise any flags. However, a time might come when I have to do so and I fear for the worst then.
In any case, this move by the Nigerian government has made everyone very conscious of their crypto activities. There have also been rumored abductions and break-ins by the police into homes of individuals who work from home.
Working from home is a crime
Right now, everyone is a "suspect" for the police force. First of all, there was a recent memo published by a bank that stated that they were going to inspect the accounts of individuals between 18-30 years of age.
Interestingly, this age range is also where most freelancers, designers, coders, and entrepreneurs that generally work from home fall. This is also the age range of most crypto entrepreneurs in the country.
So, as it stands today if you're a young person in Nigeria and you're earning "suspicious" amounts from crypto trading, staking, or any other activity online, you're under the radar of the government financial watchdogs.
It is a witch hunt
What's really funny about this situation is that crypto trading or any related activity wasn't officially declared as being illegal in the country. The information about crypto was only discussed in a memo by the Central bank that suggests banks should close the accounts of any individual that's trading crypto.
There's no jail term, it wasn't passed in the legislature and so, it's not even a law. Seeing as it's not a law, there's really no need for law enforcement to act on it because IT IS NOT A LAW.
In Nigeria though, where we deceive ourselves that it's a democracy but in reality, it is more of a mafia, the central bank makes a circular and police harass you based on it.
Now all the young people I know that trade crypto is on high alert. The country is making outlaws out of us because we refused to work in their corrupt system and earn peanuts for hard labour.
The real reason
The government pretends like the witch hunt is because of crypto's effect on the economy, but the reality is that it's because of control.
The beef with cryptocurrencies started sometime last year when there was a nationwide protest against the activities of corrupt police officers. During that time, the government used every means to stop the protests, including shutting down the bank accounts of different sponsors.
The protesters then resorted to using cryptocurrency and that couldn't be shut down. A few months later, the Central bank governor comes on TV to claim that cryptocurrency is a threat to National security and said all sorts of error-strewn crap, I don't even want to bother typing it.
Now we're here, and crypto is still being hounded by the "leaders" that claim they like the youth. They claim they want the youth to thrive but that's on the condition that we're their lackeys.
Now they're turning youths into outlaws when they should be bringing us close. They're ignoring the fact that Nigerians are growing in a field of emerging technology, and fighting us when they should be encouraging us.
In the near future, many crypto enthusiasts will exit the country and we'll go to societies that appreciate our skillset. We'll live out our days safely away from our own country because it hates us.
At some point, the penny will drop in the eyes of the government but by then, it'll be too late because they've already planted the seed of hate. At that point, there'll be even more brain drain from Nigeria and they'll start pleading with us to return. I don't know about others but when I leave this country, I'm never coming back.
Contact & Support

Posted Using LeoFinance Beta
---
---