Sometimes you have to roll the dice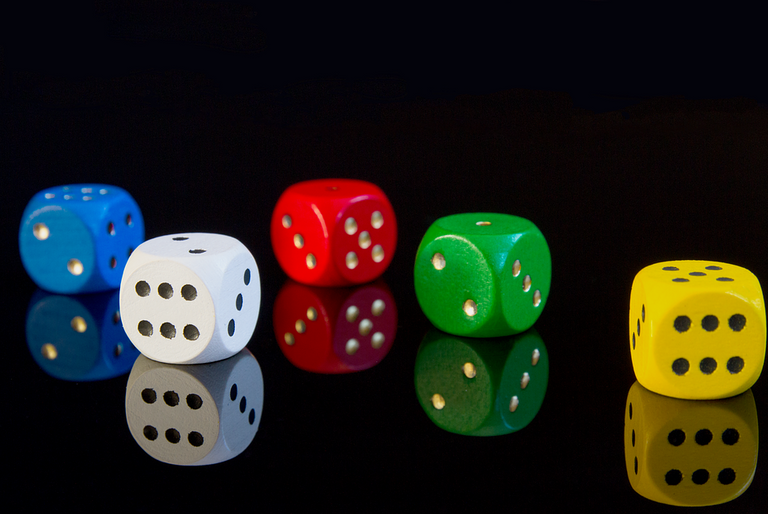 In crypto, just like life in general, sometimes, you just have to roll the dice and take chances without knowing what will come out. However, in everything, ensure you mitigate the amount of risk by being calculated.
Someone once said that the biggest risk in life is not taking risks. Someone else also said that as long as you're living life and trying to be productive, then you're taking risks.
Risk it till you make it
I'm far from where I want to be in terms of my crypto investment portfolio and investment activities. However, in my own little way, I always ensure that I'm taking some sort of risk every day.
For what it's worth, investing is a risk and that's the kind of risk I always encourage people to take. I can't make promises that it'll be profitable but I can assure you that you'll feel the rush that comes from trying.
The crypto market is probably the riskiest of all investment portals in the world today. In most cases, you're going to find yourself putting your resources in the coffers of anonymous entities that promise all sorts of rewards.
In everything though, always ensure you do due diligence and never take anybody's word for it. Always do your own research to ensure that this is something you're comfortable with.
Taking risks can be fun
In my crypto journey, I've taken quite a lot of risks and some of them have paid off, while others went completely down the toilet. For example, I remember investing some Ethereum into a Video content creation platform that promised to be the best thing since sliced bread but that went to shit.
In that same period, I also invested in Splinterlands by buying like 40-50 untamed packs. That is still one of the best decisions I've ever made in my life.
In both situations though, one thing I know is that I actually had fun while doing it. I guess that's the thing about the crypto industry in general, nothing seems so serious.
The crypto industry brings down all the barriers that would have normally been in the way. This enables anyone in any part of the world to put resources behind any project that they like.
Other than investing in projects, I also invest in cryptocurrencies on Exchanges. On some occasions, like the shitcoin experiment, I bought random assets. In other cases, like how I've held on to my AVA all these months, I did enough research to make the decision.
In everything though, I had fun while doing it and nobody can tell you for sure if things will go good or bad for you. You just have to take a chance with the resources at your disposal.
Always have a strategy
I'm not going to lie to you, due to the fact that I don't have any official training in investment, economics, or finance, I feel like an impostor sometimes. However, I try not to dwell on that thought too much and just focus on myself, rather than the general concepts behind investing.
Virtually everything I know about crypto, growing, and taking risks was learned on the fly. This includes the strategies and routes I take in my dealings.
What you need to understand is that there's no correct answer, there's just your answer. There's no universal truth, there's just your truth and that's what works for you.
I'm a lot more confident in my investment activities than I used to be. Nowadays, I always like try out different approaches to sorting out one problem because that's just the kind of person I am.
For example, in my splinterlands activities, I always try out different approaches to get ahead in the game. Sometimes I put a monster on the market and sell it for a few hundred dollars and take the profit. Someone else lists that same monster for a couple of thousand dollars and it doesn't bother me because my truth is that I made a profit.
Recently, I've been selling vouchers and buying packs directly from the market. I know they don't count towards the presale promo card but it's a risk I'm willing to take. I already have 20 promo packs and now, I have 25 more ordinary packs.
I'm trying to roll the dice by having more packs, rather than compete for something that I wasn't going to get anyway because I get only one voucher per day.
So instead, I prioritised the potential of finding some gems in the packs and also getting more SPS points over Dr. Bright. Will it be a foolish decision or not? Only time will tell.
The point is that as long as you're well informed, develop a strategy and make decisions based on your own circumstance, you can't go wrong. I mean, you could win or lose sometimes but as the words of a song go, "it's better to feel pain than to feel nothing at all".
Contact & Support

Posted Using LeoFinance Beta
---
---