Splinterlands collaborates with MLSPA: Will the Genesis Soccer League be on Hive?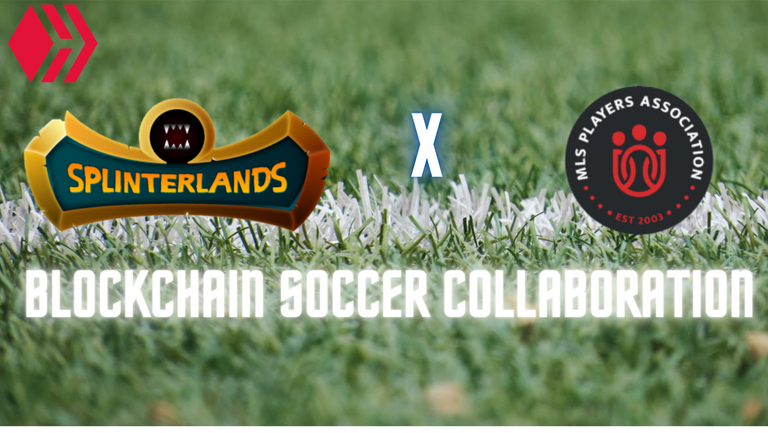 Major League Soccer is the premium football league in the United States of America. It is home to an illustrious group of teams and now, the association that represents the players of this league will be working with Splinterlands to create a blockchain-based play-to-earn game.
There's quite a lot to digest from this new development and it has rightly led to a lot of excitement. As I have said numerous times, Splinterlands is focused on growth and development, so while this news comes with a lot of promise, it is exactly what we expect from the leading blockchain game in the entire crypto space.
The decision to collaborate with Splinterlands was probably a no-brainer for the MLSPA. We're talking about the team behind what is probably the most successful blockchain game in history with millions of users and millions of daily transactions from addicted users.
Splinterlands has evolved the game into a thriving GameFi environment that is home to a high volume of daily NFT trades, liquidity pools and a variety of assets that consistently creates value for investors. So, there's little wonder as to why the MLSPA consider Splinterlands to be the right people to collaborate with.
Blockchain Soccer
For what it's worth, in our vocabulary, we call it football; saying "soccer" is quite tedious but for this publication alone, I will refer to football as soccer. In America, "football" refers to a bloodsport where people run around with an egg in their armpits.
Blockchain Soccer is something that I think has been in the works for a while. For a while now, soccer and crypto have been on a collision course and this development of Genesis League Soccer was inevitable.
The details of the Genesis League Soccer have still not yet been released but we know for certain that it is currently in development. I can also speculate that it will most likely be a card trading game due to this giveaway announced by the official Twitter account of the project.
Also, considering that the Genesis Soccer League by the MLSPA will be created in conjunction with Splinterlands, an established card trading game, it is quite evident that they intend to use certain features that exist in Splinterlands.
Another Blockchain Soccer Game on Hive?
There aren't many details available right now but it is not out of the question to speculate that the Genesis Soccer League will be developed on Hive. I like to think that one of the factors on the mind of MLSPA in collaborating with Splinterlands was to attract a decent chunk of current Splinterlands players and what better way than to create it on Hive?
There was a quick town hall meeting that heralded the announcement yesterday, so I reckon there would have been some questions about whether it will be developed on hive. Hopefully, it will be on Hive and I can finally get a soccer-based game that gives me more joy than Rabona that I stopped playing some weeks ago.
I grew disillusioned by the fact that Rabona wasn't robust enough for a game as sophisticated as football. After over 80 seasons, I decided to take a long break but I'll still be looking out for any development in the future that could rekindle my interest in the game.
SPS or other Splinterlands-related benefits?
Since this is a collaborative effort between Splinterlands and MLSPA, it is not out of the question to expect that there will probably be some perks for current Splinterlands players.
Most developments have surrounded SPS token, so it is also not out of the question to expect that there will be some benefits that will be based on how much SPS you have staked. Perhaps we will be airdropped Genesis Soccer League Packs based on the number of SPS we have staked, or maybe it could be connected to collection power or something along that line.
Keep in mind that the MLSPA is an association that represents soccer players in the US that earn millions of dollars every year, so it is safe to assume that this is an institution that will have a wide reach. This is quite bullish for the game but also for Splinterlands because this collaboration is subtle marketing for the game.
One thing for certain is that this collaborative effort between Splinterlands and MLSPA will have benefits that will trickle down to every single Splinterlands investor and maybe even the entire Hive blockchain. All will be made clearer in the coming weeks/months.

Posted Using LeoFinance Beta
---
---